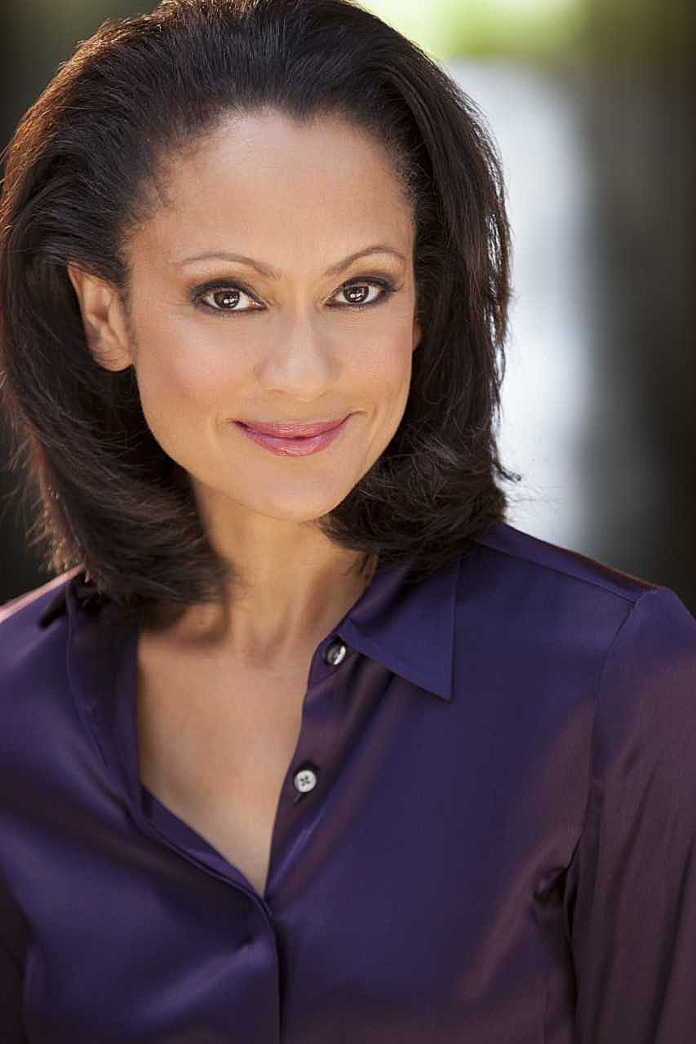 We first sat up and took notice of Anne-Marie Johnson when she appeared on the 80s reboot of the 70s sitcom What's Happening Now!!. The era classic show was relatable to African American audiences because it reflected our culture. Anne-Marie's character, Nadine Hudson Thomas, was a welcomed addition to the spin-off show and brought an air of sophistication, sensibility, and confidence.
The statuesque beauty then graced the small screen with her memorable role as Althea Tibbs in the late 80s and early 90s drama, In the Heat of the Night, co-starring the late Howard Rollins. Like the parent film, the series pulled no punches with Southern racism, the seedy underbelly of small-town life. Anne-Marie's powerhouse role provided us with quite a few all-time most memorable, compelling, and emotional moments in television history. We were terror-filled watching Anne-Marie's riveting performances as she was held captive by a murderer, terrorized by an ex-boyfriend, and raped by a fellow teacher.
Flipping the script, Anne-Marie kept us laughing aloud during her stint on the 90s sketch comedy series, In Living Color. The show boasted an incredible ensemble of brilliant comedic talents. The Emmy-winning show was celebrated for its bold sense of humor and clever use of parody, and Anne-Marie was certainly one of its standouts.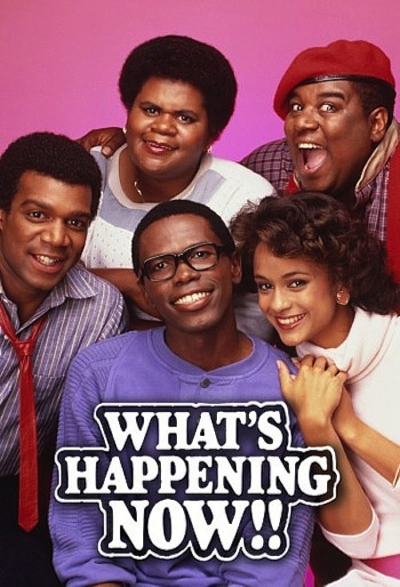 The actress has seemingly worked nonstop throughout her stellar career. She had roles on such popular TV shows as Melrose Place, Living Single, Girlfriends, The Parkers, CSI: Crime Scene Investigation, Grey's Anatomy, The InBetween, and How to Get Away with Murder. As of late, Anne-Marie has also brought her A-game to the romantic drama anthology, Cherish the Day. The series, which also co-starred the late Cicely Tyson, was created and produced by Ava DuVernay and ran on the Oprah Winfrey Network. Anne-Marie played Marilyn Fisher, a wealthy elitist who puts the 's' in snob.
Anne-Marie's work on the large screen is also quite noteworthy. She will forever be remembered for her hilarious role as Cherry in the film I'm Gonna Git You Sucka. We also adored her performances in Hollywood Shuffle, The Five Heartbeats, and the Pursuit of Happiness.
Even though Anne-Marie remains busy as an actress, she somehow also finds time to give back to her community. The UCLA grad is passionate about the diversity issues in Hollywood, a place where inclusion problems run deep. So, in 1997, Anne-Marie was elected to the Screen Actors Guild (SAG), becoming their first national vice president and serving for four terms. She worked tirelessly for years to help Black performers get their due. Anne-Marie is also the recipient of The Ralph Morgan Award, SAG-AFTRA's Los Angeles local's highest honor given to members or staff who go above and beyond in service to the membership. This all started when Black rights were threatened by legislation. Back in 1995, there was a California proposition to do away with affirmative action. She was asked to speak against the initiative. That caught the attention from SAG. She has fought to cast a bright light on the disparities between performers of color and their white counterparts.
The African-American Report, which studies issues concerning Black primetime performers, was also created by Anne-Marie and professors Dr. Darnell Hunt and Dr. Patricia Heisser-Metoyer.
Anne-Marie has also fought for the rights of Blacks to live in the now predominantly white California community of Silver Lake where she was raised and currently still resides. She says the area was once a safe haven for minorities but people of color and aging LGBTQIA+ are being forced out. Anne-Marie's community efforts resulted in Congressman Adam Schiff honoring her with the Silver Lake Woman of the Year award. Councilmember David Ryu also recognized her as one of the 2019 Wonder Women of the 4th District.
Anne-Marie's father was a police officer, so she views the series of issues between the police and the Black community from a few vantage points to form a solid picture. She believes that one-sided analysis does not lead to truth. The activist wholeheartedly understands the bad blood that has really frayed the trust between African Americans and the men and women in blue. Anne-Marie, however, takes no sides. As a Man/Kind Initiative member, she has tried to build strong relationships between the L.A. Police Department and the communities they serve which is critical to maintaining public safety and effective policing.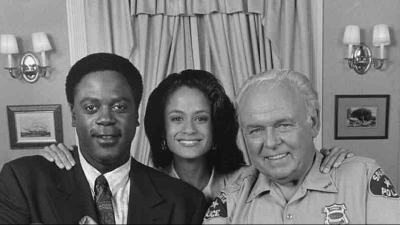 We are honored to chat with Anne-Marie Johnson–beauty, brains, bravado–this sister has it all in spades. And after over three decades in the business, she is still a creative and socially conscious force to be reckoned with!
50BOLD: So little is known about you. Please give us the title of a theme song for your upbringing and why?
Anne-Marie: A theme song for my upbringing…What A Wonderful World. It was wonderful because I was blessed with two incredible parents who instilled subliminally without a heavy hand. They provided a solid moral foundation that, throughout my teens, adulthood, and even today, decisions are very easy for me to make because of my upbringing.
50BOLD: After perusing your bio, I had no idea you had such an incredible body of work! You are indeed a superwoman.  You've been in at least over 100 different projects. That's phenomenal!
Anne-Marie: Listen, I realize how fortunate I have been almost every day. Some of it has been luck, but the overwhelming majority has been my solid foundation, home, belief in myself, a wonderful education, and knowing what I wanted to do.
50BOLD: We all loved the 80s sitcom What's Happening Now!!. I remember the first time I saw you as Raj's wife, Nadine, on that classic show. What was that experience like working on the much-beloved series? Were you well received by the fans?
Anne-Marie: Times were different then because there was no Facebook, Twitter, or any of that, thank God, in my opinion. Social media has been the decline of the American empire. So, one didn't know day to day what the response was. I could only base it on the fans, those who really loved the original and continued to watch the story's continuation. It was one of the most enjoyable jobs I've ever had.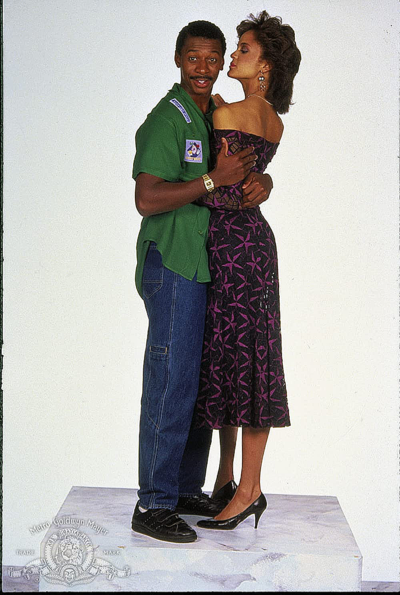 50BOLD: Really?
Anne-Marie: Yes, it was fantastic! The cast was great; it was just a terrific sitcom. I love doing multi-camera sitcoms, and Nadine was a really great character to flesh out. And the producers and directors allowed me to be the comedienne they cast me to be; it was fantastic. It was a great three years. I loved it!
50BOLD: In the Heat of the Night was obviously one of the best TV police crime dramas of the time. You played Althea Tibbs, who was married to Virgil, played by the phenomenal actor-gone-too-soon Howard Rollins. You had some really memorable and explosive episodes. Up until this series, I had only known you to be a comedic actress. But the episode where you were brutally raped made me say to myself…'She is an exceptional actress!' I mean the rape scene was so terrifyingly real. What was it like being part of such a phenomenal cast?
Anne-Marie: In the Heat of the Night was such a career changer for me. Because up to that point, I mean, I had done other dramas, but not as in-depth as the Althea Tibbs role. So, playing that character was a true career changer for me. I was on the show for six seasons. The show's content, its lineage, I mean, can you imagine?  In the Heat of the Night was one of the greatest social justice, social movement films of the 60s!
50BOLD: Yes, it was indeed a great film!
 Anne-Marie: The film's cast, God bless him, Sidney Poitier, Rod Steiger, and Lee Grant, it was just a wonderful cast. And then for me to have the opportunity to audition for the TV series, I just couldn't fathom it, I couldn't understand what was happening! And then to land the role; it was unbelievable. I will always cherish the opportunity. If my career were to end tomorrow, if God said, 'you had a good run and now, you get to retire and play golf for the rest of your life,' I would not be disappointed because of my involvement with In the Heat of the Night.
50BOLD:  Carroll O'Connor was the show's lead as the sheriff and was known to be a little demanding.
Anne-Marie: He was perfect! You can't imagine anyone else besides Rod Steiger or Carroll O'Connor playing the character of Police Chief William Gillespie. You just can't imagine it!  I hope In the Heat of the Night is one of those series that does not get a reboot. The series needs to be left alone, let it be, let it age like a wonderful bottle of wine.
Carroll was one to nurture and challenge an actor to expand acting-wise. He was very commanding on the set. He and I had a very different relationship because I was not only his co-star, but he was also my boss. So, there was a fine line because I not only respected him as an actor but as my boss
50BOLD: Oh, I agree! Now, working with the late Howard Rollins…
Anne-Marie: Howard was one of the best people to work with. We had a blast! I mean we respected each other as actors, but we really liked each other. And I will always treasure our moments on and off the set. He was such a fantastic actor that I could not have had a better partner. Howard commanded and knew exactly what he was doing. He commanded a space without being oppressive. Howard knew exactly what he was doing as an artist.
50BOLD: I can watch the series repeatedly because it is just great TV!
Anne-Marie: In the Heat of the Night was a series that jumped networks which is very unusual. We were allowed to push the envelope with episodes that took different perspectives. The rape episode really dealt with not only the physical assault but the psychological/emotional assault of the aftermath. So, two episodes were dedicated to that horrific experience. We also did a story about young woman not knowing what to do after giving birth and choosing to leave her newborn in a trash bin instead. No other TV shows at the time were tackling subject matters like these. We did stories that were very thought-provoking and challenging to the viewer. It was just really smart television.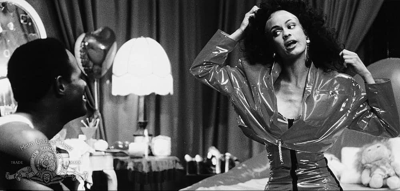 50BOLD: Television shows have changed so drastically. Smart TV is rare these days. You've been in so many wonderful films and Hollywood Shuffle starring the brilliant Robert Townsend is one of them. You played Lydia in the film. We so admire Robert Townsend in our community.
Anne Marie: Yes, definitely!
50BOLD: What was that experience like working on that classic film?  
Anne-Marie: Well, working on Hollywood Shuffle was all very new, I was still in college or had just maybe graduated. We began working on the film maybe a year and change before it was even released. There was a long period where the film just sat in limbo, and then MGM saw footage of it. The film company fell in love with what Robert and Keenen were trying to do, so they provided the funding. I mean, it's not an urban myth; Robert financed a lot of that film on his Sears Roebuck & Co. credit card and other things.
It was grueling doing the filming for Hollywood Shuffle. We had to hide, sneak and jump out of a van to shoot a scene. We did the zombie pimp scenes on Hollywood Boulevard because we were doing it without permits. It was learning all about filmmaking through the skin of our teeth, and it was exciting.  What we provided to the audience is something that has had a wonderful shelf life. It's just as relevant today as it was nearly 40 years ago. The film was a blast, really so much fun!
50BOLD: I'm Gonna Git You Sucka!, your role in the film was so hilarious, we laughed so hard until we cried! Truly cinematic history! I remember watching that movie and when you snatched off your wig, and everything else…pure GENIUS!
Anne-Marie: Keenen Ivory Wayans and the other writers were so funny. At first, I refused the role because I really wanted to play the Dawnn Lewis character, the love interest. And I was so heartbroken when I didn't get the part. But Keenan said, 'No, no, no, no! There's another role, a prostitute.' And I said, 'Oh Keenen, come on, I'm an African American woman; do I need to play a prostitute?' He said, 'No, I promise you'll have a lot of fun with this!' And he was so right! And I had an agent many years ago tell me that my work in I'm Gonna Git You Sucka is consistent with memorabilia. People always remember my line in the film, 'Don't make me hop after you.' The whole movie was just very, very clever.
50BOLD: You've worked with many of our most cherished performers–Bernie Casey, Isaac Haynes, Antonio Fargas, Ja'Net DuBois….  Can you give us a good story about maybe just one of them?
Anne-Marie: Well, Bernie Casey didn't remember this but before I worked on the film, I'm Gonna Git You Sucka, I went to Italy to shoot a movie. I was at this hotel in Rome and walked down to its café. I'm sitting by myself enjoying my pasta when I see these two stunning men Bernie Casey and Burt Reynolds. I was so dumbstruck.
I introduced myself to Bernie and Burt, they were both so lovely, and made me feel like the only woman in the room. Now, cut to a few years later and Bernie and I are doing a scene in I'm Gonna Git You Sucka where Cherry has to roll her tongue. I was so embarrassed doing that scene in front of Bernie especially, after he had been so classy and charming toward me in Italy.
Bernie and I also served on the Screen Actors Guild Board together. Many people don't know that Bernie was extremely influential in creating the Affirmative Action Diversity department at the Guild back in the 70s. So, he was my idol regarding Affirmative Action and Diversity within unions. Bernie Casey was a trailblazer. And I was just so honored to be on the same governing board with him. It was just so sad to lose him. Bernie was an all-around incredible human being. And this is what I most remember about him. The cast of I'm Gonna Git You Sucka was great, but Bernie stood out above them all.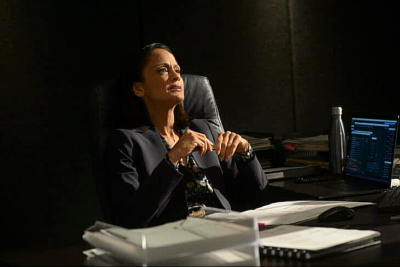 50BOLD: We are so proud of you! There were never any scandals connected to your name, and you've been in this business for decades. How did you avoid the scandals?
Anne-Marie: Well, it's easy when your father was a police officer, and your mother was a schoolteacher.
50BOLD: Ahhh, ok!
Anne-Marie: You know what I'm saying? I must go back to the incredible childhood I had. My parents supported me unconditionally, but they ruled with sternness, empathy, and kindness. Now, we were only allowed but so many mess-ups. I was blessed to have such wonderful parents. Both my parents were college-educated. My father was also part of the Air Corps, affiliated with the Tuskegee Airmen. Both my parents were L.A. natives and sent all their children to college. Every night I thank my parents; I thank them every night in my prayers.
50BOLD: How many siblings are there?
Anne-Marie: I have two brothers and a sister. So, all four of us were given a wonderful college opportunity because my parents worked very hard and saved their money. They put aside college bonds so their children wouldn't have to struggle while obtaining a degree. So, I attribute everything I am to my parents.
50BOLD: The OWN Network's Cherish the Day. Your character in the series, Marilyn Fisher, is just wonderful! And you got to work with the great Ms. Cicely Tyson. Please share a story about the regalest of Queens.
Anne-Marie: Well, unfortunately, I did not get to work with Ms. Tyson on Cherish the Day. Our characters never had scenes together. But prior to my getting a role on Cherish the Day, I actually got to meet her at the wrap party for How to Get Away with Murder because we were on that series. It was an honor to meet her. I had only really met Ms. Tyson twice in my life. So, I was just a fan from afar.
50BOLD: Can you please tell us about TEARS–The Event Against Racism & Stereotyping. I'm so disappointed that the Black Lives Matter reps gave up their seat at the table and did not want to participate in your virtual discussion with the Los Angeles Police Department last year. The event was an opportunity created for community activists and law enforcement critics to challenge the LAPD and explore the possibility of finding common ground. You hosted the event and the great songstress Freda Payne also took part.
Anne-Marie: Freda and I are acquaintances. We have a mutual friend. And when this opportunity came for me to be a co-executive producer of this event, she was the first person I contacted to perform our music videos. And in fact, we're close to finishing the editing of our final segment of this arm of TEARS. It has been a wonderful experience, and I've learned so much. And I really cherish the fact that I did continue a relationship with the LAPD because my father was a police officer. I feel that through the work my co-executive producer and I have done and will continue to do, we will be part of the evolution of the LAPD.
No change can happen if you refuse to sit at the table.
We don't refuse to sit at the table. In fact, we are helping to set the table and do whatever we can to ensure that everyone in Los Angeles receives the same respect and consideration from law enforcement. The LAPD has a very long troubled history. I would be lying if I didn't say that in my lifetime, the LAPD has had a positive transformation from the upper echelon down, and I am proud to continue my relationship with them.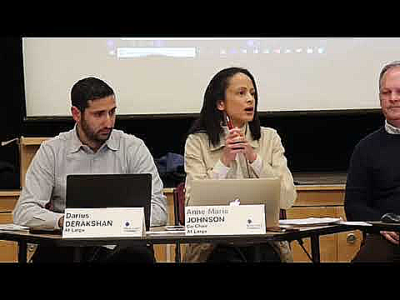 50BOLD: I wish your work with the LAPD could reach the masses, and that's the problem; not everyone is getting wind of the effort. These days folks are so busy burying their heads in the various forms of social media like Tic-Toc, Facebook, Instagram, etc.…
Anne-Marie: And that's why we've not advanced as a culture. We have not advanced; in fact, we're regressing.
50BOLD: I agree! You were the first Black National Vice President of SAG, the Screen Actors Guild. You served for four terms. You were given The Ralph Morgan Award, SAG-AFTRA's Los Angeles local's highest honor, given to members or staff who go above and beyond in service to the membership. You've also been extremely vocal about the treatment of Black performers.
Anne-Marie: Yes.
50BOLD:  As far as activism, you've done more than your part, but there's so much more to do. I'm just so glad you're sitting at the table to represent. We all need to get more involved in causes because times are crazy now!
Anne-Marie:  It's beyond crazy; the times are dangerous now. It's very exciting just to be a part of history. But we are witnessing the potential decline of democracy. And we don't have time for the silliness. We just don't have time for the silliness! We don't have time for the ridiculousness of many influencers, and the distraction of athletes who refuse to get vaccinated. We don't have time! We don't have time!
I knew we were in trouble concerning vaccinations and the pandemic. The administration at the time kept emphasizing how people of color were most susceptible to the virus and most likely to die from it. I knew the narrative was being propagated to such an extent that the overwhelming majority of Americans didn't care. And that's why we're in the mess we're in now.
50BOLD: SO true! And the past administration is still wreaking havoc present day. It makes you shake your head…. But like you've clearly stated, we're running out of time….               
Anne-Marie: Yes, we're running out of time….
50BOLD: You live in California's Silver Lake community which was once welcoming to people of color and the gay community, but this is no longer the case. A few years ago, you were honored with the Silver Lake Woman of the Year award for your activism in fighting for the rights of people of color and gays to reside there. And then you were recognized as one of the Wonder Women of the 4th District for your community activism. You are indeed quite a superwoman!
Anne-Marie:  I don't know about all that but… It's funny and a wonderful complete circle because when my father wanted to live in this community, he purchased a plot of land many years before I was born. When he started building a home for his family, a petition circulated to get our family out. They wanted to get the Johnson family out because no one wanted Black people living in Silver Lake. In fact, I think our family was the second or third African-American family to own property in Silver Lake.
One family refused to sign the petition, so my parents were able to continue building their dream home and raising their ultimately four children in the Silver Lake community. And I'm sure my parents were laughing from heaven when they saw their little Black daughter being honored with the community award. So, it shows that determination, steadfastness, faith, involvement, and stick-to-itiveness can change things.
50BOLD: Wow, what a great story. How does it feel to be so successful? Do you have a mantra that you live by?
Anne-Marie: I just choose to wake up every morning and get moving no matter what's going on. I choose to be positive. And that's it. It's hard to do sometimes. Unless there's an imbalance in one's brain, it is a choice to wake up and get your day started.
50BOLD: Your roles have ranged from comedic to dramatic; are you content as an actor?
Anne-Marie: Boy, I've never been asked that before…. Am I content? Yes, I am content. Being content doesn't mean I don't want to work more; obviously, I do. Bills still need to get paid. I would like to continue working. The sad part is the roles that I am now available to do are very dissatisfying or one-dimensional.  And I'm sure this will be of great interest to your readers but not a surprise; the older you get, the more one-dimensional the roles. It's very difficult for a woman of color and of a particular age who has been in this business for as long as I have to be excited or challenged any longer because the roles are not being created for us. We are pedestrians; we move the story along for the younger characters—and I get that. I completely understand that. But it doesn't have to be this way.
50BOLD: Well, I'm glad you're a spokesperson, because you do it so well. And with TEARS… How do we reach more with a project like TEARS?
Anne-Marie: It's tough because we're not sexy. First of all, the audience that my executive producer partner and I really wanted to reach out to is not interested in hearing anything thought-provoking or forward-thinking about the police.
In Los Angeles, we barely hit 11,000 police officers, but you can imagine our population and our geographic spread. So, there are just too many streets with not enough police officers. The average interaction with the community, specifically the African American community and police officers, is non-descript, a non-event. But there is a very troubling minority of interactions that end badly. And those are the interactions that rightly get the airtime and exposure they need.
Unfortunately, all the other uneventful, positive, or life-saving experiences between our community and law enforcement never get championed. Because that's not a narrative that the networks want to portray. That doesn't fit their agenda, right? Because what fits the agenda is that cops are horrible, and everyone in law enforcement is horrible.
I don't want to negate or not acknowledge the fact that certain circumstances are horrific and inexcusable. But the overwhelming majority are the opposite. But we don't highlight this. And our show took a serious look at the relationship between the community and law enforcement and where we've been, where we're going, what we've done wrong, and what we could do better. And it's really tough to get an audience because it's just not what 'the powers that be' want to hear or see.
50BOLD: Just an aside, it is amazing to see the first Black police female deputy chief!
Anne-Marie:  Yes! It's fantastic!
50BOLD:  But nobody knows!
Anne-Marie:  But here's another thing: I was so nervous when I had to pitch the event idea to the LAPD. I thought the LAPD was not going to want to take part in our virtual discussion event because we were also going to involve Black Lives Matter and other organizations that were very critical of them. Instead, the LAPD could not have been easier to work with! They made everyone accessible to me, even the chief of police. Yet Black Lives Matter tried to shut our event down!
50BOLD: We've got to do better. I'm glad you're sitting at the table.
Anne-Marie: We are all sitting at the table. It's just that many of us must speak up a little more and a little louder.
50BOLD: What was it like working with Ava DuVernay?
Anne-Marie: Fantastic! And I would work with her in five seconds again. I wouldn't even have to read the script. If Ava called to say, 'Hey, listen, there's a….' I would respond, 'Yes, where do you need me, when do you need me, what time do you need me, how long do you need me?'
50BOLD: Of all the people you've worked with, and there have been so many, can you provide me with a few who really stand out above all the rest? 
Anne-Marie: Well, I can say certainly tell you that in front of the camera, Raven-Symoné was one of the most talented comedians I had ever had the honor to work with, without question. I also mentioned how I loved working with Howard Rollins. Obviously, Ava DuVernay was a dream. Shonda Rhimes, well, it was really an honor to be a part of her creative family.
50BOLD: Is there anything else you'd like our readers to know about, any upcoming projects?
Anne-Marie: Well, I think for right now, I want your readers to take care of themselves and to be very aware of how easily this virus can enter our bodies. The sooner we are all triple vaccinated, the sooner I can get back to work. I want everyone to believe the science and take care of themselves so that our society can get back to life.