To say that the marketplace has become overcrowded with CBD (cannabidiol) and THC (delta-9-Tetrahydrocannabinol) products would be an understatement. With the increasing legalization of cannabis in the United States, edibles laced with THC and CBD as well as other cannabinoids are much more widely available and better tasting.
Thanks to the innovation of many cannabis entrepreneurs, edibles also come in many different forms, and crucially, are much more precisely dosed. That means that if cannabis edibles are of interest to you, calibrating to find the dose that you're looking for is easier than ever. Cannabis-laced food and drink is a robust and ever-evolving scene, and it's only getting more diverse and interesting.
CBD and THC?
Cannabis contains over 113 different chemical compounds known as cannabinoids. Cannabidiol (CBD) and delta-9-tetrahydrocannabinol (THC) are two types of chemical compounds derived from cannabis. In recent years, interest has grown in the potential health effects and benefits of cannabis. Much of this interest has centered on these two cannabinoids.
CBD, is the second most prevalent chemical compound found in cannabis. First discovered during the 1940s, CBD has recently become more popular as a natural treatment for a range of conditions. It can be derived from hemp or from marijuana. Hemp-derived CBD still contains trace amounts of THC, while marijuana-derived CBD may contain more.
THC, is the main psychoactive ingredient in cannabis. According to the National Institute on Drug Abuse (NIDA), THC activates the brain's reward system by signaling the release of the brain chemical dopamine which is a neurotransmitter that plays an important role in mood and pleasure. By triggering a higher-than-normal release of dopamine, THC causes people to experience feelings of euphoria. THC is often administered by smoking marijuana, but it can also be found as an ingredient in capsules, edibles, and oils.
The bottom line–CBD is unlikely to get an individual high. On the other hand, THC produces the high people associate with using marijuana recreationally.
Benefits of CBD and THC
CBD and THC have similar effects for treating medical conditions. Seniors are reportedly incredibly receptive to cannabis and its medicinal benefits. However, there is some variation in the uses of each substance. People typically use CBD to help treat the following:
inflammatory bowel disease
seizures
depression
inflammation
psychosis or mental disorders
migraines
THC has potential uses in treating some of the following:
glaucoma
muscle spasticity
low appetite
insomnia
People may use either to help treat:
With the increasing legalization of cannabis in the United States, edibles laced with THC and CBD as well as other cannabinoids are much more widely available, and better tasting. Thanks to the innovation of many cannabis entrepreneurs edibles are now actually good, come in many different forms, and crucially, are much more precisely dosed.
Cannabis edibles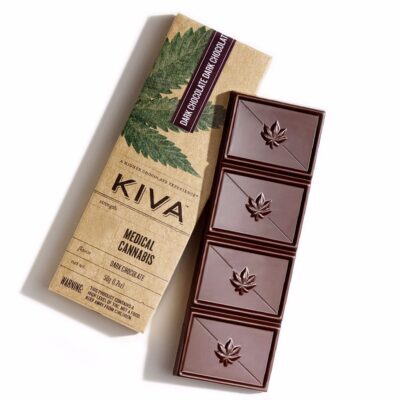 Kiva Chocolate Bars
offer a balance flavor with zero bitterness. They are crafted from sustainably sourced, premium cacao and infused with handmade, cold water cannabis extract. They are deal for those with a love for chocolate and a refined palate. The bars come in milk, dark, churro milk chocolate and a toffee crunch dark chocolate bar and contain 100 mg of THC each (or 5 mg per square) with varying amounts of CBD added in as well.
kivaconfections.com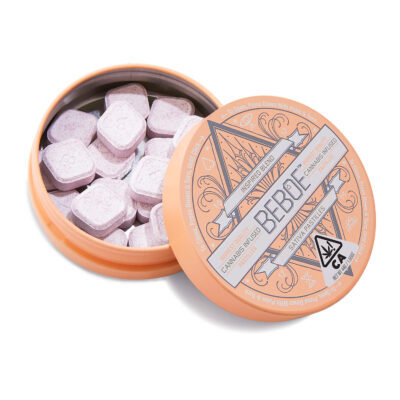 BeBoe's Pastilles
are crafted with the finest organic ingredients and using cold water processing, BeBoe's Pastilles are a low-dosed treat that provide a subtle and euphoric mood lift. Made with single-strain cold water sativa hash, Beboe's Pastilles are all-natural, vegan, gluten-free and contain no artificial sweeteners, flavors and coloring. Each candy contains 5 mg THC and 3 mg CBD making these the perfect mid-day pick me up. The fruit flavors include Black Cherry-Rose, Blueberry-Lavender, and a tart Apple-Elderberry combination, and they all come in attractive little tins.
beboe.com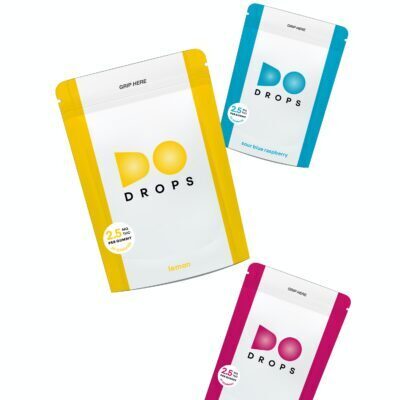 If you want a lower-dose gummy than the typical 5 mg or 10 mg package,
Do Drops
are the ticket!  They look and taste like colorful gumdrops—and come in 5 colors and flavors, including blue raspberry and green apple—and each drop is 2.5 mg of THC. They're considered doable and mild especially if you're a cannabis beginner, you can start slow and turn up the volume.
dodropsedibles.com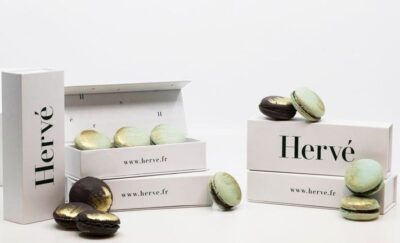 Edible maker 
Hervé,
makes high-end confectionary-quality cannabis-infused macarons for the discerning cannabis consumer, Hervé macarons look like they came directly from a classy bakery. Each one is 10 mg, and have a slight metallic sheen.
hervedibles.com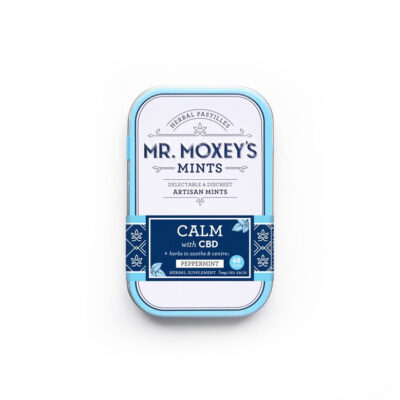 Mr. Moxey's Mints
are widely available and come in different dosage and flavor combinations, like peppermint, spearmint, and cinnamon. Some have CBD, others don't, and they come in both 1 mg of THC for a very light dose and 5 mg for a more serious one.  The mints are the number one edible in the Northwest. Handcrafted in small batches the old-fashioned way to promote well-being in mind and body. Each artisan mint is formulated with complimentary herbal allies tailored to elevate the cannabis experience. Naturally gluten-free and vegan.
thc.mrmoxeys.com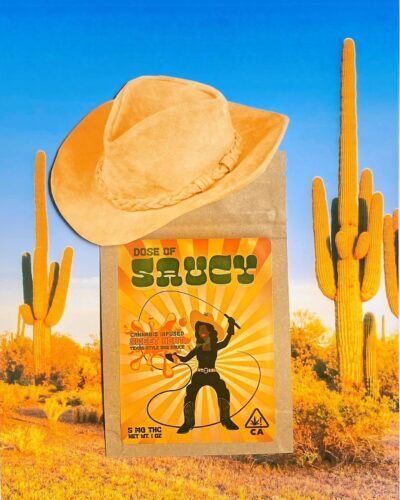 Saucy Infused Texas-Style BBQ Sauce is the weed industry's answer to Heinz. The Black-owned company's BBQ recipe was formulated with family recipes and kitchen tricks handed down from the owner Tess Melody Taylor's grandfather. The THC-laced barbecue sauce comes in smaller 5 mg-dosed packets for spreading on a sandwich or fries, and larger 25 mg dosed ones for spreading out. The sauce is tangy, savory, and adds just the right zing to your pulled pork sandwich. doseofsaucy.com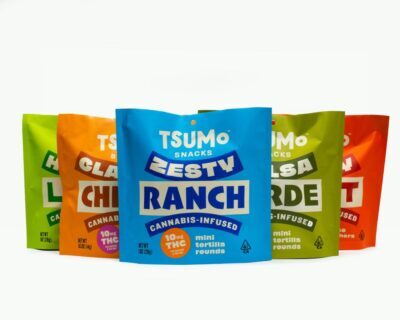 Salty, and savory,
TSUMo
snacks are THC-infused fun-sized bags of chips. They come in Salsa Verde, Zesty Ranch, Hint of Lime, Fiery Hot Cheese Crunchers, and Classic Cheese Puffs. Each bag is low-dosed at 10 mg of THC.
tsumosnacks.com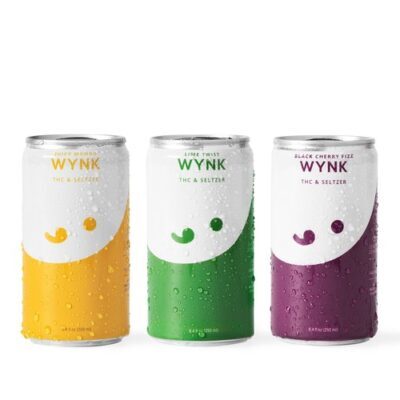 Wynk THC & Seltzer is the most widely distributed cannabis seltzer beverage in the United States. Featuring all-natural flavors of Juicy Mango, Lime Twist and Black Cherry Fizz, each 12 ounce can of Wynk has a 1:1 ratio of 5 milligrams of THC and CBD and delivers a light, relaxing high that is felt in under fifteen minutes and lasts for around ninety minutes. drinkwynk.com
The use of weed edibles carries a significant amount of risk. If you harbor intentions of experimenting with this emerging trend, caution should be exercised. Furthermore, there may be long-term effects on health that science is yet to unearth. More research is needed to understand their short-term and long-term effects fully.
The popularity of marijuana edibles has recently increased with the legalization of marijuana in many different U.S. states. However, many people who consume these edibles do so without fully knowing the risks involved. Like any other drug, marijuana edibles can cause short-term and long-term side effects. They also carry the risk of overdose if someone takes too much or they are more potent than anticipated.
It is especially important for seniors to consult with their internists prior to using cannabis products!
Before you consume any cannabis-infused food products, you should, again, definitely consider the risks. If you're already taking marijuana edibles but can't control your usage, you might be showing other signs of addiction and likely need professional help to stop.
Accidental overdose can also either occur in those who stumble upon weed edibles or first-time adult users. Adults who are using cannabis edibles will be impatient since it takes a while to realize the psychogenic effects. Therefore, they will try to consume more, leading to an overdose half an hour later when the liver pours the potent THC metabolites into the bloodstream.
If you're considering enjoying the products in this content, please consult and follow the legal restrictions for controlled substances in your state. Because there are so many variables with cannabis products, first educate yourself about them and know/understand your limits. If you have problems with alcohol or drug addiction, steer clear!