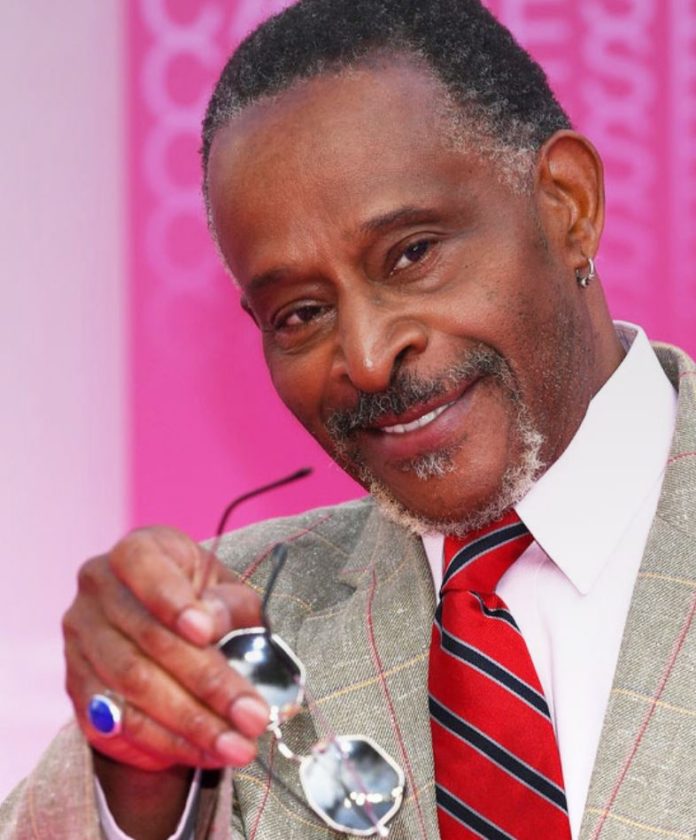 Antonio Fargas was the charismatic, flamboyant, jive-talking, street-smart, bar-owning police snitch, Huggy Bear, who co-starred in the hit 70's TV crime drama series, Starsky & Hutch which has lived on for years in syndication. He has appeared in over 50 films including Across 110th Street, Car Wash, Shaft, and I'm Gonna Git You Sucka. Antonio's acting resume of nearly 60-years has continued to grow via a steady schedule of appearances on such popular TV shows as Martin, Living Single, Everybody Hates Chris, Code Black, and Black Lightning. In addition, the versatile performer has graced Broadway stages and other performance venues in the United States and across the pond.
Growing up in the Chelsea section of Manhattan, Antonio is the third oldest of 11 siblings. The actor's father, Manuel, was Puerto Rican and his 96-year-old mother, Mildred, was born in Cuba with Grenadian roots.
Even though Antonio has an enviable body of work, he has remained surprisingly humble. Antonio was a trailblazer in what is referred to as the Blaxploitation era where Black Hollywood reigned supreme at the box office. As a matter of fact, he was one of the first Black actors to portray a gay character on screen as Lindy in the film Car Wash. Antonio has proven that there are no limits to his acting ability and whatever role he tackles, he is convincing in it.
One very memorable and poignant stage role the talented performer took on in the 90's was that of Toussaint: Angel Warrior in Haiti, where he portrayed the 19th-century Haitian revolutionary. The actor gives credit for his stellar performances to his longtime friend and mentor, actor, producer, and director, Robert Hooks, who created The Group Theater Workshop. The organization later evolved into the renowned Negro Ensemble Company in New York City where Antonio was able to hone his acting skills.
A couple of years ago, Antonio was tapped as brand ambassador for the NBC's COZI TV, a channel that airs bygone-era iconic television series like Starsky & Hutch. Antonio starred in musical promos featuring soundtracks created exclusively for the network. Besides acting, Antonio has a new jump blues band, The New Jump Blues and recorded a self-titled album as well.
Even after remaining a household name decades later, life ain't been no crystal stair for Antonio, and there were personal challenges along the way he had to overcome like smoking. He and his third wife of 30 years, Sandra, also survived a California earthquake where they were trapped in different sections of their home with each, thinking, the other was dead.
As age 72 approaches hard and fast, the father of four and granddad of six is still handsome, suave and has managed to hold on to his sexy refusing to give it back! The multifaceted performer graciously set aside time to reflect with 50BOLD on his yesterdays, today and tomorrows.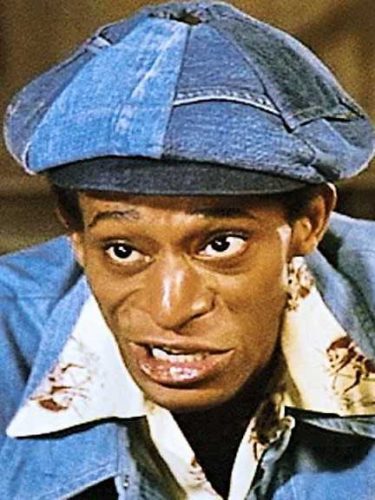 50BOLD: You appeared in the film, The Cool World when you were a teenager, it was your first acting role. How did acting come about for you?
Antonio: My mother always said that when I cried as an infant, I had this wonderful voice. I was 14 and just getting out of grade school in the Chelsea section of Manhattan when my mother saw an ad in the Amsterdam News. There was a casting call for a film about gangs in Harlem. My mother suggested that I try out for it. I would equate the film to a West Side Story set in Harlem but much grittier.
I went to the casting call and tried out for a role in the film. Shirley Clarke was the film's director and Carl Lee (50BOLD Editor's note: Carl Lee was the son of famed 50's actor Canada Lee), who was a very close friend of hers and one of the people who helped put the film together selected me. I could read well. So when I tried out for the part and read the script for the first time, the entire process was just so natural for me. I was able to land a small role in the film. I tried, however, to convince the film's execs that I could play one of the leads in the film but consequently, they saw that I was just an innocent kid from Chelsea.
If I add together the years that I have been in the business beginning at age 14, it will be 58 because I'll be 72 next month.
50BOLD: Mr. Fargas, did you have any training at all in acting before you landed your first film role?
Antonio: No. I was a survivor in a very large, loving but dysfunctional family, so I had to learn how to act from a very young age. I was a very sensitive kid and a people pleaser. I was called the lawyer in the family because as a youngster, I could settle other people's arguments.
When I discovered acting, it was like "Wow!" I had finally found people who felt the same kinds of things I felt inside and who were expressing themselves in wonderful ways. 
50BOLD: So basically, you are a self-taught actor?
Antonio: No, a lot of things were going on in Black theater at that time. The Civil Rights Movement was at its peak, so it was reflected in the work that was being done Off-Broadway and in Harlem, it was sort of a renaissance of theater. I was one of the young people involved in this kind of movement.
In 1964, actor Robert Hooks created The Group Theater Workshop, followed by The Negro Ensemble Company. He was a young performer from Philadelphia who was part of the Off-Broadway community in New York City. He and other artists wanted to do something impactful surrounding theater and The Group Theater Workshop, trained young actors.
Since I had one film under my belt as an actor, he involved me in the workshop which then later evolved into the Negro Ensemble Company. I performed in a couple of Negro Ensemble Company productions and was a part of that whole family. I was grandfathered into the company by Robert whom I respect and who is still one of my mentors today.
50BOLD: Getting back to your family, where were your parents born?
Antonio: My maternal grandfather traveled around the Caribbean so my mother was actually born in Cuba because he went there to work at the sugar mills. My father was Puerto Rican. And I have aunts who were born in Panama. Hopefully, I'll get the opportunity to visit Cuba which is on my bucket list.
My mother came to the States on a ship from Cuba, along with my uncle and aunt. We actually have a manifest from the ship that lists the family members who traveled to New York City from Cuba, Grenada, and Barbados.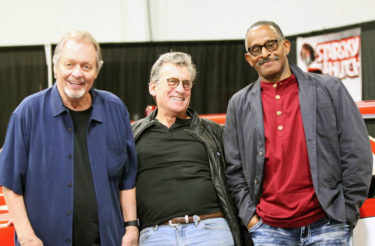 50BOLD: You had such a variety of roles but the Huggy Bear character from TV's Starsky & Hutch has really stuck with you. When you are walking down the street and people call out the name "Huggy Bear" does it make you squirm?
Antonio: Huggy Bear has had the most impact on my career because it appeared on television, the show was so well-received and viewed all over the world; it's quite a powerful piece. I answer to a lot of things, but I certainly pay great homage to the Huggy Bear role I played in the series.
50BOLD: There is a misconception by many that Huggy Bear was a pimp, however, he was really a police street informant, correct?
Antonio: Yes. There was a character named Rooster from Robert Blake's Barretta. He was a pimp and sometimes viewers could not distinguish one character from another. Since I did play a lot of pimp roles even in the film, I'm Gonna Git You Sucka, people thought Huggy Bear was a pimp. Huggy Bear was definitely not a pimp, so we can put this to rest!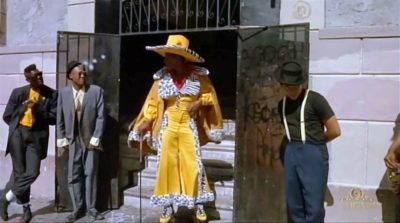 50BOLD: Regarding the Rihanna video, Bitch Better Have My Money, did it draw from the I'm Gonna Git You Sucka film parody that quoted lines from your Fly Guy character?
Antonio: I recited a poem in the film that resonated with a lot of people in the hip-hop community. Many young people glamorized pimping and they used the dialog not fully understanding what it really means to be a pimp, or to be someone who is controlled by a pimp.
So the glamorization of pimping is something that we, as actors have to take responsibility for and I certainly have as an artist. I try to portray roles as vividly as I can and sometimes the message gets received incorrectly.
50BOLD: Do you have a favorite role?
Antonio: All the roles I've played are like my children; I can't choose one over the other. They are all dear to my heart. I am an African American character actor who has portrayed a variety of roles, oftentimes representing the pain and tragedy of people on the streets who have to struggle to be recognized in this world.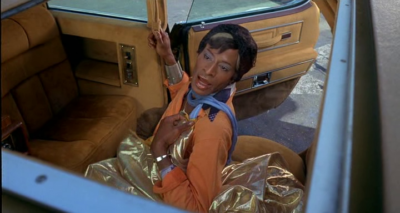 50BOLD: As far as the so-called Blaxploitation era films, you have acted alongside folks like Pam Grier, Richard Roundtree, Yaphet Kotto, are you still in touch with these people?
Antonio: Well, if they're alive, yeah, we are a brotherhood. I still see David Soul and Paul Michael Glaser from Starsky & Hutch, Richard Roundtree, Glynn Turman, we are all a brotherhood of actors.   Our fraternity is getting smaller and smaller because people are passing away, and as we get older, we realize the importance of every single day.
I still have a very close friendship with my mentor Robert Hooks and all the people I have journeyed and shared things with throughout my career. And of those performers who have passed away, I will always have fond memories of how much they gave to me, to this industry and to our community as a whole.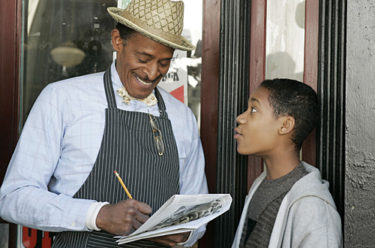 50BOLD: You've had such a long-lasting career and now with TV's Code Black and Black Lightning, you're still in the public eye. Your body of work is remarkable. What's your staying-staying power secret?
Antonio: I realize this has all been a spiritual journey, so doing something that I love for nearly 60 years just makes me want to show up and do the work. I lived life and like everyone else, I've made mistakes. There was a God-driven purpose to my journey and I accept this today. I don't take any credit. All I try to do is be the best human being that I can be and to use the gifts that were given to me by my God in order to make a difference in this world in terms of contribution.
50BOLD: You've done over 50 films, numerous shows, Broadway, theater, your career has spanned over several generations. I have twin sons, 26, they were first introduced to you through playing Mr. Harris the storekeeper in Everybody Hates Chris. How does it feel to have a career that spans so many generations of family members?
Antonio: It's remarkable that through the time that I spent in this business people can point out roles that I've done. Some things I don't even remember! Just the other day there were a few people who had seen me on the longtime running soap opera, All My Children, and had identified with the character I portrayed. I have always tried to represent the best characterizations of all the roles I've been given.
I was doing a play in this small English city and had to take a taxi to the theater and with practically every one of the vehicles I'd take, the driver would say, "You don't have to pay me, Antonio. I grew up watching Starsky & Hutch and I want to thank you for what you did for me."
The other day I was coming out of Starbucks and this African American man in his 30's said, "Oh, Mr. Fargas, I can't believe I'm meeting you. I have admired you all these years." He told me how he and his father watched me on television, then suddenly, he began to cry.
50BOLD: Really! What a touching story!
Antonio: We don't even realize how we touch people with what we do as actors. Basically, we should also touch people by just putting away someone else's shopping cart at a supermarket, or by showing patience while on a line. Giving away a parking space to someone who needs it, just doing something for someone without expecting anything in return is how you should touch someone.
I am depositing in my spiritual bank, random acts of kindness without expecting anything in return, this is how I try to live today. So when someone recognizes me for the work I've done, it's truly humbling.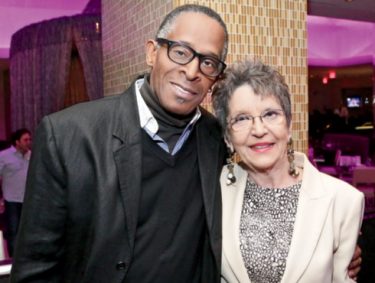 50BOLD: You seem to be very humble.
Antonio: I've learned not to let accolades or accomplishments make me ungrateful. I just try to say thank you for every opportunity and life event. I carry around my humility.
50BOLD: Are there any roles you've turned down and regretted?
Antonio: (laughs) I 've said yes to every role and don't think I've ever turned down anything. I was one of the few African American actors on television during the Roots mini-series and I was not on it. I wasn't in the remake of the Starsky & Hutch movie. Sometimes you get missed for a role but I think I only receive roles that I was destined to get. I really trust that God gives me everything I'm supposed to have so I don't worry about my next job. Of course, I have to pay the mortgage and there are other financial obligations but I am truly free of worry because after nearly 60 years as an actor, as long as God wants to use me, I'll be used. Whatever the future holds for me, I'll be prepared!
50BOLD: I like your thought process… Do you still have your band The New Jump Blues?
Antonio: You can check out The New Jump Blues on YouTube. We played at the Playboy Jazz Festival in 2014. I also made a recording that can still be purchased on iTunes. Music has always been an important part of my life.
I've been in films where the soundtrack was very important to the film like with Across 110th Street, Bobby Womack sang the title track. The group Rose Royce had a smash with the title track for the film, Car Wash. Music is an integral part of storytelling, it's an essential aspect of every moviegoer's experience.
50BOLD: What kind of music do you play with the band?
Antonio: The new jump blues is like Louis Jordan, it has a certain niche that I found. A producer friend helped me put this group together and we just love the music. We just go out there and have fun. I use my personality because I'm not a great singer but I can carry a tune and tell a story.
We had a lot of fun putting the album together and performing. I'm very proud of The New Jump Blues.
50BOLD: You career has been so enviable, what's left for you to do?
Antonio: I don't know what the future holds and I like it this way.  I don't take anything for granted but I do know, I only have a few years left to do, what I do because Father Time is undefeated!
Call it a cliché but I want to give back, help support young artists in the struggle. I am still learning how to love, give love, be a better friend, father, grandfather, husband, all these kinds of things are really important to me as I age. I want to keep a smile on my face.
50BOLD:  You look amazing, what's your diet and exercise regimen?
Antonio: I've been very blessed. I try to do the best I can with this vessel I've been given by eating the right things, getting enough exercise and lots of rest. I think the most important things I've added to my life are meditation and prayer.
I try to stay balanced in all areas of my life. And again, the gift of humility is something that I cherish.
50BOLD: Do you have a credo that you live by?
Antonio: I don't lead a religious life; I lead a spiritual life. I think there is a power greater than me and I try to find what my God wants for me on a daily basis. My spiritual and moral compass has to be in good shape in order to proceed in life today. I can't live life the way I used to. I might have done things differently had I known better at the time.  I entered this existence with the best of intentions and now, I have to let the chips fall where they may.
Here is one of Antonio's most famous scenes in I'm Gonna Git You Sucka