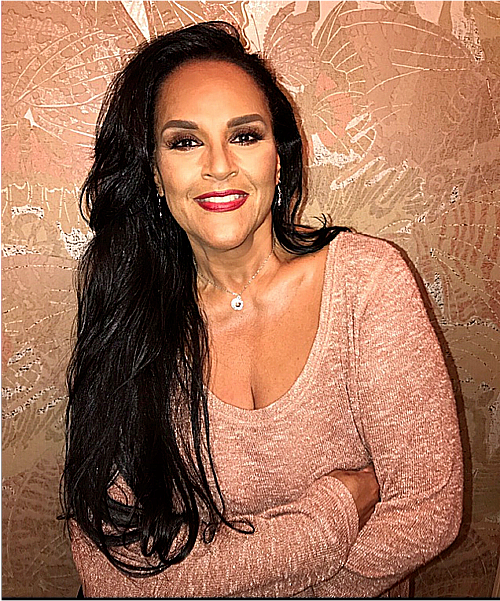 Jayne Kennedy Overton is a timeless beauty and symbol of an era in the 70s that we as 50-plus folks remember fondly. It's also an unarguable fact that the sexy Sepia "It girl" possessed the ability to make Black men weak in the knees (including yours truly!). Jayne came into the spotlight as a beauty queen titleholder (first African American to win Miss Ohio, 1970) and then soared on her own. Over the years, the statuesque actress, model, writer, corporate spokesperson, sportscaster, philanthropist, and businesswoman has more than proven that her brilliance extends far beyond the beauty pageant stage.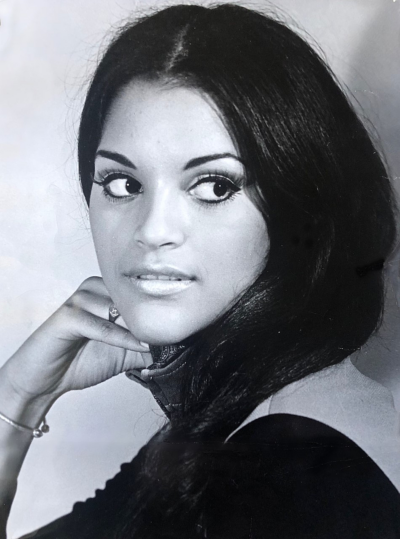 The year 1978 was a banner one for Jayne, who joined The NFL Today program on CBS, making her the first Black woman to anchor a national sports broadcast. The overachiever then went to work for the Greatest Sports Legend show; she was the only woman ever to host the nationally syndicated program. In 1981, Jayne became the first Black actress to appear on the cover of Playboy magazine, but she elected to stay mostly clothed for the striking photoshoot. Yet another first for the glamazon; she was the first Black woman to enter the world of fitness videos in the 80s with her wildly successful Love Your Body series.
The marginalization of Black actresses back in the day was a practice that was not so hidden. Jayne, who was also an actress, thought she'd be a shoo-in to play the role of a wife in a major biopic but refused to cave into the producer's sexual harassment. She would have really sunken her teeth into the role of Richard Burton's co-star in The Klansman had she been given a fair shot. When actress Farrah Fawcett left her wildly popular TV show, Charlie's Angels, Jayne was briefly considered her replacement, but the network's execs passed on her for "political" reasons. She was to star in a spin-off TV series to the wildly popular Wonder Woman, but it never materialized. The performer soon discovered that it was still difficult for Hollywood to put its monetary muscle behind a project that stars a living, breathing, and talented woman of color. Sadly, a problem that still exists today.
Setting those folks straight who insisted on labeling Jayne as "mixed race," "mulatto" or even "white" has also been an uphill battle. Industry folks, especially those who questioned the legitimacy of her Blackness, refused to believe she was ALL Black. She would tirelessly let folks know, in no uncertain terms, how proud she is of her Black heritage and how she did not appreciate people trying to dilute her Blackness.
Jayne has never compromised herself to land or keep a job. 
Jayne's life story is certainly one to be savored; the mom of four performed #Blackgirlmagic decades before the phrase became popular. Having a tough exterior has allowed Jayne to deal with rejection in situations that felt as if she had been swiftly punched in the solar plexus. The girl from Ohio has indeed persevered in the face of obstacles. But every "No" she received, only made her try even harder to succeed.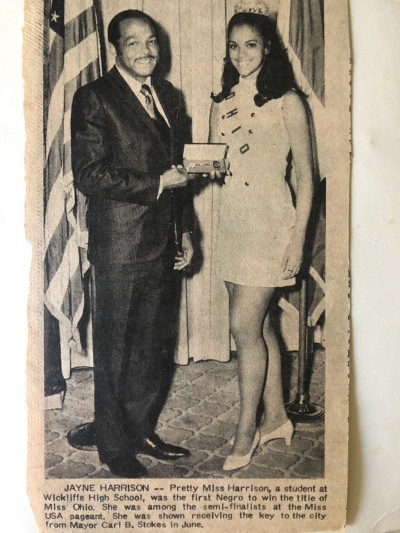 The recipient of an NAACP Image Award and Emmy Award also received the highly coveted Black Enterprise Women of Power Legacy Award, which recognizes the impactful achievements of women in influential areas. Jayne's historical media contributions are spotlighted in Washington D.C.'s Smithsonian National Museum of African American History & Culture's Television and the Media Landscape exhibition. The tribute is one of her most significant career highlights. The groundbreaker joined the noteworthy lineage of other Black pioneer TV hosts and news anchors such as Oprah Winfrey, who are also honored in the museum.
Jayne, who 35 years later is still married to actor Bill Overton, is now gearing up for her 2.0-second act of unfinished business that includes the upcoming release of her autobiography, Plain Jayne.
50BOLD is honored to chat with living legend, Jayne Kennedy Overton, as she opens up a world kept private in recent years.
50BOLD: You were born in Washington, D.C., but then, you and your family move to Ohio when you were an infant. What was it like growing up in the Buckeye State?
Jayne: Well, I was born in D.C. My family and I moved to Ohio when I was nine months old. We moved to Cleveland, where my Dad found a better job. Family has always been one of the most critical parts of my daily life. There were six kids in our home, plus my parents. My Dad sometimes worked three jobs to keep the family going.
We had family in Cleveland, but we also spent our summers traveling to Philadelphia, New Jersey, D.C. South Carolina or Virginia because we had family in these places, and we are a very close family. Both of my parents came from large families, so we had relatives up and down the East Coast. So, we would travel a lot but always you know, be at home. We never did the touristy thing when we visited relatives. I never even got on an airplane until I was in the 11th grade. But family was and still is, a big part of my life, and this has remained with me.
I've always wanted my own family, as well. Having a career is great, but having babies is even greater! My parents instilled in us that your siblings should be your best friends. And I've raised my daughters with the same beliefs. So, a lot of the values my parents instilled in me have carried over.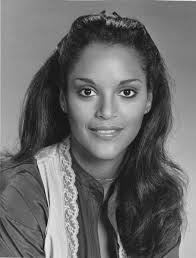 50BOLD: You were Miss Ohio back in 1970.  Please share with us the types of trials and tribulations, if any, you endured to become the titleholder of this prestigious honor.
Jayne: Interestingly enough, a lot of people ask me, did you always want to be Miss Ohio? I said heck no, I wanted to be Shirley Chisolm! My mother saw an ad in the paper about the pageant and thought her girls could enter. So, she sent my sister's picture and mine as well. When the pageant officials notified us, they said they wanted us both.
Well, I won the Miss Ohio pageant that my sister and I competed in together. I didn't think I was going to win. It wasn't all about the win. We wanted to take in and enjoy the experience. The pageant was held at a mall where I worked as a fashion model for the May Company. As a matter of fact, I thought another girl was destined to win. So when my name was called I didn't even hear it. My sister had to nudge me to let me know I had actually won the title.
50BOLD: Hilarious! You were also in the Miss USA pageant.
Jayne: Yes! So, two months later when I was in the Miss USA pageant in Miami, it was held the same night of my senior prom. I couldn't go to my high school prom which was cool because I didn't have a date anyway. None of the parents at my high school were going to let their kid go with this Black girl.
When we arrived at the pageant location, I was instructed to say I was from Cleveland, Ohio because, it was more identifiable than the Wickliffe area where I lived. So, when I walked on stage, and I said, "Jayne Harrison from Wickliffe, Ohio." At my senior prom, TV monitors were throughout, so the students at my high school all watched the pageant. And when Wickliffe was mentioned, I was told that the students were all screaming and yelling.
It was just so meaningful to me to have the support of my high school student body. I had been elected to so many different offices while I was in high school. I had a great rapport with all of my classmates. It was the parents of the students at my school who were the problem. I lived in a mostly Italian neighborhood. The parents just did not want their kids hanging out with this Black girl.
50BOLD: Since you were the first African American Miss Ohio, were you supported by our community? Did our folks come out to support you in any kind of way?
Jayne: Yes! Since all of the prizes promised to me were never delivered, news of this reached Mayor Carl Stokes' wife, Shirley Edwards. When she heard how I had never received a thing after winning the pageant, she gathered a delegation of her female friends. The women went to stores and got the owners to donate prizes for me so that I would have support going to the Miss USA pageant.
As a matter of fact, I even ended up wearing a borrowed gown to the pageant. Shirley also gave me a wig because she said Miami would be very humid [laughs]. My parents, several aunts, and uncles from New Jersey, Philadelphia, Cleveland—flew to Miami. I could hear them all yelling in the crowd when my name was announced at the pageant. I could especially hear my Dad.
50BOLD: [laughs] Nothing like parental support, right? You weren't treated in the same way as the prior winners. I don't detect any bitterness in your voice as you reflect. Why were you so able to roll with the punches so easily?
Jayne: Well for one, I didn't enter the pageant looking for any glory. I just wanted the experience of it all. Hey, I got to go to Miami. I never thought I'd get out of Ohio. [laughs] Vacation for me was going to Virginia to visit my aunt and uncle on their tobacco farm. When my siblings and I arrived at the farm, my cousins couldn't wait for us to take over their chores so that they could take a break! [laughs]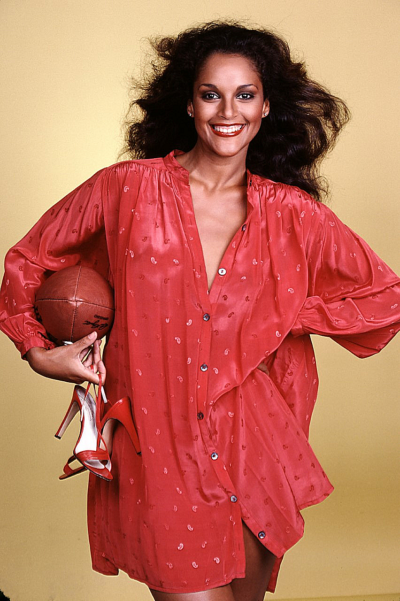 50BOLD: What an experience!
Jayne: Oh yes! So for me just to be able to get to the Miss USA pageant was incredible. And when I arrived at the pageant, the rumors began flying around how the Black girls were not going to win. There was another Black girl from New Jersey who was also in the pageant. I just remained focused and did not let the rumors derail me. I was going to have a good time. I felt there would be positive adventures waiting for me in the future.
50BOLD: So positive adventures down the line! Jane Harrison goes from small town Ohio to Hollywood. How did she land there?
Jayne: [laughs] Leon Isaac Kennedy and I met that fall after I graduated high school. I had done a television commercial and he just happened to see it. Leon asked his brother about me and was told that I was the winner of the Miss Ohio pageant. He decided he just had to meet me.
Leon was doing a show called "Out of Sight With Leon & Mike." He called to ask if I would be a guest on his show. And of course, he had to speak to my dad. Well, he talked my dad into allowing me to be on the TV show. Anyway, we began dating and then decided to get married.
We got an apartment and had planned on still doing the television show. Well, two weeks before the wedding, Leon and I thought that if we moved into an apartment, we'd never leave Ohio. So, we needed to just give up the apartment, and leave. One week after the wedding, we hopped into our car and headed for Los Angeles.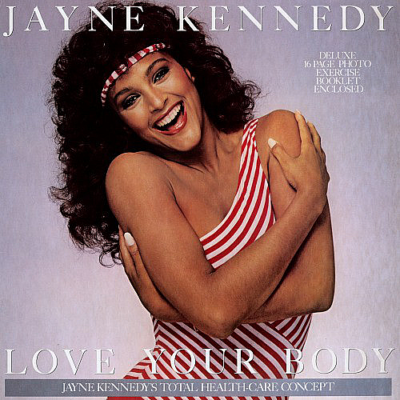 50BOLD: Beautiful! So when you arrived in Hollywood, was stardom waiting for you?
Jayne: Pretty much! I began working almost immediately. Back then, jobs weren't paying Black talent very much at all. So, even if you did land a job, you weren't making much money. It was very common to go down to the unemployment office and see a whole bunch of Black and white actors in line.
The only people we knew in Los Angeles were Leon's aunt, uncle, and two cousins. So, we stayed with Leon's family for about a month, then got our own apartment.
One evening, we attended a Fifth Dimension concert. Since Leon was in the DJ business, he knew a lot of groups. We went backstage after the show and met Billy Davis, Marilyn McCoo, Lamonte McLemore, Ronald Townson, and Florence LaRue. Lamonte got to be a very good friend of mine. He's my lifelong big brother. He's always been there for me. Lamonte called me one day because he had arranged for me to meet the choreographer for the NBC-TV comedy show Rowan & Martin's Laugh-In.
When I arrived at the show's taping, I sat in the audience waiting to have my meeting. A guy comes over to me and asks, "do you dance?" And I said, "Yeah!" He grabbed my arm and led me to the show's set. He then explained how I should dance when the red light came on. When the light went off, I should freeze. Well, I did my dance every time the light turned red. The guy circled back to me to ask if I could return the following week. I quit my day job and reported to the Laugh-In set. I had been in Hollywood for only two months when all this happened.
50BOLD: Wow! So, your first major gig was on Rowan & Martin's Laugh-In after just being in town for two months? Incredible!
Jayne: I was on a major series! I used to watch Laugh-In in my living room when I was in Ohio. After only one year later, I would never have guessed that I would be a regular on the show!
50BOLD:  Do you think you landed the opportunity because of your natural beauty?
Jayne: I have no idea. I never thought of myself a natural beauty. I really didn't. People would think that I am lying but I am not; I have never viewed myself as natural beauty. I've always thought there was something wrong with me. Oprah said to me once, "You know what, Jayne, you know what book I would love for you to write? I would love for you to write what it was like to walk into a room and know that you're the most beautiful woman in the world. What does that feel like and how did you get there?" And she went on.
Well, I told Oprah "wait a minute, stop, what are you talking about?" I said, "I have never in my life thought that I was beautiful. Never once! If I tried to write that book it would all be a lie!" Oprah then said, "I don't believe you!"
I've always thought that I was too tall, and my legs were too long. We never had any money growing up, so I never had a fabulous wardrobe. I made my own clothes. My hair was too frizzy. I didn't have the right makeup, or the right shoes to match a particular outfit. All of these self-criticisms have always spun around in my mind.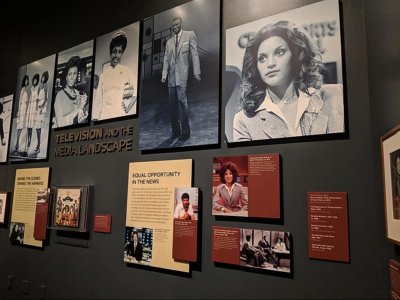 50BOLD: One of your major attributes is your natural beauty, granted. But you have a great personality as well and people are attracted to you because of it.
Jayne: My personality has carried me further than anything else. I very seldom landed a job based on my looks. Pretty much every job that has ever come through for me happened after meeting people and developing a relationship. I didn't know Sammy Davis, Jr. lived in Los Angeles. We ended up becoming great friends with him. He invited us to his home every Sunday for dinner, and on Fridays for movie night. In attending these gatherings, we'd meet Hollywood executives, celebrities and develop a rapport.
50BOLD: [laughter] What a great story! What is the greatest misconception that most people have of you?
Jayne: There are plenty!  I don't think people really know me. One misconception is that people have always believed Leon was my manager; he was not. There were a series of managers. The other is when people interview me, one of the very first questions they ask has to do with winning the Miss Ohio pageant and what happened from there. When I attended events, people would refer to me as "the first Black woman to win the Miss Ohio pageant," this is one of the most insignificant things I've ever done in my life. Winning the pageant never opened any doors for me; it never took me anywhere. But this is how I am being remembered? So, being Miss Ohio did not help me gain entry into Hollywood, it just didn't.
I received a lot of backlash after the win, not only from the community but also from the state of Ohio. Billboards with my picture were defaced or ripped down. My victory was not well received at all, even in 1970! There was a lot of resistance and anger behind my win, so I didn't receive any of the prizes. Winning the title at age 18 was a true lesson for me in the harsh realities of the real world.
50BOLD: When did you first receive your national exposure? Was it as a sportscaster with NFL Today?
Jayne: No, not at all! See, another misconception. I'd been working for eight years as an actress before the NFL sportscaster gig.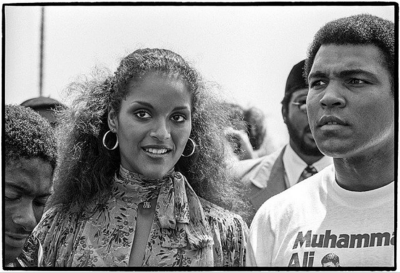 50BOLD:  You had a very popular exercise video series. I remember them.
Jayne: Yes! I produced, wrote, starred in, and created my Love Your Body exercise videos. When I was approached about doing the video series, I insisted on producing, writing, and creating it all. I wanted control. Black women didn't just come into power on the business end of things; we were doing our thing back then as well!
50BOLD:  Please tell us about the Farrah Fawcett poster story.
We thought that a poster of me holding a football and wearing a red silk shirt would be a huge seller like the famed Farrah Fawcett one in the red swimsuit. Farrah's poster sold something like 25 million copies. We approached the same company that produced Farrah's poster. Lamonte McLemore took the photograph we had wanted to use for the poster and we had it in hand. Well, we were informed by the company reps that Black people do not buy posters. They spouted how Blacks don't buy this, and Blacks don't buy that. The reps mentioned that they had recently tried to market a Gary Coleman poster that just did not sell. I could not believe what they said, a Gary Coleman poster! The little kid from the sitcom Diff'rent Strokes!?
50BOLD: Wow, that was not a smart move on that company's part! The poster would have still been in my man cave! You are the total package–beauty, brains, and a businesswoman.
Jayne:  I was just doing my best to take control of my career back then as well!
50BOLD: You were Coca-Cola's Tab soft drink spokesperson; this was a major coup! Can you please give us some background info on how this Tab deal came to be?
Jayne: Tab was the number one soft drink in the world. I had been trying to land the job as the soft drink's spokesperson for a long time. And as the old saying goes, nothing comes overnight, and it's so true! For a couple of years, we'd been trying to secure a product relationship with Coca-Cola. My attorney called one day and asked me to take the next flight to Detroit. He mentioned we'd be going to a black-tie affair.
So, when I get to the airport, my manager picked me up, and we headed to the black-tie affair. We get to the event, and the head of Coca-Cola Global is there. A Coca-Cola bottler introduces us to the head guy. And so we were there conversing with the head guy for about ten minutes; he then looks at me and says, "You need to work for us." The very next morning, I had a contract.
I went to New York for a press conference, and there were maybe five girls that Coca-Cola had hired. The company had planned on doing print ads with us. The night before, I had done all kinds of research on both Diet Coke and Tab. The other girls were introduced to the company execs. When they got to me, however, I had marketing knowledge on how to position Diet Coke along with Tab. The execs were so impressed with me that I was hired as their corporate spokesperson. I represented the company on radio, television, and did public appearances. I was with the company for six years. Everywhere I went, I made sure there was a can of Tab in hand.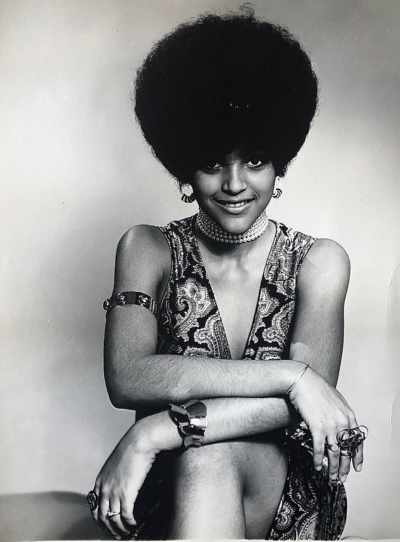 50BOLD: You've interviewed so many great athletes, who were some of your favorites?
Jayne: Muhammad Ali is a favorite because growing up, I was so enamored with him. He was the greatest period. There was no interviewee better than him. My only interview with him lasted only a few minutes, but we had already been friends.
I also interviewed basketball great Bill Russell. I was the very first woman to be hired on the TV sports anthology series Greatest Sports Legend show, and they wanted Bill Russell. The show's producers had been trying to get Bill to be a guest on the show. And he finally agreed to the interview. I could've passed out when I heard Bill had agreed to the interview. So, I asked Bill why he had decided to appear on the show? He said because I was at the beginning of a legacy, and he wanted to be a part of it.
50BOLD: You were a female NFL sportscaster in a primarily male environment. What are your thoughts on the #MeToo movement, and how did you handle yourself in situations where there were men with unprofessional intentions towards you?
Jayne:  It was pretty much the norm and very common in those days for some men to behave unprofessionally towards women. So the #MeToo movement didn't surprise me at all. When the movement first started, so many people did not believe sexual harassment situations occurred at such high levels. I thought, 'are you kidding me!' Harassment was definitely very prevalent in the film industry back then. I can give you a list!
There is one producer, in particular, who produced a very well-received biopic in the 70s. This man would just come right out and state, "you're not getting this role unless you go to bed with me, period!" For the biopic, I thought I could land the role of the lead's wife because we could have passed for sisters. The producer, however, was just so adamant about not offering me the part of the wife in the film movie unless I slept with him.
On one occasion, Leon and I went to a black-tie affair, and when we walked in the door, that very same producer was standing nearby. The man actually approached us and told Leon in no uncertain terms, "you know your wife would get the role if she sleeps with me." He was just that type of person!
When I was a sportscaster, I never had problems with any of the athletes. And I want to make this clear. They had respect for me!
The women in Hollywood now have the power to let their voices be heard. I applaud them each and every day because I know it is very challenging for them to do what they do.
50BOLD: Absolutely! The climate for women in the industry has been and still is very challenging, to say the least!
Jayne: Men in the industry would slap women on the butt, or make not only sexual but racist comments as well. Women always struggled, always struggled. We didn't have mentors. We didn't have a movement. We didn't have anyone to turn to who wielded enough power to put an end to the harassment faced by so many women back then.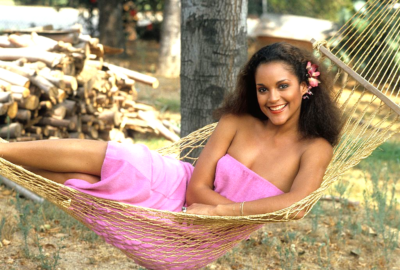 50BOLD: I am ecstatic that the #MeToo movement is bringing about such positive changes for women everywhere! Now, switching gears, how did you feel about receiving the prestigious Black Enterprise Women of Power Legacy Award?
Jayne: When I received the Black Enterprise Women of Power Legacy Award, I wanted all my daughters there just to watch me receive the honor. Seeing them there at the awards ceremony made me cry because of the special relationship I have with them. I wanted them to see what I had accomplished careerwise. For my girls to see me receive this acknowledgment, well, they finally got a chance to see who I was. They never knew me as a celebrity because I did not work while I raised them. They just knew me as the mom who drove them to school, picked them up, and made their lunches. They were just in awe of it all.
Funny story. One day I was driving my daughters home from school, and a rap song by the artist Mos Def came on the radio. My name was mentioned in one of the rapper's verses. And Zaire says, "mom, did he just say your name!?" And I said, "oh my God!" and slammed on the brakes. Savannah then says, "mom has got street cred!" [laughs]
50BOLD: Please share your thoughts about your being included in the Television and the Media Landscape exhibition in Washington D.C.'s Smithsonian National Museum of African American History & Culture.
Jayne: When I received notification about my being included in the museum, I was dumbfounded. I never received an official word about my being included. Someone took a picture of the media exhibition where I was included and sent it to me. When I visited the exhibition with my daughter Savannah, I just cried. As I strolled through the exhibition, memories flooded through my mind of the struggles I had to land the job as a sportscaster, the significance of the role, and of the time they fired me.
50BOLD: What is the best thing about being Jayne Kennedy Overton?
Jayne: Being a mom is the best thing about being me. I have four daughters, ages 38, 34, 31, and 24; they are so important in my life. My daughter's friends are also important to me. I just love hearing my daughter's friends tell them, "your mom is amazing," and it has nothing to do with my career because they don't know that side of me. I have advised these girls on so many aspects of their lives. I am there for all of them. I managed my daughter's soccer team for eight years. And during the process, I probably now have 50 daughters because I call them ALL my girls.
Now, I'm also in the fourth quarter of my life, "Jayne 2.0: Unfinished Business," so it is important for me to keep working on being my better self. Every woman gets to a point in life when they question their authentic identity, and when they find the answer, their lives become richer. I began writing my Plain Jayne autobiography back in 2000 and didn't finish it until recently. I made the raising of my girls a priority. They all have college degrees and live on their own, so now, I can get back to me. However, I think I will always be in mommy mode.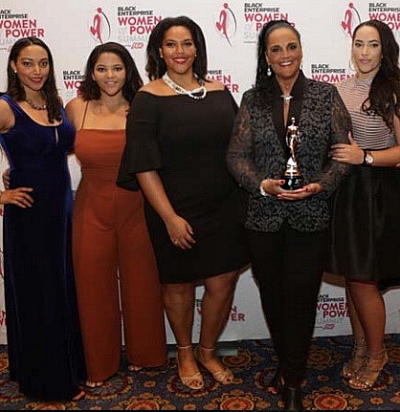 50BOLD: What are your plans moving forward?
Jayne: I don't know what God's plan is for me, but I know he has things in place. I have a small team of marketing and legal professionals I'm currently working with to develop our game plan.
I am in the editing stages of my Plain Jayne autobiography. I also want to work on a coffee table book of the interviews I've done with legendary sports figures like Bill Russell, Sugar Ray, and Muhammad Ali. And we have two TV projects in the works, in development.
Some career moves are scary because the ways to expand your brand now just didn't exist some thirty years ago. My faith is in my relationship with God. My faith is strong, and in my heart, I know it is all going to work out for me. God is a significant part of who I am, and I want to be open to receive his word. If something for me is not meant to be, then, it's not meant to be.