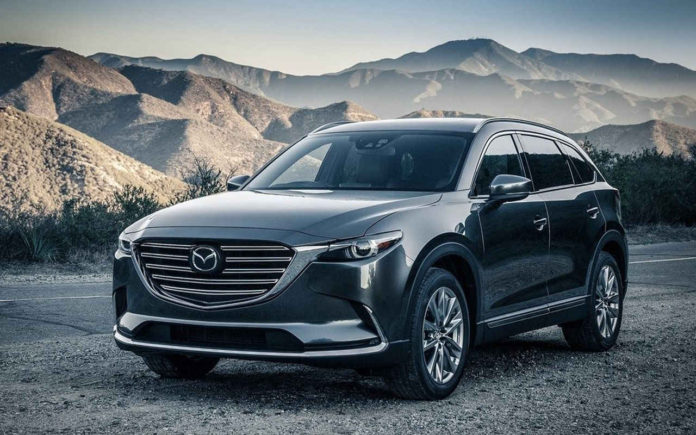 Once-upon-a-time the Mazda CX-9 was not a head turner. Its design was pretty generic; it had that real practical look. Nope, it was not even passably attractive…until now! The Japanese automaker apparently did not smack this 2018 CX-9 with an ugly stick because it is now a definite stunner inside and out. Yep, thankfully, Mazda took a HUGE step away from the CX-9's earlier design days.
At first glance, the CX-9's exterior sporty look is long, low, fluidly stylish, and curvy with an imposing grille, long hood, and steeply-raked windshield; imparts an upscale and refine appeal! Inside, the big crossover's cabin is all about premium quality. The seating is sumptuosity and then some, lumbar/thigh friendly and perfect for long distance getaways. Head and legroom is plentiful in the first two rows but in the third, not so much. Tweens will be comfortable in the third row and access to it is pretty easy. Folks will find the CX-9 is best for five passengers with occasional third-row use.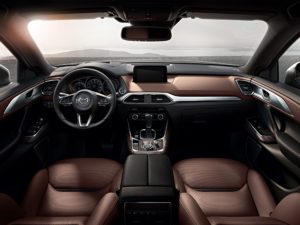 The dash layout is sleek, sensible, and you will never have a head-scratching moment when trying to figure out the infotainment system which uses a knob controller, much like the ones found in Audi, and BMW. There are no real complaints here with regards to Mazda's Connect infotainment system with a 7-inch screen (there is an 8-inch screen up the trim line); the Bluetooth audio streaming and phone pairing were also pretty straightforward operations. Well, maybe one minor complaint has to do with the vehicle's voice command and even though I have yet to find a perfect system, Apple CarPlay, and Android Auto would have come to the rescue but Mazda does not currently offer them. The Japanese automaker is, however, hard at work on an all-new infotainment system in partnership with Toyota that should be a step up.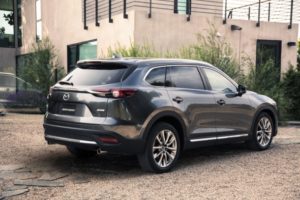 As far as the third-row crossover segment, the CX-9 has great best-in-show driving dynamics in my book! The turbo-charged SkyActiv engine is a first-ever for Mazda. The CX-9 comes with a 2.5-liter four-cylinder engine that makes less horsepower than the 3.7-liter V6 it replaces but has a whole lot more torque. In total, this beauty produces 250 horsepower and a whopping 310 lb-ft of torque. Even though the 2.5 turbo four is the CX-9's only engine option, don't fret because it has more than enough passing power when you demand it. The vehicle is well-behaved and very agile on the road especially as it flows through twists; a guaranteed fun time will definitely be had by those behind the wheel.  At the pumps, the front-wheel-drive CX-9 comes in at 22 mpg city/28 mpg hwy; the numbers drop to 20/26 for the all-wheel-drive configuration. Miles-per-gallon achieved during testing was 21mpg.
On the safety front, the CX-9's standards include a rearview camera, blind spot monitoring, airbags and rear cross-traffic alert. Higher trims come equipped with advanced driver assistance features such as forward collision warning and rear parking sensors. The 2018 model introduces Smart City Brake Support that helps to avoid frontal collisions when it automatically applies the brakes in emergency situations when the vehicle is traveling at low speeds.
Overall Mazda gets high marks with its latest CX-9. Nimble, stellar driving dynamics, and a looker in and out, the crossover is definitely a viable competitor and will give its haters something to talk about!
Prices start at $32,130.  Need more info? www.mazdausa.com