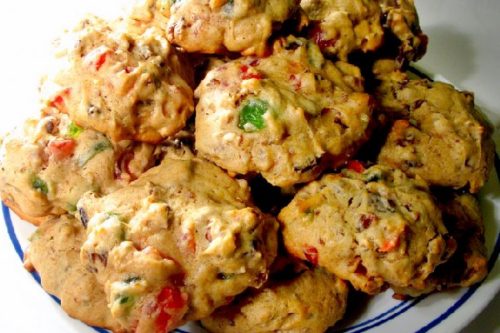 The holidays are upon us and many folks are getting their baking on and poppin'! Cakes, cookies, sweet yummy delectables are being produced with love from the kitchen. 'Tis the season for fruitcakes but how about fruitcake cookies instead?
Many of the same ingredients that go into a fruitcake can also be found in the cookie variation. As a matter of fact, a fruitcake cookie might go over better because folks tend to make fun of fruitcakes which have been around since 1913 and tend to be heavy and dry.  As a matter of fact, they were once recognized as the "lazy man's go-to gift."
Redefining desserts is always a good thing. Our fruitcake cookies are delish and we guarantee, they will not become a punchline for jokes around the Christmas dinner table!
Ingredients:
1 cup sugar
½ cup shortening
1 large egg
1 tsp vanilla extract
1 ¾ cup all-purpose flour (sifted)
½ tsp salt
½ tsp baking soda
¼ cup buttermilk
¾ cup chopped pecans
3 slices candied pineapple, chopped
1 cup candied cherries
½ cup mixed candied fruits
1 cup of chopped golden raisins
Directions:
Preheat the oven to 400°. Line baking sheets with parchment paper or a silicone cooking mat, or grease them lightly.
In a mixing bowl with an electric mixer soften the shortening and sugar. Add the egg and vanilla and blend.
Reserve about 1 tablespoon of flour in a bowl to toss with the fruit.
Combine the remaining flour with the salt and baking soda. Add the dry ingredients to the creamed mixture, alternating with buttermilk.
Toss fruits in the bowl with the reserved flour. Fold in the floured fruits and chopped pecans.
Drop onto the prepared baking sheets with a tablespoon or small cookie scoop, leaving about 1 1/2 inches between cookies.
Bake in the preheated oven for 8 to 12 minutes or until the bottoms are browned.
Tip: Try storing the cookies in a container with a tight seal so that they stay as fresh as can be