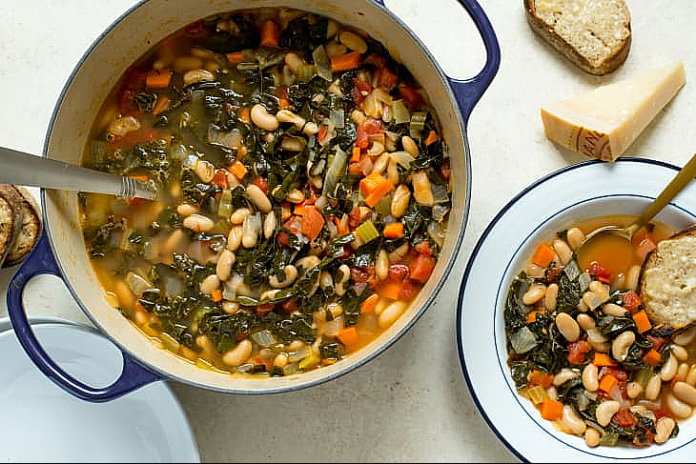 A bowl of hearty vegetable soup is a great way to give yourself a healthy boost. The warm and soothing bowl of goodness can be filled with superfoods that will nourish and help protect you from heart disease, cancer, and other health conditions. Vegetable soup is high in antioxidants, fiber, vitamins, and minerals.
Vegetable soup can be made rather quickly and be kept on hand as a leftover or stored in the freezer for a later time. As a general rule, soup can be stored in the refrigerator for 3 to 4 days and in the freezer for up to 3 months.
Practically any vegetable works well in vegetable soup. Get creative; the sky is the limit as far as yummy veggies–carrots, celery, green beans, kale, zucchini, and tomatoes. Some other veggies that also work well in vegetable soup are fennel, potatoes, peppers, eggplant, peas, corn, spinach, and Swiss chard. If you want to kick the soup's flavor meter up a notch, pick a few veggies to add to your soup from the allium family (onions, leeks, and garlic).
Choose vegetables that will add bulk to a soup, like carrots, peas, and squash, and throw in tender leafy greens to add an interesting texture, like spinach or kale.
A big bowl of vegetable soup will make you feel satisfied for hours and without consuming a lot of calories, which is helpful when trying to lose weight. Plus, it's an easy way to boost your vegetable servings for the day.
Here is one hearty soup that will keep you refilling your bowl!
Ingredients:
2 Tablespoons extra-virgin olive oil
1 medium onion, chopped
2 medium carrots, chopped
2 stalks celery, chopped
12 ounces fresh green beans, cut into ½-inch pieces
3 cloves garlic, minced
8 cups low-sodium chicken or vegetable broth
2 (15-ounce) cans cannellini or other white beans, rinsed thoroughly
4 cups chopped kale
2 medium zucchini, chopped
4 medium tomatoes seeded and chopped
2 teaspoons red-wine vinegar
1 teaspoon salt
½ teaspoon ground pepper
8 teaspoons prepared pesto
Shaved parmesan
Directions:
Heat oil in a large pot over medium-high heat. Add onion, carrots, celery, green beans, and garlic. Cook, stirring frequently until the vegetables begin to soften, about 10 minutes.
Add broth and bring to a boil. Reduce heat to a simmer and cook, stirring occasionally, until the vegetables are soft, about 10 minutes more.
Add white beans, kale, zucchini, tomatoes, vinegar, salt, and pepper. Increase heat to return to a simmer; cook until the zucchini and kale have softened, about 10 minutes.
Top each serving of soup with 1 teaspoon pesto or add shaved parmesan cheese
Serving Size: 1 3/4 cups each; per serving: 225 calories