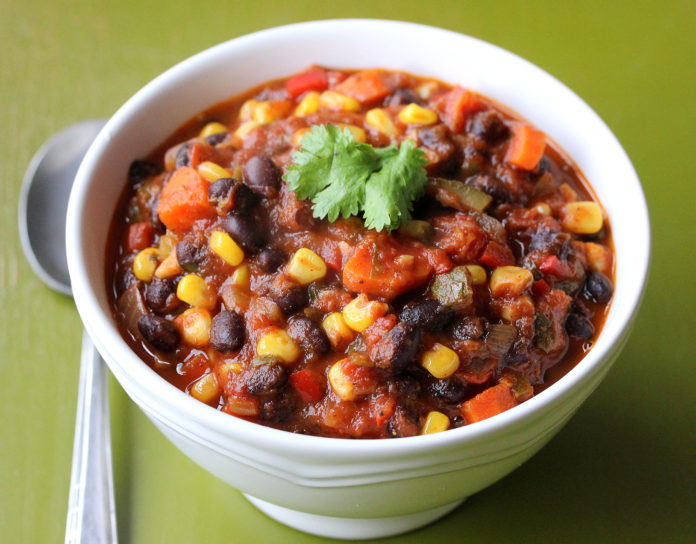 Baby the hawk is out! We are right in the dead of winter–snow, blustery winds, teeth-chattering temps, what to eat, what to eat? How about kicking meat to the curb for a night to cook up a pot of vegetarian chili!
Meat is not a nutritional ultimate, don't believe the hype!  Vegan meals that are well-planned will contain all of the nutrients you will need to maintain a healthy body. Just think, you can consume a meal that has loads of vitamins sans the high fat. And if you are worried about meeting your required protein intake, legumes like beans, peas, and lentils will fit the bill.
Chili is a hearty one plate wonder that is easy to make and satisfyingly delish. Did you know that the U.S. Department of Agriculture recommends that you include more meatless meals in your diet?  Vegetarian chili can help you meet that need.
We have a hearty meatless chili that will warm you from the inside out!
Chilly Meatless Monday Chili
INGREDIENTS:
2 tablespoons canola oil
1 large onion, finely diced
4 cloves of garlic, finely minced
1-3 tablespoons chili powder (more will be spicier)
2 tablespoons of cumin
1 teaspoon oregano
1/4 – 2 teaspoons of chili flakes (the more chili flakes the spicier it will be)
2 bell peppers, diced
2 medium carrots, diced
3 celery stalks, finely diced
2 – 28oz cans of whole tomatoes and their juice (use your hands to roughly crush the tomatoes)
2 – 15-ounce cans of beans, drained and rinsed (one can, kidney and the other, black beans)
2 cups of frozen corn
Non-veg option: 1/4 cup prawn stock (you won't taste it specifically but it will add richness to the dish)
INSTRUCTIONS:
Heat oil in a large pot over medium-high heat and add onion; sauté for about 3 minutes. Add garlic to the mix and sauté a minute more. Add chili powder, cumin, oregano, chili flakes and stir for about a minute.
Add the peppers, carrots, and celery and cook until they just begin to soften. Add tomatoes, their juice and bring the mixture to a simmer. Once the chili begins to simmer, reduce the heat to medium-low; keep the lid off.
Continue to cook the chili, stirring occasionally, for about 30 minutes. Add beans, corn and let the chili return to a simmer. Cook for 5 more minutes or until the corn and beans have heated.
Salt to taste.
Serve and add a topping of your choice (sour cream, cilantro, or even diced scallions)