Road behemoths are not for everyone. Some folks prefer more petite packages when it comes to their vehicles.  So, if you're in the market for a solid compact, then the redesigned 2019 Kia Forte is a good pick to peep.  Here are four reasons why the Forte should be considered when shopping for a compact.
The Forte is just so good looking.  The four-seater comes in four trims, FE, LXS, S and EX and has overall upscale Euro-styling that will appeal to younger as well as more seasoned buyers. The compact also has a very aerodynamic profile. The vehicle's prominent side contours and hood ridges add cool factor to its overall design. The Forte's bold tiger-nose grille is flanked by sleek LED headlamps that command attention. Inside the Forte's cabin is a well-executed layout. The sedan's tidy innards look well put together with classy stitching, piano black trim accents, and with mostly soft-touch surfaces. The compact's seats are super accommodating on owie lumbars. Wiggle room in the Forte is accommodating in the front, but in the rear, folks who are south of six feet will tend to enjoy the ride more.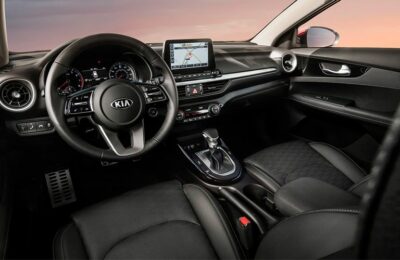 It is well teched out.  The Forte offers an infotainment system via an 8-inch touchscreen that is well-behaved.  Not one of the tech features in the Forte, frustrate. The voice recognition and navigation features on many rival vehicles can be a hair-pulling experience but this is not the case in this Kia.  Auto CarPlay and Android Auto are standards in the Forte.  The Korean automaker also gets high marks for making quite a few safety features, standards, like lane-keeping assist, driver attention warning, land departure warning, forward collision warning, and rear camera display.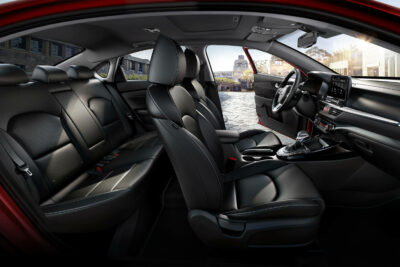 Giving it gas.  The Kia Forte is engaging, and a truly fun drive (test vehicle was the EX).  The sedan sports a tight suspension and delivers a pretty peppy performance for a compact that offers a 2.0-liter 4-cylinder engine delivering 147 horses and 132 lb-ft of torque. The Kia is a great all-around town scooter but don't get it twisted; she manages to hold her own on highways too. Braking also produces a feeling of security. At the pumps is where the little Kia does her thing with an estimated rating of 27 city/37 highway for the entry-level trim.
It gives good value.  If you're targeting affordability, then bull's-eye; the Forte should fall right within your price range. With a starting price of $17,790, the Forte offers quite a bit of refinement, features, and efficiency; it covers a wide range of wants and needs and is one of the best values in the compact car market.
Need more info?  www.Kia.com