Honda has stuck to a classic and winning formula for their 2019 Pilot– comfort, room, safety and reliability that works for this main choice for family-focused buyers. The midsized SUV is a top-ranking vehicle and for good reason.
The current model year Pilot has a new 'tude with looks that have been slightly refreshed to make it look more athletic. The up to 8-seater sports a new front-end design, new bumpers, new taillights, and standard LED low-beam headlights. On the inside, the Pilot's spacious and accommodating interior has always been a draw with its well-designed ergonomics and road trip-ready comfy seating. Even the SUV's third row is adult-ready and not exclusive to the elementary school set. But wait, stop the presses! The available second-row seats will easily slide forward to allow access to the third row with just the push of a button. Just think, no more struggling with moving seating to and fro. The seats also recline in the second row. The third row is totally usable; three folks can sit there comfortably without having to suffer through second-row foot pinching.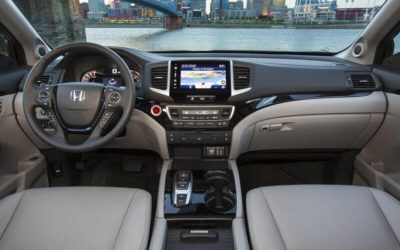 Overall, the cabin sports a stylish, well-put-together and just overall attractive design. The infotainment system has an intuitive face and sharp graphics. There are real noteworthy and user-friendly features like the optional CabinTalk that allows you to tell your grandkids in the rearmost area of the cabin to "Cut the clowning!" through rear speakers and wireless headphones via a small microphone. Just think, you won't have to strain your voice when you need to get your point across to your little darlings. CabinControl lets your crew control the Pilot's rear entertainment system (which the kids will love) and climate controls. The Pilot now also comes equipped with wireless smartphone charging and an in-car 4G LTE Wi-Fi hotspot that are must-haves in today's world. The Japanese automaker has also thrown in Apple CarPlay and Android Auto for good measure.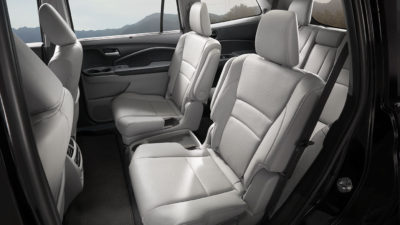 If you need to stash, you'll have plenty of spaces to do so in the Pilot. Cargo space in the SUV is also great especially if you're a hauler of stuff. The vehicle's rear hatch opening is wide and accommodating so if you're bogged down with stuff, you'll welcome the optional hands-free power liftgate that opens when you kick your foot under a certain area of the rear bumper (a feature you'll appreciate especially in bad weather!)
Under the Pilot's hood is a 3.5-liter V-6 that kicks out 280 horses. A six-speed automatic transmission is offered in the Pilot's lower trims and a nine-speed is available in two of the top trim lines. Will you feel the vehicle's heft when you give it some gas? NO! The Pilot behaves like a sedan on "GO!" The family hauler is extremely maneuverable; the ride is very cushioned and quiet. Acceleration is satisfactory. When the pavement gets bumpy, the Pilot takes on thumps like a real trooper, ever-so-smoothly. The Pilot is no sipper, but she's no lush at the pumps either coming in at up to 20/city and 27/highway.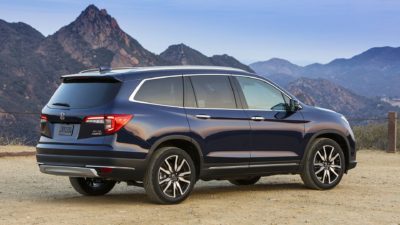 Safety is job one at Honda, so the Pilot gets Honda Sensing, the safety suite that consists of full-range adaptive cruise control, auto emergency braking, road departure mitigation, lane keep assist, forward collision warning, and collision mitigation braking. The National Highway Traffic Safety Administration (NHTSA) awarded the Pilot a 5-star rating for overall safety. The hauler also earned the Insurance Institute for Highway Safety's (IIHS) high overall safety rating of TOP SAFETY PICK.
The 2019 Honda Pilot offers an impressively controlled sedan-like ride, a well-furnished interior and is a looker coming and going. It is indeed a refined every day driving companion, and whether you have older kids, grandkids, poochies, or just love hitting those big box stores like Costco, the Pilot will bring you nothing but ownership satisfaction every single time you get behind the wheel.
Prices start at $31,450. Need more info? www.Honda.com