Family road trips can be hands down hectic and the planning and packing for one, can really send your brain into overdrive. On the flip side of road-travel-preparation-madness is family togetherness and memories that will remain forever and a day. Road tripping is especially fun when traveling in a vehicle that makes the adventure even better. The 2019 Buick Envision makes family road travel enjoyable, and I'm speaking from experience. The five-seater is tight, tidy and maneuvers like a peppy sedan, so we pointed the compact crossover south, gave it some gas and were off.
It's a looker
The Envision is a definite looker—sculpted and well-proportioned with a prominent shoulder line that travels all the way back. The compact crossover has the classic familial waterfall grille accented with its insignia, flanked by sleek LED headlamps and tastefully placed chrome accents. Oh yeah, we received quite a few compliments from onlookers about the vehicle. There are certainly no miscues when it comes to the Envision's overall design.
Nice innards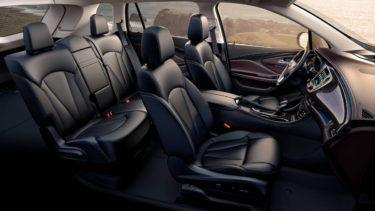 The same careful attention to detail continues with the Envision's well-appointed interior, soft touch surfaces and great outward visibility. Material quality is immediately evident in the vehicle, nothing is overdone, and there is remarkable space efficiency that is pretty unraveled in this class of vehicle.  Loading our bags in the cargo area of the Envision was not a problem for this over packer. The Envision's cargo space measures 26.9 cubic ft with the seats up and 57.3 cubic ft with them down, more than enough room for any road adventure.
Car travel can be exhausting, especially if a vehicle has uncomfortable seating and is stingy as far as space. The Envision provides generous head, and legroom all around and the well-bolstered seating's lumbar support felt almost therapeutic during the 6-hour long drive. Thankfully, the crossover's rear seats recline and slide rearward to create nearly 7″ of additional leg room, so there was never a complaint from my rear crew of two six-foot-plussers (adding a third adult would have pushed the comfort factor).
On the tech front
Staying entertained in the Envision is not an issue and no learning curve is needed to master the IntelliLink infotainment system controls. The vehicle comes equipped with such standards as a six-speaker audio system (there's an optional seven-speaker Bose system), satellite radio, a 4G LTE Wi-Fi hotspot (supports up to seven devices), Bluetooth, Apple CarPlay and Android Auto. Navigation is a problem with so many vehicles whose systems are just plain wonky. The Envision's available built-in navigation system on an 8-inch high res color-touch screen was on-point throughout the entire trip both coming and going, so it receives high praises from me. There's an available head-up display in the crossover that projects information like vehicle speed on the windshield directly into the driver's field of vision.
Safety is a non-issue
Safety was never given a second thought as we traveled in the Envision because it was thoroughly covered. The compact can come equipped with an array of such technological advances as surround vision, lane keep assist with lane departure warning, rear vision camera with rear cross traffic alert, forward collision alert, forward automatic braking and of course, airbags. The 2018 Envision is also an Insurance Institute for Highway Safety, Top Safety Pick (the 2019 vehicles have not yet been rated).
Pep and then some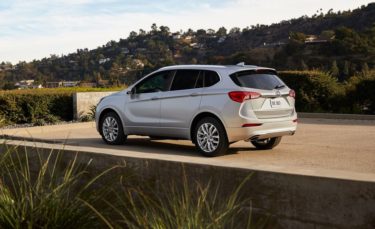 The Envision nailed the essentials performance-wise. The vehicle offers up great balance all around, and the ride is comfortable, refined, civilized and with added pep when you need it. The suspension has enough control to keep the body in check. Braking in the compact is superb; this was put to the test when a deluge appeared out of nowhere and driving with extra care became an iffy situation. The Envision comes in a standard 2.5L engine with 197 HP and 192 lb-ft of torque, or the available 2.0L Turbo engine with 252 HP and 295 lb-ft of torque (the latter was the test vehicle). At the pumps, the Envision is no lush, offering fuel economy that stands around 22 mpg/city and 29 mpg/highway which are pretty good numbers for its class.
A great road tripper
Well, we reached our nation's capital, Washington D.C., in six hours and thankfully in a vehicle that made travel stressless, kept us all comfortable and inspired real confidence behind the wheel. The 2019 Buick Envision offers the efficiency of a sedan with the spaciousness of a large SUV; I'd say these are the definite makings of a pretty good long-range road king!
Pricing starts at $31,995. Need more info? www.Buick.com