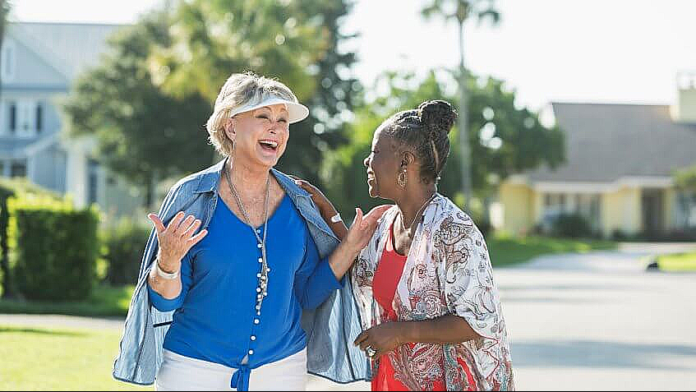 Many of us have had roommates at some point in time, whether it was growing up and sharing a room with siblings, or during those college years. If you're retired and looking to save a few bucks, or perhaps you're just lonely, how about embracing the roommate lifestyle all over again!
Homesharing companies will match seniors age 50 and up with would-be roommates all over the country.  Companies use factors like age, living habits and gender to find appropriate matches. If safety is a worry, homesharing candidates are usually vetted very carefully; companies can provide ID verification and thorough background checks that are usually conducted by a reputable third party.
Once the homesharing service has found your potential roommate match, you both can begin to communicate with each other to again determine, if you've found your right fit. It is important to note, however, that no two homesharing situations are the same, and the parties involved should come to an agreement based on their own needs and wants. If you are participating in homesharing, it is important that you are patient, understanding and recognize that your roommate is now also paying to live in your space, even if the space originally belonged to you.
As far as the legalities of the roommate arrangement, there are homesharing companies that can also provide a lease template for your particular state so no attorneys are needed. If you prefer not to hassle with rent collection, there are companies that will obtain the monies for you and even deposit them into your bank account.
Many seniors are oftentimes left with a home that is just too large for their current needs. Having a roommate can, in many cases, solve the issue of loneliness that can affect many seniors whose spouses have passed, or whose children have moved on. Social isolation and loneliness are public health issues that affect more than one-third of adults, with seniors most at risk for depression, substance abuse, and suicide triggered by feelings of isolation. Loneliness is also a significant predictor of poor health, a common source of distress, suffering, and impaired quality of life for adults older than 60, and can also be a predictor of functional decline and death.
Besides companionship, homesharing can mean help around the house. You can opt for a kind of bartering arrangement with your roommate where you can reduce their rent and in return, they can perhaps do the cooking, yard work, shopping or even provide transportation.
Having a roommate can also be helpful when it comes to health. Having someone in the home can help you through a medical crisis because they can summon for immediate help.
Homesharing companies have matched thousands of seniors with roommates, so there is definitely a need and desire for silvers who want to share their home and lives.
There are many homesharing companies that can help elderly people find a roommate or assist those seeking to rent and here are a few:
Silvernest is a national company that uses a matching tool to link you to prospective housemates based off information you fill out in your detailed profile. The company differs from other homesharing services in that it's specifically for empty nesters and baby boomers. Silvernest's monthly membership includes unlimited matching and messaging, state-specific lease creation, auto rent payments, Homesharing Harmony, Legal Concierge, and easy relisting for just $24.99/month. Homeowners can bundle the company's cost into the monthly rent they charge their housemate. Housemates pay a one-time fee of $29.99 to cover the cost of a basic background screening. Silvernest's top locations are in Colorado, California and Florida.
Roommates 4 Boomers is for women age 50 and up and connects folks with similar lifestyles, and interests. The service is free and members will also have access to credit and criminal background checking resources.
Senior Homeshares is a housemate matching service for folks from age 50 and up with the majority in their mid-60s and mostly women. Users who are not computer literate may include a helper or co-user for their account who can assist them. The company provide phone and email support and membership is free.    
The Golden Girls Network is a nationwide service and for a $39 six months' access. Members create a detailed profile, then search the database of mostly 50 to 70-years-olds to find potential housemates. Matches are usually between two people, but there are also some multiple-housemate listings. www.goldengirlsnetwork.com
Need more info? The National Shared Housing Resource Center is a network of independent non-profit homesharing programs across the United States. The site offers a free pamphlet, Consumer's Guide to Home Sharing that explains the ins and outs of homesharing.