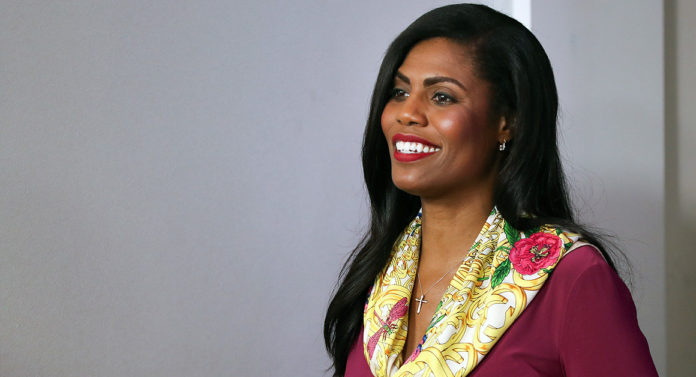 Persona non grata at any grown sisterfriends gathering is Number 45's appointed political kiss-up, Omarosa Manigault. The director of communications for the Office of Public Liaison under the Trump administration has certainly carved out a career for herself as someone, who ruffles feathers.
Manigault, who gained fame years ago as a villain on the NBC-TV reality show "The Apprentice" has comfortably accepted the role of a Trump consigliere to help him gain points in our community.
The 'Princess of Crass TV' has instead pissed off quite a few of our folks when a few months ago, she put her designer-clad shoe in her mouth at a National Association of Black Journalists (NABJ) conference in New Orleans where she was a guest speaker. As soon as Manigault stepped onto the stage, she and broadcast journalist Ed Gordon began a verbal sparring match. After choosing to defend the Trump administration, and in some instances, remain mum, when questioned about Number 45, a few audience attendees stood up with their backs turned to her, while others stormed out. After a contentious 45 minutes had passed, NABJ president Sarah Glover tried to regain some control over the panel and audience but alas, it was too late. Manigault took a powder and exited left.
The Office of Public Liaison has also reportedly been getting the side-eye as of late and is seen by some White House officials as one of the most unruly and under-utilized operations in the West Wing. According to White House sources, the office has floundered for months and Chief of Staff John Kelly has asked that changes be made to it pronto.
According to Politico, Omarosa has reportedly made enemies in the White House as the result of her aggressive style and many even view her as a distraction. Well, the statuesque newlywed stayed true to form when earlier this year, she irked a few West Wing staffers after signing invitations for 49 members of the Congressional Black Caucus (CBC) to meet Trump as "the Honorable Omarosa Manigault." Staffers felt she had not earned the title that is reserved for sitting members of Congress, federal judges, Cabinet officials and not aides. Manigault was tapped as a public liaison of sorts to reach out to Black communities and members of Congress on both sides of the aisle. But members of the CBC said she's done little to raise their issues with Trump, especially after Trump's budget proposal didn't include additional funding for historically black colleges and universities.
Ms. Manigault, you can just keep on steppin' because grown folks will not put up with your mean-spirited ways; we left behaviors like yours way back in high school! So your presence is definitely NOT wanted at any sisterfriends gathering.