Kool & the Gang, the legendary masters of pop, funk, and soul, have gifted us with such classic hit-after-hits such as Celebration, Ladies Night, Hollywood Swinging, Summer Madness, Jungle Boogie, and Get Down On It. To date, the performers have sold over 80 million albums globally. They have influenced the music of several generations who studied their recordings and thus incorporated that influence into their playing.
Over their 50-plus year career, they've garnered seven Grammy Awards, seven American Music Awards, 25 Top Ten R&B hits, nine Top Ten Pop hits, and 31 gold and platinum albums. Robert "Kool" Bell co-founded the beloved group in 1964 along with his brother Khalis Bayyan aka Ronald Bell, who passed away last September. 
Kool was barely a teen when he picked up a bass guitar and learned how to play it. Brother Khalis was also a tween when he played the sax. During a school music program in eighth grade, Khalis played Misty and The Sound of Music on his sax. When the girls in the audience began screaming with excitement, the tween realized that perhaps he could learn to like performing under the spotlight. 
When the dynamic brotherly duo decided to make music professionally, they were joined by their Jersey City neighborhood friends Robert "Spike" Mickens, Dennis "D.T." Thomas, Ricky Westfield, George Brown, and Charles Smith. The electrifying force of the young brilliant musicians and vocalists got their start as an all-instrumental jazz septet. By 1968, the group had officially become Kool & the Gang. A year later, they released their first recording and have continued to make musical magic ever since.
In addition to songwriting and playing the saxophone, Kool is an arranger, producer, vocalist, bassist, keyboardist, and drummer. Kool has definitely kept his ear to the street and continues to produce music that transcends time which is evident in his latest offering, a joyful single, the Pursuit of Happiness. The cut is a prelude for a new Kool & the Gang forthcoming album to be released this year.
In addition to Kool's international stretches, he launched Just Kool Enterprises, a conglomerate focusing on various projects and brands at once, like the Kool Kidz Foundation along with Just Kool Cologne and Le Kool Champagne. He is also at the helm of London's Gate, a management and artist development company. Kool's seemingly never-ending business ventures also include managing Lady Kool Enterprises, a legacy company created by his late wife, Sakinah Bell.
In addition, Kool is environmentally conscious. He has partnered with MLB former player Dusty Baker on a project that will bring solar energy to various African countries.
Kool chatted with me about the magic of his music, and I could not help but be mesmerized by the artistic brilliance of a man I've long admired.
50BOLD: How have you been handling this COVID pandemic?
KOOL: Well, it's been quite a year. We've been doing some virtual videos of our songs and lots of social media stuff daily like Zoom interviews and podcasts. You know my brother Khalis also passed. My cousin and I are in a condo right now doing occasional streaming. We do a lot of that stuff that we back up from time to time down here.
Before the pandemic, we were in Saudi Arabia. Our first show was on Saudi TV. We then played at NASCAR and then a cruise ship with an 80s theme. The pandemic hit when we got off the ship! I was down in Orlando doing some promotion work and got stuck there for eight months.
50BOLD: First of all condolences with regards to the passing of your brother Khalis.
KOOL:  Thank you.
50BOLD: You mention streaming. Right now, the hottest thing is the Verzuz battles, where musical artists are pitted against each other, and their performances are streamed live. Have you been approached to do a Verzuz? If so, what group would you like to compete with?
KOOL:  Well, people have been asking us to consider doing one of these competitions, and the Commodores or Earth Wind and Fire have come up as possible groups we'd go up against.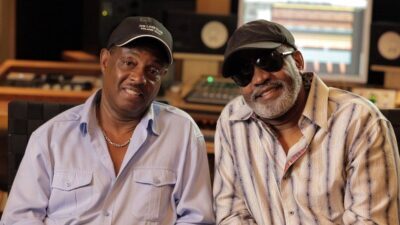 50BOLD: Tell us about Robert "Kool" Bell, the man, his roots, where did you grow up?
KOOL:  My brother and I were born in Youngstown, Ohio but grew up in Jersey City. When we moved to Jersey, my mother bought me some bongos. I later went on to the bass guitar when I was 14. Robert "Spike" Mickens, our trumpet player, and his brother, who played the bass guitar, we used to practice at their home. I'd go there and fool around with the bass. I could play one song, Herbie Mann's version of Coming Home Baby. My brother suggested when we were playing at the Cafe Mar in the village area to play Coming Home Baby on the bass, and I could do that all on one string. That was the beginning of my bass career.
Khalis and I soon got together with Ricky West, Dennis "D.T." Thomas, Robert "Spike" Mickens, George Brown, and Charles Smith to form our first group called the Jazziacts in 1964 because we were listening to jazz. We joined the Soul Town Band. We became the backup band for Soul Town who was trying to be like Motown. 
Kool was a nickname I already had, and so it became my middle name. One night a D.J. had this idea, and he came up with Kool and the Flames and asked how we liked it. And we thought it was cool. 
Now at the time, James Brown and The Flames were popular. Our first manager Gene Redd, Jr., advised us not to use the name Flames because of James Brown and The Flames. We didn't want to have any problems with the Godfather of Soul, and we weren't set on a name anyway. Gene then said, 'why don't you just call yourselves Kool & the Gang because you have a sound that is jazzy, funky, R&B sounding' and this is how we got our name; the year was 1968.
50BOLD: I read that most of your bandmates went to high school together; is this true? 
KOOL:  Well, Ricky and George went to another school. My brother, Dennis, and I ended up at Lincoln High School in Jersey City. Some of us dropped out, and some of us stayed in school.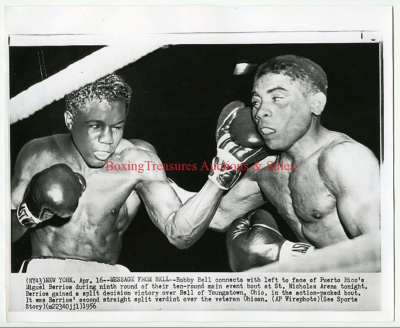 50BOLD: Is it true your father was a boxer who hung out with famous jazz musicians?
KOOL:  Yeah, well, my father, Bobby Bell, was a featherweight/lightweight boxer. He traveled all the time. He was on the road boxing in Paris and all over Cuba, all through Mexico, so he met all kinds of people. Musicians like Miles Davis would come over to see my father because he always wanted to be a boxer; people don't really know this about him. My father would tell Miles to stick with the trumpet. He'd say, "You know, you get up here and fight and mess around; somebody might bust your lip and mess up your career."
Thelonious Monk and my father also lived in the same apartment building in New York, so they became good friends. When I was born, my father told Monk, "I want you to be the godfather of my first son," which is how he became my godfather.
50BOLD: Wow, Thelonious Monk was your godfather? Amazing. Now that's some history right there, amazing!
KOOL:  Oh yeah!
50BOLD: Now, your music is so timeless. You are one of the most sampled musical groups in history. What are some of your songs that you are familiar with that some of the rap artists have been sampled?
KOOL:  Well, we've had quite a number of our songs sampled by artists. Kool & the Gang is the most sampled band in hip-hop. Will Smith sampled our song Summer Madness for his Summertime single that earned him a Grammy Award. Mase sampled Hollywood Swinging. Jungle Boogie was sampled by too many artists to remember. A Tribe Called Quest sampled our recording, N.T.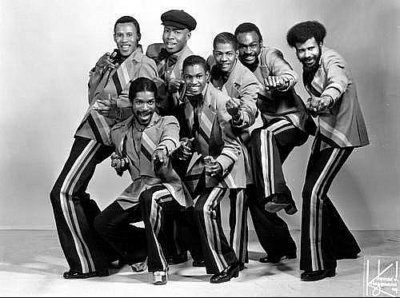 50BOLD: When you guys wrote Summer Madness, a very sexy song, what was your thought process when writing it? 
KOOL:  Well, we'll hear from time to time how someone conceived a child while listening to the song; baby-making music. Summer Madness was actually a song called You Don't Have to Change written by a trumpet player Robert "Spike" Mickens and Elton Taylor. It was just three parts, and Spike had been talking about that he wanted to write a song called Summer Madness, and he never did. So, I took the song and separated it from You Don't Have to Change at the piano part. I said, "Spike, listen. This is what I want to do: I wanna take that last part and just start it with the piano."
I went to the studio and detuned the song so it would get five octaves. I'm in there by myself — it's 5 o'clock in the morning. So I turn on the portamento, and it went [makes the sound of sliding pitch]. I asked the engineer, "What do you think?" He said, "That's amazing!" It was done! The song has a spiritual vibe. In the summer, because it's hot and humid, there is a little madness, and people are all out in the street, and things are happening, and summer can get crazy. 
50BOLD: At the time of your peak, you had lots of competition from groups like the Commodores, Earth Wind, and Fire, Brass Construction, Crown Heights Affair; what was the magic of Kool & the Gang that kept you at the top of the charts?
KOOL:  Well, I think we've always tried to come up with songs that made us feel good; we write what we feel and create our sound. Funky Stuff, Jungle Boogie, Ladies Night, Hollywood Swinging, Joanna, Get Down On It, and Celebration–these were all hit records for us.
50BOLD: Those records were hits for sure! Do you have a recording that folks always request when you're performing? 
KOOL:  People are always requesting, of course, Summer Madness; the song is definitely one of my favorites. They also request Ladies Night. My wife and I used to hang out in New York City, and at the time, James "J.T." Taylor had just joined the band. We'd hang out at clubs like Studio 54 and Regine's. Sometimes the clubs would have ladies' night on the weekend.
One day, I went to the studio and mentioned to the guys two ideas for a song I had come up with. I mentioned 'hanging out' because I was hanging out in New York City. And the other idea was the club theme of ladies' night. When J.T. joined the band, his debut song was Ladies Night which was a huge hit for us. The disc jockey Frankie "Hollywood" Crocker popularized that record in New York City. Other highly requested recordings of ours are Hollywood Swinging and Celebration.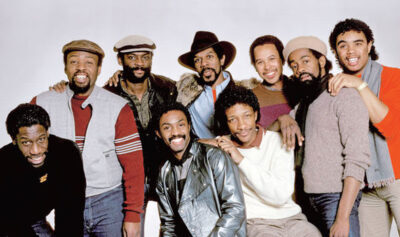 50BOLD: Frankie influenced a lot of groups back in the day. 
KOOL:  Frankie was definitely the man.
50BOLD: So, what is the glue that has kept you all together for over 50 years?
KOOL:  I think it was a family thing. I would always tell the band members to stick together. When we were younger, my mother, or George's mother, for example, would encourage us to stay together, and we've been able to do just that! After all these years, now, we only have three original members left, but we're still together. We have added guys to the band throughout the years, and many have been with us from 15 to 20 years. 
50BOLD: As one of the most successful musical groups of all time, you've accomplished so much over these years. I can only imagine, but what has been the highlight of your stellar career?
KOOL: We've had quite a few highlights throughout our career. When we received our first American Music and Grammy Awards, these were career highlights for sure. We've performed internationally in concert with great musicians like Elton John over in London; this was a real highlight. We appeared on Johnny Carson when the great Sammy Davis, Jr. was the host. We've even toured with rock legend Van Halen and Kid Rock.
50BOLD: Kool & the Gang was inducted into the New Jersey Hall of Fame. You all were also given a stretch of Jersey City road that was renamed Kool & the Gang Way. How did you feel about the honors? 
KOOL:  I think they were great honors. We get a lot of respect from New Jersey, and we appreciate it. We have very fond memories of Jersey City, even though it has changed quite a bit since we were kids. 
50BOLD: Can we talk a little bit about your brother Khalis? What made your brother stand out within the group, and what are some of his musical contributions? 
KOOL: Man, he was such a talented writer and wrote most of our horn arrangements. He also loved John Coltrane and listened to his music often. Khalis came up with the idea for one of our biggest hits Celebration. When Biden was nominated the song Celebration was played and when he won the election, the song was played again!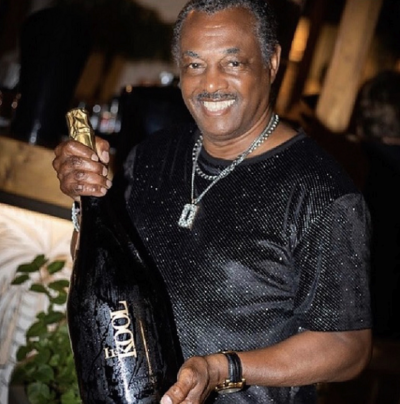 50BOLD: Did you receive royalties for the song?
Kool: Yes, we did! As an artist, when your music is played you receive royalties.
50BOLD: Nice! You have expanded your brand with a Kool libation called Le Kool, and it's champagne! Please talk a little about it.
KOOL:  I had been drinking champagne off and on for years. We play Europe a lot, and we're doing a tour there. A promoter came up to me and said, listen, 'I worked on a champagne with Barry White and the Bee Gees. Would you like to promote champagne during your tour?" 
Well, I didn't think my fans would want to buy champagne. They'd probably be more interested in caps and tees. Well, I thought about it and said OK. I came up with the name Le Kool Champagne. We ended up cutting a deal in a champagne country called Reims. That's where they make Dom Perignon, Cristal, Moet & Chandon, and Berloque. I wanted the champagne to pop first in Europe and then bring it to America. Because of the pandemic, things have been slow for everybody, but we are making a little noise. But in 2022, we are going to have some fun, drink champagne and be ready!
Le Kool Champagne is currently available in about five states–New York, New Jersey, Nevada, California, and Florida. We are looking at Ohio and Kentucky next; deals have to be cut, we're working on it. 
50BOLD: What's next for you? 
KOOL:  Well, I'm not ready to retire just yet. As far as right now, I'm working on a few things.  
I have partnered with former MLB player Dusty Baker on a solar energy project called Kool Baker Energy. I have this concept for Africa where I wanted to do power structures where grids would be energized by the sun. We would be bringing solar energy to different countries in Africa.
As far as Kool & the Gang, we're working on books. My brother's wife has developed a Kool & the Gang cartoon. We also have a documentary in the works and are planning to do a movie.
Once this pandemic is over, you can expect to see us out on the road again; we working on putting together New York and Vegas shows tentatively titled Celebration. We are really looking forward to seeing you guys again, hopefully.