Nothing is worse than a do that screams, "I'm a wig" from miles away. If you're a seasoned doll, you don't want a unit that fits like the one Aunt Esther sported on the beloved 70s sitcom Sanford and Son. The Bible-thumping sister's wig was off-center and the hair was super glossy and stiff.
OK, the walk down memory lane might be a bit of an exaggeration but for those of you sashaying into seasoned dollhood, the advent of gray and thinning strands may have taken a toll on your confidence and perception of what constitutes a good look. So, can you get out of that sunken strands place?
"First, start thinking of wigs as versatile, fun and not  cover-ups. Revel in your reinvention and try to create a luminous look of proportion, length and color lightness," advises senior hairstylist extraordinaire and wig designer Rishaud Raynir of The Ultimate U Salon in Milford, CT.
Here, Raynir offers six tips on how to find a wig that will showcase your beauty:
Identify looks you like. "The great thing about wigs is that they come in every shape, style, and color you can dream. Check Pinterest, Instagram, and magazines for wig styles you think will be a good fit for you but don't over think it. Look for a wig that will embrace your uniqueness," advises Raynir. Consider a wig that is an easy classic.  According to Raynir, "Keep bangs and fringe in mind because they softly frame the face while highlighting cheekbones and eyes."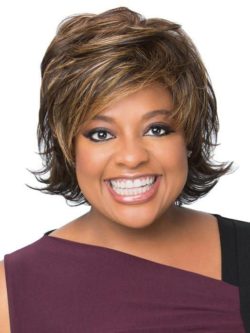 Tweak your look with color. Scared to go from black to platinum in an instant? Raynir suggests easing into color with a dark-based wig with highlights. "A chic short cut with a dark brown base shot through with cinnamon highlights for example and a swoopy bang can truly add instant allure." He also adds that when investing in a wig, consider whether you'll want to change the color in the future.
"Wigs that come pre-dyed can't be dyed again, so you'll want to make sure you purchase a wig color that you'll likely wear again. Virgin hair that has not been previously dyed can be colored and bleached to give you the look you want," Raynir adds. "If you go the synthetic route, you'll want to avoid dying or processing the hair altogether."
Get turn't up! Whatever your wig fantasy, Raynir strongly advises to try the unit on to see how it makes you feel. "Be daring, experiment with a look that takes you a smidge out of your comfort zone," he suggests.
Customize it!  "Absolutely, take any wig you purchase to your hairstylist and have him/her customize it to suit you," Raynir highly recommends. Consider rocking a riot of sexy bouncy curls that can be tailored to enhance your features.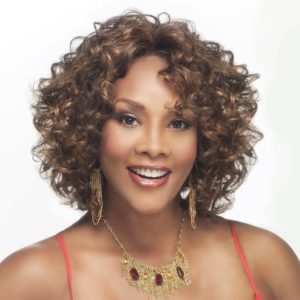 Celebrate texture.  Texture adds interest and volume to any dull wig do, Raynir contends. Have fun with big bold looks that mimic our springy curl pattern. "Texture gives you the ability to change your look," Raynir points out. Try adding a little tease to the crown of your wig, tussling it with your fingers, or adding a few hot iron curls, then blasting them with a diffuser. Want fluff? Use large rollers when setting your wig. "You can really add drama to your look with the right amount of texture," adds Raynir.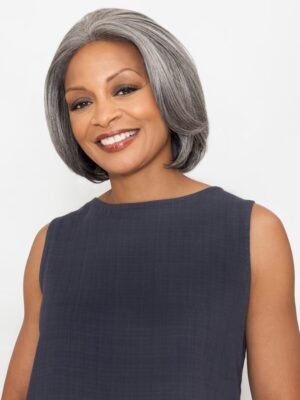 Human vs. synthetic hair.  "Synthetic hair is a great option for an inexpensive hairstyle, but beware, it doesn't last long, requires significant maintenance, and tangles easily after a few uses. Synthetic hair can't be chemically processed and in many cases can be curled only at certain temperatures. Human hair offers the most longevity and can last more than a year with proper care. Human hair feels amazing, and can be styled using color, curling, straightening and perms. I advise my clients to have two or three wigs in rotation so that they always look fresh," advices Raynir.
Still want to play it safe? If you prefer to not step too far out on a ledge wig-wise, consider a classic but chic bob style, sans the curls. The look will not only enhance your eyes but cheekbones too!