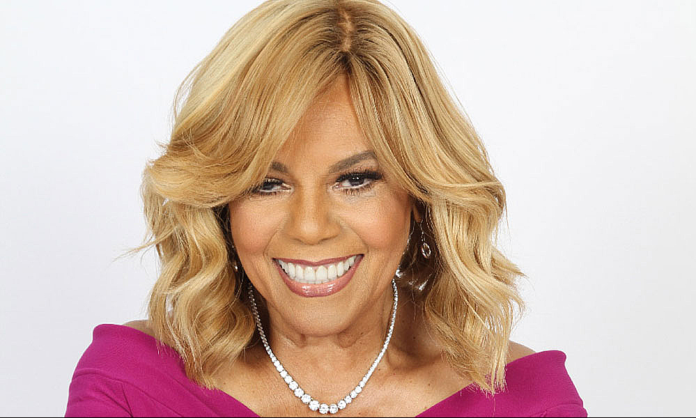 Once upon a time there was a beautiful young maiden who joined a singing group as its only female member. She wound up marrying the group's lead singer and they all went on to become major recording stars at a label that changed America's musical tapestry—Motown.
As a member of the Miracles, Claudette Robinson was front-and-center as the only female in the musical group. The beautiful young teen sang alongside her husband Smokey at one of the greatest record labels of all time, Motown, founded in 1959 by Berry Gordy. The Miracles were the first R&B group to be signed to the powerhouse label. During the late 50s to mid-60s, Claudette's mellifluous soprano voice enhanced the group's sweeter-sound-of-soul recording style.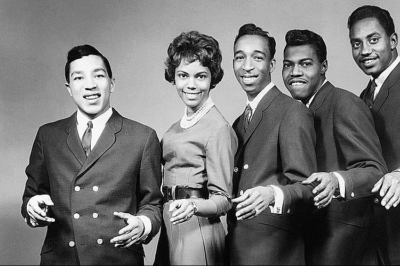 Although formidably talented and essential to the group's success, unfortunately, "the First Lady of Motown" was asked to stop performing with her beloved Miracles. Apparently, Claudette had suffered a series of miscarriages and both Smokey and Gordy were concerned that perhaps the rigorous demands of the road were at fault for the losses.
Even though the still stunning Claudette has put down the mike, she picked up a pen and has co-written her first children's book, Claudette's Miraculous Motown Adventure. The book centers on Claudette's life as a member of the Miracles and of her adventures in the magical kingdom of Motown. The philanthropist, mother of two and grandmother of three, wrote the book to educate children about one of the most musically influential groups of our time.
50BOLD chats with Claudette about being Motown's First Lady and how she is now living happily ever after.
50BOLD: Why don't we start with the Motown days. You are considered to be the "First Lady of Motown!"
Claudette: Well, I am the First Lady of Motown! I was the first female signed to the label and also to Mr. Berry Gordy. As you may or may not know, the Miracles and I met Mr. Gordy in 1957, a couple of years before Motown was started. I was in an all-girl group called the Matadorettes and Smokey, and a few other guys had formed a group called the Matadors. My brother Sonny, who was a Matador, went into the Army and I replaced him in the group becoming the only female member.
We found out about a big audition that was being held by Brunswick Records, the home of Jackie Wilson, and so we decided to try out. When we arrived, the gentlemen who were auditioning the acts didn't care for us because they felt the world did not need another group with a female in it. They were referring to the well-known group at the time, the Platters. We felt our group was different from the Platters. Our sound was more rhythm and blues, rock and roll, and the Platters had more of a classic repertoire.
Mr. Gordy just happened to stop by the auditions as an onlooker. After we had finished auditioning and Mr. Gordy saw that we had been rejected, he came over and introduced himself. Well, he asked about the songs we had performed, and wondered if we had more of them. Smokey told Mr. Gordy that he had about one hundred such songs. Smokey kept his songs in a loose-leaf notebook. Mr. Gordy then asked us to sing a few more songs and we did. Well, he seemed to have liked what he heard and stated, how he wanted to work with us. Smokey became so excited upon hearing of Mr. Gordy's interest in our group but I didn't know why; I had never heard of Berry Gordy. Well, Smokey knew that Mr. Gordy had co-written many of Jackie Wilson's earlier hits.
The Matadors became the Miracles and when Mr. Gordy formed Motown, we became one of his first signings.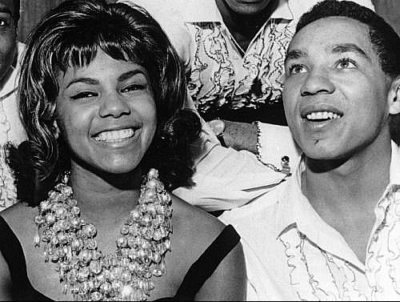 50BOLD: Since we're discussing your earlier years, did your family migrate to Detroit and were you born there? What prompted your family to relocate to the Motor City?
Claudette: Well, my family came from the south. I was actually born in New Orleans and we spent a portion of our time in Detroit and a portion of our time in Monroe, LA. My grandmother passed away when I was eight years old, and that's when we moved to Detroit. My family had already made a home in Detroit a few years before I actually became a resident.
At the time, many Black families who came from the south were seeking to make better lives for themselves. They wanted to secure better jobs and wages. And as you know back then, Detroit was booming with the auto industry.
50BOLD: The auto industry in Detroit was a draw for many, it meant job stability and definitely, financial security.
Claudette: Absolutely! Everyone had a job in Detroit and economically, many were really doing quite well. We were able to buy a three-bedroom brick home with a backyard and a small front yard for not a lot of money.
50BOLD: How many sisters and brothers do you have in the family?
Claudette: I only had one brother, Emerson. I also had 4 older stepsisters but they were like almost as old as my mom, because my mother got remarried to a man who was like 20 years older than her. So he already had a family prior to the marriage. We were kind of close in those early years and then somehow we became separated. I think they joined another religion and didn't believe in associating with people who were not of the same faith.
50BOLD: Both you and your brother are singers. Was your mom a singer as well?
Claudette: My mother could sing and wanted to pursue it when she was young but my grandmother forbade it.
50BOLD: You didn't exactly listen, did you! (laughter)
Claudette: Well, my grandmother wasn't around when I decided to pursue singing; she had already passed away. And my mom wasn't exactly thrilled when I chose to go on the road touring with five other guys. And our first time out on the road, my mother was worried about my not being married yet. As you know, back then, people didn't shack up. So I had to have a separate room away from the guys and really, away from Smokey. (laughter)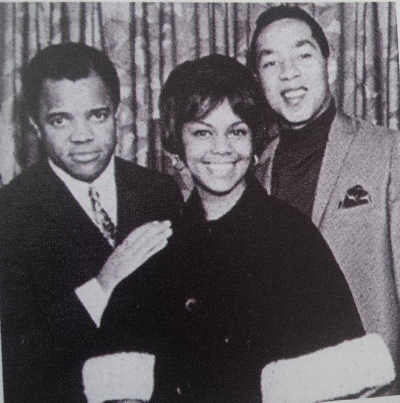 50BOLD: Too funny! (laughter)
Claudette: It's actually the truth! There was no way that I was going to have stuff going on! Smokey and I were already engaged and planning to get married.
50BOLD: Now as far as a timeframe, you joined the Matadors when you were 15 years old.
Claudette: I was in high school and I was 15.
50BOLD: Oh Ok. Wow, so young! What about your first recording, do you remember your royalty check amount?
Claudette: When we made our first recording there was no Motown. We thought we were going to have an instant hit. We were on top of a dream, or above the clouds. Well, for our first record, the royalty check was $3.19!
50BOLD: Wasn't that a lot of money back in those days? (laughter)
Claudette: Let me tell you, it wasn't a lot of money then and it's not a lot of money now! (laughter) Smokey suggested to Mr. Gordy to start his own record company, it was a great time to do it because he certainly could not do any worse! The first record label was actually Tamla and then there was Motown. Almost all of the Miracles' records were on the Tamla Record label. By the way Tamla is my daughter's name.
50BOLD: I saw that both your children's names are related to Motown in some way.
Claudette: My daughter is Tamla like the record company, and my son's name is Berry; he was named after Mr. Gordy.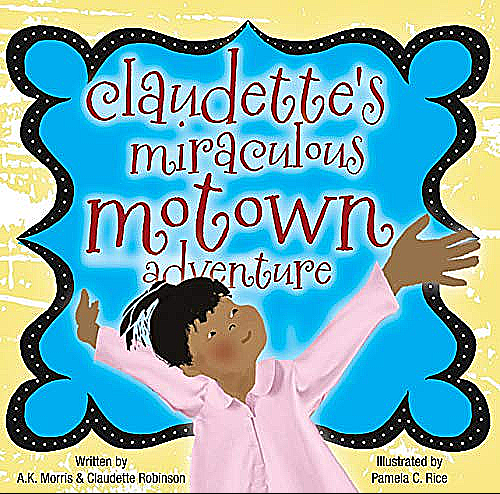 50BOLD: Did you happen to catch the play Motown: The Musical when it was on Broadway in New York City?
Claudette: Oh yes, absolutely, I saw the play several times.
50BOLD: I also loved the show and enjoyed every minute of it!
Claudette: I can't tell you how it felt to actually see your life story being played out on a stage as told through someone else's eyes.
50BOLD: I saw the show for a second time when I took my sister to see it for her 50th birthday. I just loved the music in the show; it really took me back in a great way!
Claudette:  Well, you know, it's so exciting to hear that people still enjoy the Motown sound. No other record label has made the same global impact musically as Motown.
50BOLD: Oh absolutely! The Motown sound has no other musical competitors as far as I am concerned! But that first royalty check is absolutely something to remember!
Claudette: After we got that "big" $3.19 check, I thought…"My goodness!" I tell you, we waited months for our record to come out. When the record did come out, it played all over the airwaves. The feedback from folks was incredible. And then, we were told that the reason our check was so small was because there were expenses. In fact, we actually never even cashed the check. Mr. Gordy framed the check and showcased it in the front office of the Motown Museum.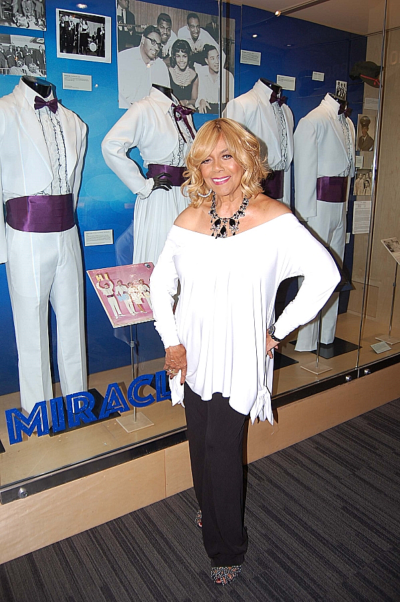 50BOLD: Oh so when I travel to Detroit, I'll have to visit the museum to stare at that big royalty check! (laughter)
Claudette: You really need to visit the museum because now they're expanding to some 50,000 square feet and it will take about $50 million to complete it. I think they're over half way there as far as the museum's completion. Oh, it's a wonderful project and it's going to be even greater when it's completed.
50BOLD: I enjoyed reading a recent article on Smokey; I hope you don't mind me mentioning this.
Claudette: Oh, no, no, Smokey and I don't have any negative beef with one another. There are things that have certainly happened along the way that I'll tell you all about it when I finish my book. Smokey and I met each other when we were 14 and when you have a back-story like this, well, we'll be friends forever. And we share two adult children and three nearly adult grandchildren as well.
50BOLD: I am so glad to hear that you and Smokey have maintained a friendship over the years. Now, I have to circle back to this, you were only 15 and touring with Smokey?
Claudette: Yes, back then, the police would patrol the hotels and knock on the doors of the rooms. So, if you were not married, getting caught in a room with someone could be a problem. I was 15-years-old when I married Smokey. I used to carry our marriage license around with me until I no longer toured with the group because you know, both Smokey and I looked so very young. I just wanted to make sure, I had proof of my marriage with me at all times to avoid any issues while on the road.
50BOLD: Oh, what a smart move, I like your way of thinking! Let's talk about being on the road if you don't mind. You are absolutely a beautiful woman now and you were stunning back then as well. What was it like being on the road with a group of guys?
Claudette: I tell you my guys were absolutely amazing towards me. They treated me as though I were royalty. They took care of me like their little sister and made sure I was safe. Trust me, nobody bothered me! We were all friends and of course, one of them became my husband!
50BOLD: Now this question is for our female readers. How did you handle all of the attention from the female fans that Smokey received on the road?
Claudette: Now this is a great question! Initially, I wasn't sure about how much adulation Smokey would receive because we were married. Reality set in soon enough and there were all these girls approaching and hugging all over him and whatever. Well, one New Year's Eve, Smokey had gone to collect our checks. We had performed at a theater in Philadelphia and also on the billing were the Isley Brothers. We were packing up and getting ready to leave. And it seemed like Smokey was taking so long to get back to our room. So I went looking for him. Well, I found him! There he was pinned up against the wall by some girl who was just all over him!
Well, I was like "Oh, no, no, NO!" We were married! What I saw, I told myself, could not be happening! So I went back into our room, and began packing up even faster because I was planning on leaving. Smokey finally came back to our room and noticed that something was wrong with me. I mentioned what I saw. Smokey claimed, he wasn't kissing or hugging the girl back. And I told him how he should have pushed her down [laughter]!
And so Kelly Isley entered our room and asked if he could speak with me privately. Kelly said, "Claudette, let me talk to you and tell you a little bit about show business. Do you really want to be part of this world? You guys are married and I don't see you all being apart anytime soon. So if you plan on remaining in this business with the group and Smokey, you're going to have to understand the kinds of situations involving the fans that can happen." Kelly then went on to open my eyes even further by saying, "As you can see, Smokey is going home with who? YOU!"
Kelly then began telling me all these other kinds of things about the entertainment world and how girls behave towards celebrities. Mind you, not that I didn't already know about these kinds of girls, but I didn't know that sometimes, they can get quite aggressive. And so after my long talk with Kelly, I was good. I realized that Smokey's fans adore him, and they should. If I didn't understand this and I didn't get it, then I definitely needed to go home!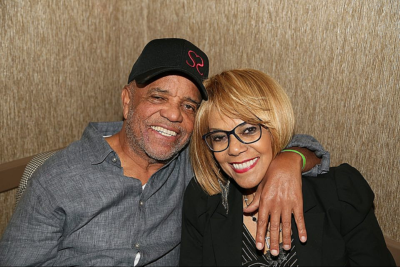 50BOLD: I love how you retold the story. What a great memory of a poignant talk that stayed with you throughout the years!
Claudette: But I tell you, the talk with Kelly Isley made all the difference in the world because he framed it all for me. Unfortunately, Kelly passed away.
50BOLD: Yes, I'm quite familiar with the Isley Brothers; they were a great group. Let's talk a little about the Motown family. Were you close friends with anyone in particular within the Motown stable whom you have maintained a friendship with throughout the years?
Claudette: There were quite a few people within Motown whom I had a relationship or friendship with back in the day. When Mr. Gordy brought us on board, there weren't any female performers in the stable. There were only individual male performers or all-male groups. So I was really so excited to have females join the Motown family. I see quite a bit of Martha Reeves, Mary Wilson and also Thelma Houston, who joined the label later down the line. Brenda Holloway is also a friend.
50BOLD: I have been so curious about the following question! We obviously associate the Temptations with the hit song, My Girl but according to my research, Smokey wrote this song for you. Is what I've uncovered correct? (laughter)
Claudette: (laughter) Let's say that I was a great influence for the song My Girl. I don't know if Smokey specifically wrote the song for me because there were two songwriters and people tend to forget this fact. And the other writer of the song was Ronnie White of the Miracles. So, I don't know if the song was written for me because stories change over the years. People also change their minds about what they did write, the inspirations for their work or whatever. At the time the song was being written, Ronnie was supposed to have been writing about his wife and Smokey was supposed to have been writing about his wife. So, there you go!
50BOLD: The opening line of the song is just amazing.
Claudette: Well, My Girl seems to be one of the greatest songs of all times. I am happy to even be associated with My Girl because I love it so, you know.
50BOLD: Do you have a writing credit on any of the Miracles' songs?
Claudette: I actually did not write any of the songs sung by the Miracles. Smokey and I have one song that we wrote together, Everyday I'll Love You More Than Yesterday. The song was not recorded by the Miracles. Gladys Knight and the Pips wound up recording the song. The Supremes also recorded the song. Unfortunately, the tune didn't become a great hit but it puts me on record as a songwriter.
50BOLD: Out of all the Miracles songs you performed which ones are your absolutely favorite?
Claudette: Well, my first favorite Miracles song is actually More Love because it was written especially for me. After I tell you the backstory you'll understand why I love the song. I had experienced a number of miscarriages, so Smokey wrote the song to let me know he was glad I was still here. Sadly, I had a total of eight miscarriages and they were long-term pregnancies. I'd lose babies from like my fifth through seventh month because at that time, medical science was not as advanced as it is today. Smokey would always reassure me by saying, "I don't know who they are, but I know who you are. And if it had to be either one of you, I'm glad you're still here!"
50BOLD: Well, he certainly had a way with words, so loving and definitely comforting! More Love was like a lifetime pledge.
Claudette: Well, you know, people always wondered why Smokey and I divorced. Well, things happen, you know what I mean, and life moves on. And I think we each have moved on in our own direction. I'm not saying that I necessarily wanted to move in the direction of divorce because I'm a dreamer. I thought I'd be married for 100 years!
Smokey and I had a very, very good relationship first and then marriage. And we were great friends. Smokey is remarried now, so of course, we can't have the same kind of friendship we had before. But it's all okay. We know where we are. You know, he's a great guy and the father of our children and we have grandchildren as well. We don't see each other probably as much as each of us would like to being so busy and all. He is also out there on the road. I always say life can get in the way.
Life takes its turns and things change but praise God, I can tell you honestly that I am happily living my life. Now, I have this wonderful children's book!
50BOLD: And that was going to be my next question. You have a wonderful children's book that I loved reading! It is just a fun read and centers around your adventures as a little girl in the magical kingdom of Motown. What an original idea!
Claudette: Well, I love children; they are my favorite people! I volunteered in classrooms for about 30 years, and did so because I initially wanted to become a teacher. And writing Claudette's Miraculous Motown Adventure has been one of the thrills of my life. When I read the book to young children and they express to me afterwards, how the book made them feel, well, I just find the experience so amazing and rewarding. I love watching the children's expressions, reactions. Writing the book was such a fun endeavor.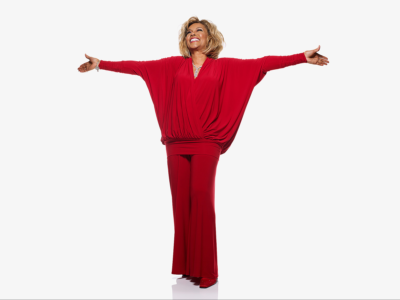 50BOLD: I have to mention again just how stunning you are! What beauty/health regimen do you follow that you can share with our female readers? How do you maintain your wonderful figure?
Claudette: Well, thank you for all of the wonderful compliments! Many people are in disbelief when I mention what I use to take care of my skin–Dove soap! I use the soap on my face. And a lot of women don't use soap on their face. What really works for me is this little bar of white soap. I have tried probably every product out there from the very cheapest to the most expensive, trying to find the formula that would work best for my skin. Well, the only beauty regimen that I have been consistent with is Dove soap. I use the bar on my face as well as on my body. I've had no plastic surgery and I'm grateful that people think I look good.
50BOLD: Would you share if you have one, an exercise routine for our readers?
Claudette: Well, my exercise routine has been lacking because of a small knee issue but I do enjoy walking, it's the best form of exercise.
50BOLD: What is life like for Claudette Robinson these days?
Claudette: Well, life is absolutely amazing for Claudette Robinson these days! You know in every life there are ups, downs and sideways. But I've reached at a point now where I am really, really enjoying myself. And I'm enjoying it a lot more because of this new journey I've embarked upon and that is writing and promoting my book Claudette's Miraculous Motown Adventure. The book has truly opened up a whole new world for me especially since it involves being around children. I'm introducing them to my life, and telling them about the Miracles, a group they know nothing about.
50BOLD: May I ask why you left the Miracles?
Claudette: I left the group because Smokey and Mr. Gordy believed that the miscarriages were a result of the extensive traveling on the road. I was not happy with their decision for a while, but it was best. It really was. But you know, being on the road for like eight years was my life. I then had to find another way to entertain myself. I worried about what to do next. Shopping is great but I didn't want to do it every single day!
50BOLD: Did you ever think about a solo career?
Claudette: As far as my entertaining a solo singing career, I'm going to say yes and then, no. I felt that if I was supposed to be coming off the road, then I was not supposed to be working. Touring is taxing on one's health and body. And the other thing is shyness. The guys gave me the confidence to be able to step up on that stage and perform. I'm not sure how I would have performed as a solo act. But when the guys were on stage with me, I felt whole and secure.
50BOLD: If you had to choose one Miracle song to describe your life thus far, what would it be and why?
Claudette: That is a good question! I think all of the songs we recorded could describe parts of my life. I can take bits and pieces from all of our recordings and you'll have a pretty complete picture of my life. Many of our songs speak of love. I have felt love all of my life. I was loved as a child. I was loved as a wife, I was loved as a mom, I was loved as a grandmother and I was loved as a friend. And I don't know of anything that's better than being loved.