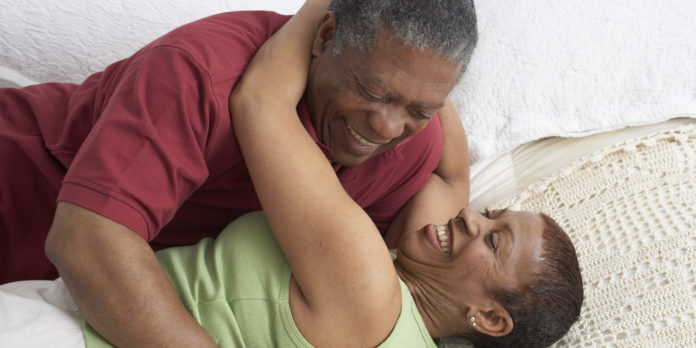 I
s your relationship getting a little stale? Well, it's time to bring on your sexy! The unexpected can be amazing. Who says you can't get kinky north of age 50? We 50-plus sisters know who we are and by now, should be comfortable in our skin. But hey, just know, it is completely normal for couples in long-term relationships to go for long stretches of time without physical intimacy.
According to Rachel A. Sussman, LCSW, a New York City licensed psychotherapist who specializes in relationship counseling, the decline of passion in a relationship is perfectly normal.  "We get tired of the same old, same old, in every aspect of our lives—jobs, fitness routines—and that goes for our relationships, too," says Sussman.
However, don't despair, if your relationship is making you yawn. You
can
bring excitement back into your sex life. Here are some adventurous ideas that will bring on your sexy but warning, the following tips are not for the prim and proper. There are a few
naughty
suggestions thrown into the mix but isn't this publication called
50BOLD
?
Titillate your lover by sending him a pic of you dressed for sex. Take sexy photos in your sluttiest best. Invest in lace corsets, gartered lingerie, crotchless underwear, thongs you can model while topless, and don't forget the stilettos!
PDA (public display of affection) gets kicked to the curb after being with someone for years. An unexpected kiss, booty grab, gentle nipple pinch, or even a love pat on his privates show that affection and caring are not things of the past.
Don't ask, just grab him for sex when he walks in the front door or gets out of the shower. Let him know Mama means business! Sexperts say that many men actually do get

turned

on by a confident, take charge woman in the bedroom.
Be mischievous during a dinner date. Try playing footsie at a restaurant where there is a table with a long tablecloth that is located in a reasonably private setting. Footsie should be a gentle and playful way to entice your mate. Lightly run your foot up your partner's calf, knee, then move back down their leg.  If you're getting the response you seek, use your foot to then gently massage your man's inner thigh and why stop there?
Allow your mate to be an audience of one as he watches you explore yourself sexually. Just think, he might want to offer some assistance before the performance is over!
Accompany your man to an event. When you arrive, go to the restroom and remove your panties. When you join your mate again, discreetly stuff your underwear into his pocket, while whispering what you did into his ear. You might wind up leaving the event sooner than later!
Sex toys are wildly fun, sexually healthy, and desire-fulfilling. So, why not embrace them? They can enhance your sex life with a partner. There are many incredible devices designed to provide one thing: pure pleasure.  Plus, using a sex toy and orgasming more frequently is not only good for your health, but it can also help boost your libido, too.
It ain't lame to plan for sex! Often relationship experts will suggest scheduling sex as a way to get couples out of a sexual rut. What's important is to have a plan for sex and be creative. Don't just make an appointment with your man and then draw a blank when you get together. Just think about that teasingly suspenseful and a long-awaited orgasm that takes place when you come together.
If you're still having trouble in the bedroom, look for a certified sex therapist via The American Association of Sexuality Educators, Counselors and Therapists (AASECT), who can help you and your partner explore your sexual identities.