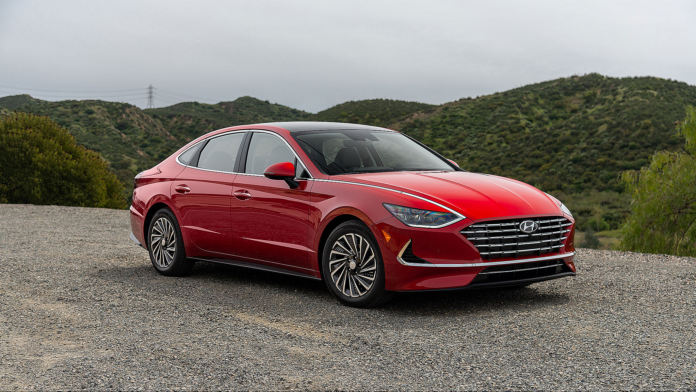 Hyundai just keeps upping its game and wanting to turn heads, and the 2020 Sonata Hybrid Limited keeps the tradition going. The next-gen model has been completely spiffed up to make you look. It has undoubtedly traded the typically stodgy proportions of mid-size sedans for a cool and sleek style all its own.
The 8th-generation Sonata Hybrid Limited is built on a new platform that kicks up a notch performance, design, safety, and efficiency. Giving the sedan the once over, it appears lower to the ground, more aerodynamic and blinged out in chrome. The prominent cascading grill adds appeal as it beautifully merges with the car's long hood. Matrix-like headlamps enhance the vehicle. The chrome strip with graduated LED daytime running lights appear to be chrome when switched off, and become sleekly lit when turned on. The horizontal rear taillight bar is stretched across the back, and there is a facelifted spoiler. The vehicle's striking design has a bodyline that elegantly snakes its way from the front fenders to the rear taillights. The hybrid definitely has a party going on in the front, sides, and rear.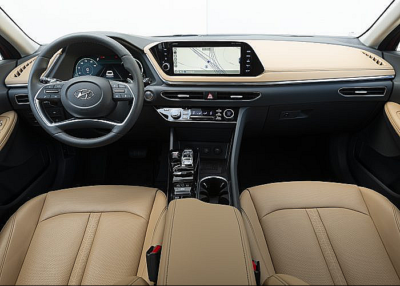 Adding a solar panel roof to a vehicle is still a rarity these days, but what about one that can juice the battery as long as you allow it to sunbathe? The hybrid's solar roof will generate enough electricity to power over 700 additional miles of driving per year, or about 2 miles of driving range per day if parked in the sunlight. This is a nice added extra.
The Sonata Hybrid Limited's cabin is upscale every which way. Soft touches, well-placed controls, and bolstered/supportive seating swathed in leather that's perfect for road tripping. There is ample room for talls up front. In the rear, however, the space is short on legroom.
The center console bin is more than generous for knick-knacks. The vehicle's infotainment display is a design win with a layout that is intuitive and graphics that are crisp and engaging. It's pretty cool how Hyundai has made an effort to minimize the complexity of its vehicle's controls.
Apple CarPlay and Android Auto are predictably standard. A Qi inductive charging pad is standard on the Hybrid SEL and Limited, but not available on the base Hybrid Blue. Hyundai offers a "Wait, what?" moment while driving in an effort to make the Sonata a unique experience. There is a function that lets you pipe relaxing sounds of nature like sea waves, rain, or a crackling fireplace throughout the car.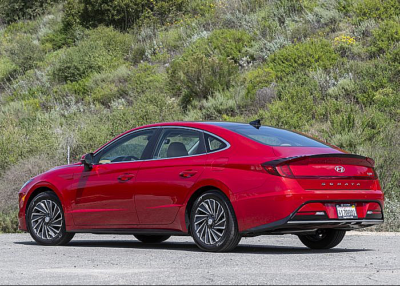 The hybrid's exterior intrusions are practically hushed, and road thumps are cruised over nicely. Trunk space is more than generous at 16.0 cubic feet.
The Sonata Hybrid Limited offers a combined 192 horses from its 2.0-liter inline-four and doesn't feel wimpy when you give it gas. There is zero droning CVT, the shifts are crisp, and it stops largely absent of odd brake feel. If you switch into sport mode, the hybrid is fun-to-drive and eager to please a more aggressive driving style. Taking on curves, the Sonata Hybrid Limited hangs on like a champ. Gas mileage on the hybrid is pretty noteworthy at 45 mpg/city and 51mpg/hwy.
On the tech front and at the top end, the Limited trim includes parking collision avoidance, highway drive assist (which is an option on the SEL Plus trim), and a very convenient blind view monitor that pops up a video feed of your blind spot anytime you activate the turn signal. The video appears right in the gauge cluster and makes it very easy to check exactly what's next to your vehicle, a significant step up from the traditional blind-spot monitor that only illuminates a light if an object is detected. The fuel sipper also gets a nod for its crisp, bright LED headlamps and perfect crash test record from the Insurance Institute for Highway Safety (IIHS), helping it cinch a Top Safety Pick+ award from the organization.
The 2020 Hyundai Sonata Hybrid Limited is a perfect daily driver with plenty of plusses, and not to mention stellar fuel economy. Besides its beautiful design, and fun driving dynamics is Hyundai's long warranty and complimentary no-cost maintenance that covers you for three-years or 36,000 miles whichever comes first.
Pricing starts at $35,300. Need more info? www.HyundaiUSA.com