After receiving a makeover last year, the 2017 Kia Optima managed to keep it's sexy which is a good thing. In addition to eliciting stares, the sedan embodies what good car design professes to achieve.
The Optima's exterior looks are solid, smooth lines, not overly sculpted, slightly bulging fenders, aggressive headlight design, narrow honeycomb-like grille, beveled rear bumper, Euro sporty from every angle. Sleek, stylish and not overly dressed, the sedan looks good coming and going and its cabin is just as impressive.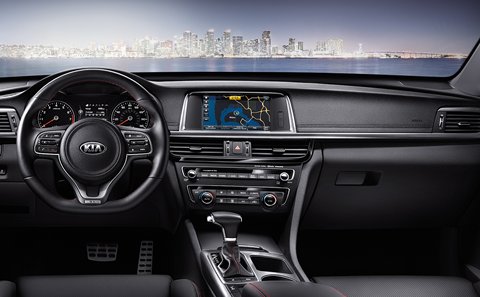 The five-passenger sedan's cabin takes a few cues from its siblings the Cadenza and K900, so tasteful is a word that comes to mind as far as its overall cohesive interior look. Upscale materials? Yes! Roominess? Definitely! Adults can sit comfortably front and back. Those seated in the rear, however, who are north of 6'2 might feel cramped as far as headroom because of the sloping roofline. Seating in the Kia is road trip supportive enough for whatever body part touches them. The controls on the infotainment system will make even digital late-bloomers comfortable. Rear visibility is also a little compromised because of the sloping window. Standard features on the Optima include satellite radio, Bluetooth connectivity, cruise control, USB port and 60/40-split folding rear seat. Also available on the vehicle are UVO infotainment, Apple CarPlay and Android Auto compatibility, navigation, heated/ventilated front seats, heated outboard rear seats, dual-zone automatic climate control, and two additional USB charging ports in the rear. Hoarders will appreciate the 15.9 cubic feet of trunk space that is offered in the vehicle which is on the large side.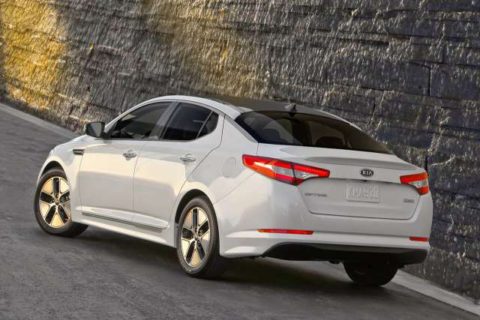 Safety is front and center in the Optima and includes such standards as antilock brakes, rearview camera, airbags, and electronic stability control. An Around View Monitor is available, which displays a top-down view of the Optima using four cameras mounted around the vehicle. Also optional are rear parking sensors, blind spot detection with rear cross-traffic alert, adaptive cruise control, lane departure warnings, and forward collision warnings with automatic braking.
The Optima is offered in five available trims: the LX, LX Turbo, EX, SX Turbo, and SXL Turbo.  The hybrid version (test vehicle) comes in a 2.0-liter direct-injection 4-cylinder, that kicks out 154 horsepower, and a 50-hp electric motor combine for 192 ponies. The maximum combined torque for the Optima of 271 lb-ft is routed through a six-speed automatic transmission to the front wheels.  Driving the sleek looker might make you think you can burn rubber with a hotshot youngin's performance street number at a red light, but don't try it!  The Optima hybrid's driving experience is more on the sedate side, smooth, stable, refined and quiet. At the pumps, the 2017 Hybrid Kia aimed for a 10-percent improvement in fuel economy over the previous model. The latest and greatest earns pretty frugal EPA ratings of 39 mpg city, 46 highway, and 42 combined.
The 2017 Kia Optima comes in a mixed range of offerings that would suit even the finickiest of car buyers. Kia has rolled out a vehicle with good looks, an attractive interior, smooth ride, and a quiet operation that can go wheel-to-wheel with a few of its haters!
Prices start at $22,200. Need more info? www.Kia.com