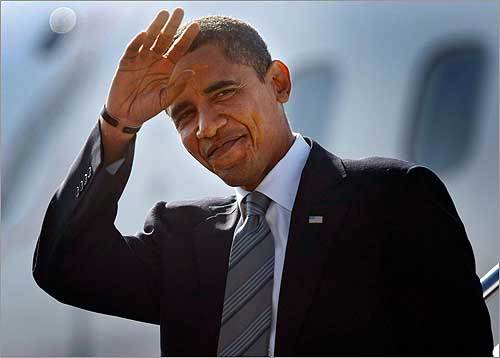 "Obama, we want you back!"
As Black folks, many of us are thinking, 'WTH is going on in the White House?' Within those walls resides at least, sometimes, the ever-delusional, president of these United States, Donald Trump.  When he's not at one of his ritzy private golf courses, nauseatingly gilded N.Y.C. Trump Tower digs, or snobby Palm Beach Mar-A-Lago club, he can be found locked away somewhere trying to concoct ways in which to further divide, disrupt, discredit and undermine not only the political system but American life.  Trump is a manchild, the scourge of ALL that currently ails this country and is seemingly so devoid of any sense of decency whatsoever.  He is a horror show of sorts, who has emboldened violence throughout this land, and who makes us pine for the days of former President Barack Obama.
Trump's "America-first" rhetoric which has its roots in anti-Semitism certainly wins him admiration among white supremacists. Take the not-too-distant mayhem in Charlottesville, Virginia where the convergence of hundreds of white nationalists with their egregious display of hatred resulted in the deaths of three people. Trump's blatant bigotry was out in full display as he failed to properly condemn the actions of the neo-Nazis, skinheads and KKK members, who were armed with guns, bats, and hardcore intimidation to protest the removal of a Confederate statue and to combat with peaceful counter-protesters.  In response to this tragic incident, Number 45 came under fire for failing to fully blame the violence that erupted on his core base, the white extremists.
Former President Barack Obama may have taken a few missteps during his terms but what head of state has not been given a thumbs up and thumbs down with regards to their legacy?
We miss Obama's swag, something Trump has no clue about. When Obama with his salt and pepper hair, dressed his fine and fit physique in perfectly tailored suits (especially that tan one), he gave us fever.  On the other hand, Trump's grotesque physique is repulsive.
We miss Obama's unpretentious and caring nature.  How can we forget the indelible image of 5-year-old Jacob Philadelphia, a Black child who was in awe of Obama and who wanted to know, if he and the head of state had the same texture of hair?  Our then Prez graciously bent over to allow the young boy to touch his hair to feel if there were any similarities.
We miss Obama's thick skin and poise. He was called everything from a non-citizen to a monkey; depicted with a noose around his neck; even had his likeness plastered on rolls of toilet paper. Despite being the most threatened president in American history having received over 30 death threats a day, he still managed to get up each day to lead this country, without breaking a sweat; Number 45 is the complete opposite. When the seventy-one-year-old feels attacked, he takes his deep-rooted insecurities to Twitter and resorts to bullying, flinging insults, and making threats of lawsuits.
We could go on and on about missing Obama but he does not get to run for another term of office. Do you think Number 45 will be out on his bum by the end of this year and declared unfit to be president? Well, as it stands now, the Trump Titanic with its motley crew of billionaire misfits looks as if it just might sink but then again, it might not!
Anybody got a lifesaver?