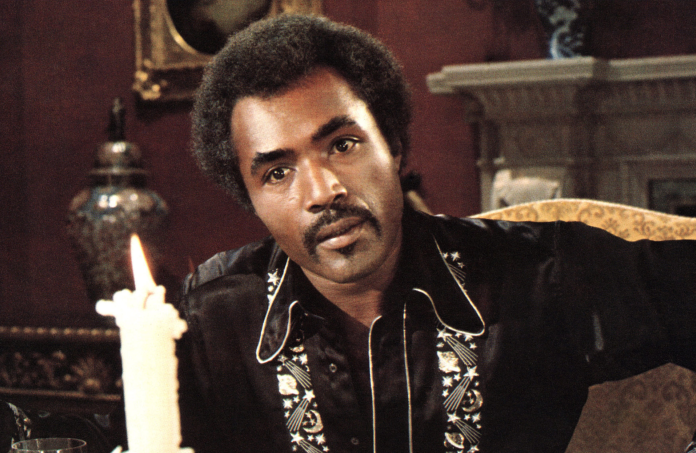 Growing up, many of us were glued to our sets when a 4:30 movie was on and were all excited when it was horror week featuring Godzilla, Dracula, Frankenstein, or Vincent Price films. The daily afternoon movies were a staple across many households because we were transported into a world of fantasy and imagination.
Going to the movies was an extravagance back in the day, especially if you came from a big family. But when the blaxploitation era hit the big screens throughout the 70s, it was on and poppin'! Getting to the movies to see the baddest and the finest of our folks was a must-do! Hollywood produced films that reflected the climate of the times–social upheaval and turbulence with protests against the Vietnam War and urban uprisings. But to us, the blaxploitation films were an outlet where we could embrace Black pride. We actually got to see Black empowerment, kick-ass heroes, and finally, witness our folks triumph over white villains. The films showcased the talents of Black actors during a time when Hollywood ignored them. We flocked to see movies made for us and we certainly turned them into big-bucks box office hits. 
The Black films featured a new and often edgier kind of African-American actor, who usually played streetwise characters unencumbered with the stigmas of mainstream Hollywood. One of my favorite films of the era is Cotton Comes to Harlem (1970), starring Raymond St. Jacques, Godfrey Cambridge, and the ever charismatic and oh-so-handsome Calvin Lockhart. He caught my eye and the eyes of many ladies at the time. During Lockhart's nearly 30-year film career, his acting talent was upstaged only by his tremendous good looks. 
On October 18, 1934, Bert McCloud Cooper (Calvin Lockhart) was born in Nassau, Bahamas, to parents Eric, a tailor, and mother, Minerva. He was the youngest of eight children. At age eighteen, and with aspirations of becoming a civil engineer, Lockhart, moved to NYC, where he spent a year at Cooper Union School of Engineering, then dropped out of school to pursue an acting career. The story goes that during this time, he was so disturbed by people's fascination with his looks that he allegedly attempted to disfigure his face with scissors. Thankfully, he failed! He drove a taxi part-time and worked as a carpenter and construction worker while trying to establish his acting goals. Lockhart was reportedly discovered by a well-known playwright while driving a taxi part-time, and afterward, it did not take long for him to make a name for himself.
Lockhart was cast as a gang leader in the 1960 play The Cool World, set in urban Harlem, which had a short run. He took over a controversial role from actor Billy Dee Williams in the Broadway play, A Taste of Honey, where he portrayed a sailor who gets a white girl pregnant. The play also starred Angela Lansbury. Lockhart, fluent in Italian, German, and French, decided to move to Europe because he felt there was a lack of serious roles for Black actors in this country at the time. While in Italy, Lockhart directed and acted in a theater company he had formed. He also opened a restaurant. The Bahamian performer later moved to Germany and settled in England, where he landed acting gigs on British television. Lockhart boosted his acting resume by appearing in a few British films few films like A Dandy in Aspic (1968) and Only When I Larf (1968). The actor raised brows again with his role as Gordon in the movie Joanna (1968), which dealt with a then incendiary subject, interracial romance. Ironically, the looks that he resented so much in his youth would come to work to his advantage; in 1971, he was declared "The World's Sexiest Man" by the British public. 
When Lockhart returned to the United States, he costarred in Cotton Comes to Harlem playing the memorable slick preacher Reverend Deke O'Malley. He also starred in Halls of Anger (1970), playing a no-nonsense inner-city teacher. It was widely reported that Lockhart had problems with the film's script. He disagreed with the stereotypical writing and reportedly walked off the set in protest. Lockhart's angry reaction was not how African American actors behaved on movie sets back then. The man whom The New York Times described only a year earlier as having 'matinee idol looks, with chiseled-out-marble features, and skin the color of brown velvet,' was now being labeled as difficult to work with which was not a good look.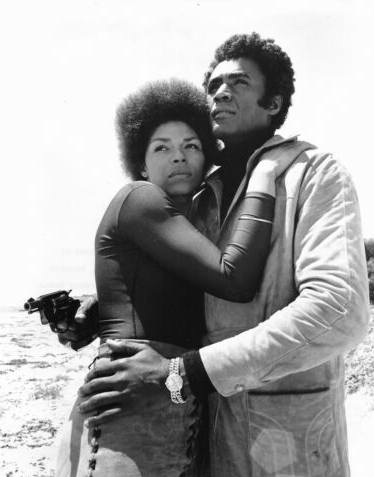 We will never forget Lockhart's starring role as Frankie Parker in the blaxploitation-era film Melinda (1972); talk about having women swooning! In 1974, Lockhart starred in the Sidney Poitier-directed comedy hit Uptown Saturday Night, where he costarred with Bill Cosby and Harry Belafonte. He also appeared in the film's sequel Let's Do it Again (1975), where he played gangster, Biggie Smalls. There was a decades-long rumor that Calvin Lockhart sued the late rapper Christopher Wallace, AKA Biggie Smalls, for using his character name in the film; however, the stories are false.
In 1974, Lockhart became the first Black actor-in-residence to play a lead role at the Royal Shakespeare Company in Stratford-upon-Avon, a medieval market town in England's West Midlands and the 16th-century birthplace of William Shakespeare. He appeared in a production of Julius Caesar and other theatrical performances. Lockhart returned to England in 1974 to appear in the horror film, The Beast Must Die. The actor thoroughly enjoyed portraying a millionaire in the movie and not a stereotypical gangster or shady preacher, roles he was relegated to playing in America.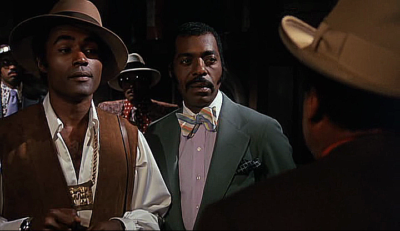 In the late 70s, Lockhart suffered a heart attack after learning that his son Leslie had a terrible accident while under the influence of angel dust laced with marijuana. Leslie jumped out of a window breaking all the bones in his feet. After his son's recovery, Lockhart became an advocate against drug addiction, blaming himself for not being around to father his children because of worldwide acting commitments. He spearheaded an LA-based campaign called 'Getting Off Drugs' to help keep teenagers off drugs.
Lockhart's career in America would forever be associated with the blaxploitation era in Hollywood. Despite his incredible looks and leading man appearance, he was pretty much typecast as a preacher or gangster. Lockhart's appearance on the 6th season of the hit sitcom Good Times also portrayed him as the smooth-talking cousin Raymond, a liar, and professional gambler. He also appeared in the crime drama TV series, Get Christie Love and Starsky and Hutch. On the 80s mega-hit primetime soap, Dynasty, he left a lasting impression on us as the handsome boyfriend of Dominique Deveraux, played by Diahann Carroll. He also appeared in the films Coming to America (1988) and Predator 2 (1990).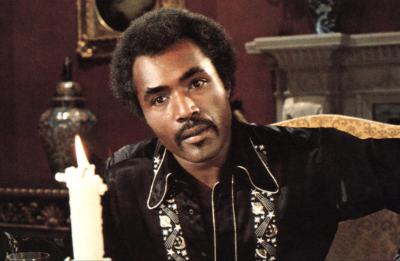 Lockhart returned to the Nassau, Bahamas in the late 90s because his acting career had slowed considerably. After an over 15-year absence, the performer appeared in his final film, Rain, an indie shot in his native land. The movie premiered a year after his death. On March 29, 2007, Lockhart died from complications of a stroke. After his passing, actor Sidney Poitier told The Los Angeles Times, "Calvin had wonderful range as an actor; he really had such enormous promise. I don't know why he was not more utilized because he was so good. As a matter of fact, he had movie-star qualities. He was a very handsome man, his impact on the screen was striking, and his work was highly praised."
In addition to Jennifer, his fourth wife, Lockhart, is survived by his four children–Michael Cooper, Leslie Cooper, Julien Lockhart Miles, and Shari Cooper.