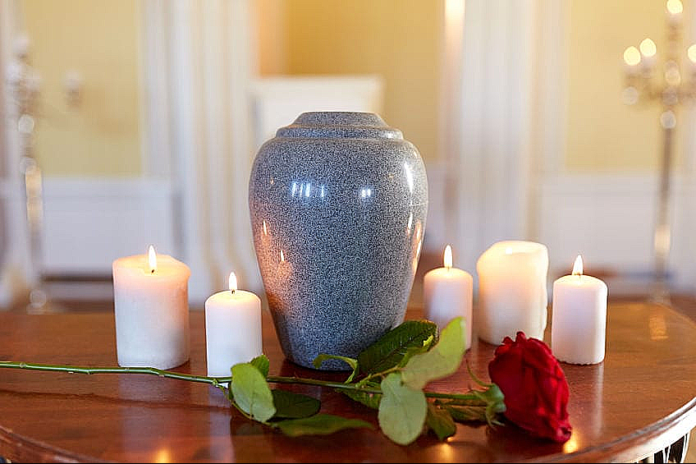 Funeral costs can be staggering and often come as a shock to grieving family members who are responsible for organizing their loved ones' final arrangements.
According to the National Funeral Directors Association (NFDA), the median cost of a funeral with viewing and burial was $7,360 in 2017. However, this figure does not include cemetery, monument or marker costs, or miscellaneous cash-advance charges for things like flowers or an obituary. Most cemeteries also require the purchase of a burial vault, which increases the total median cost to $8,755. The median cost of a funeral with viewing and cremation, on the other hand, is $6,260. Again, this figure does not include a vault, cemetery/monument/marker costs or other cash-advance charges.
The difference in cost between these two options as well as increasing environmental awareness and decreasing religious opposition could be why a growing percentage of Americans are choosing cremation services for themselves and their loved ones. The Cremation Association of North America (CANA) Annual Statistics Report found that the cremation rate in the United States reached 53 percent in 2018 and is projected to continue growing. "Cost is the obvious benefit of cremation, particularly for families with minimal financial resources," notes Barbara Kemmis, executive director of CANA.
4 Factors That Affect Cremation Cost
When deciding between burial and cremation, people tend to focus on the disposition (burning) of their loved one's remains, but there's more to the process than meets the eye. Final arrangements that include cremation can be customized to meet a family's unique needs, preferences and budget.
Transportation: Transportation costs can vary, depending on where a person dies, where they are going to be cremated, and where they are going to be memorialized or their remains laid to rest. According to the NFDA, the median cost of collecting a body and transporting it to a local funeral home is $325. Additional charges typically apply for longer journeys and transferring remains between funeral homes.
Storage and Embalming: Cremation doesn't happen immediately after a person passes away. The reasons for this can be manifold. Some states have rules regarding the minimum amount of time that must pass between a person's death and the cremation of their remains (usually 24 to 48 hours). After a body has been cremated, it is impossible to determine a cause of death, which is why certain states also require a coroner to give permission before the process can begin.
On the personal side, a family can choose between direct cremation (a disposition option which does not include embalming or a funeral before the body is cremated) or they may wish to store the body for a few days so that it can be present during a viewing or traditional funeral service. Funeral directors typically encourage embalming if remains are to be publicly displayed for viewing. However, embalming and additional body preparations are expensive and rarely required. Many funeral homes also offer refrigeration as an alternative, noninvasive method of maintaining a person's remains.
If a family wishes to have a viewing and cremation, then the cost of a casket (either purchased or rented) to display the body will contribute to the overall cost. However, a casket is not legally required for direct cremation. Instead, funeral providers must offer an inexpensive "alternative container" that will be cremated along with the body.
Cremation Process: Kemmis says that the price of the actual cremation process itself doesn't fluctuate much, unless the deceased has unusual physical considerations (i.e. they are physically very large). The bulk of funeral costs usually comes from purchasing products and services for a traditional viewing and funeral ceremony, such as a casket, event planning services, use of the funeral home facility and staff for the event, use of a hearse, memorial packages (e.g. prayer cards, programs, guest books), etc.
Placement of Remains: For those families who aren't interested in planning a traditional funeral, this is where much of the variance in cremation cost comes in to play. Choosing the final resting place for a loved one's cremated remains has a significant impact on the overall price tag. For example, urns to hold cremains range in price from under $100 to more than $1,000.
From there, families must decide how to memorialize their loved ones' cremated remains. An urn can be kept in the home, buried in a smaller plot at a cemetery, interred in a niche at a columbarium or mausoleum, or otherwise incorporated into a cremation garden. Memorial markers, headstones, plaques and niche covers used to mark remains in cemeteries will increase costs as well.
Scattering ashes is another popular option that varies widely in price. For example, scattering a person's ashes under a favorite tree near their home would probably be much cheaper than traveling to scatter their remains on top of a mountain or in the middle of the ocean.
Understanding Low-Cost Cremation Services
Kemmis urges those who choose direct cremation to consider how they intend to memorialize their loved one. Some individuals and families prefer final arrangements with no frills, but others may want a more permanent way to visit with or remember their loved ones. This choice is ultimately up to the decedent, but many people fail to make detailed preparations or leave instructions for surviving family before they pass.
While it may seem like a blessing to be able to take care of a loved one's funeral arrangements for a few hundred dollars, Kemmis advises consumers to be aware that low-cost cremation companies typically offer only the bare minimum of products and services. Be sure to ask for an itemized list of what is included when receiving a price quote and inquire whether additional products or services can be added on if desired.
Pre-planning a funeral is one of the best ways to keep costs to a minimum while making sure a loved one's preferences for their final arrangements are respected. Talking about funeral planning can be uncomfortable at first, but these tips can help you start the conversation.
Anne-Marie Botek is a writer who frequently contributes to AgingCare and other online and print publications.