Wine is good but wine cocktails are an added plus! Getting creative with wine can be fun. Inventive wine cocktails will hit the spot in a way you didn't even know you were craving.
Try incorporating a wine cocktail at your next summer gathering to get the party started right. They are light, refreshing, and can be made in batches like sangria. We've rounded up some of our favorite wine cocktail recipes that you'll want to use again and again.
Grab a bottle or two of your fave wine and get mixing!
Red Wine Sangria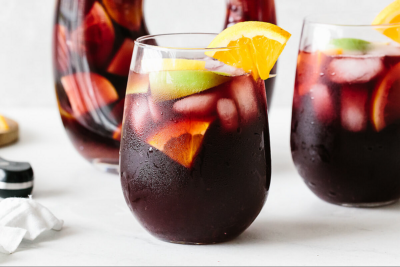 INGREDIENTS
1 
(750-mL.) bottle red wine
1 large green
apple, sliced
DIRECTIONS
​In a large pitcher, mix together wine, orange juice, brandy, and sugar, then stir in orange, apple, blueberries, and strawberries. Refrigerate until ready to serve, preferably for two hours. Top off with seltzer before serving to guests.
Ginger Lime Spritz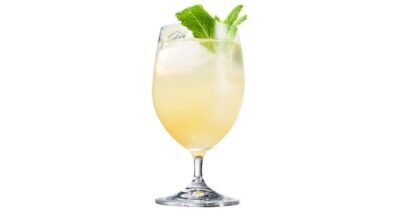 INGREDIENTS
1 2-inch piece peeled coarsely chopped fresh ginger
2 ounces fresh lime juice
2 ounces simple syrup
16 ounces dry Prosecco or other sparkling white wine
Club soda
Mint sprigs (for serving)
DIRECTIONS
Muddle ginger in a cocktail shaker. Add lime juice and simple syrup. Fill shaker with ice, cover, and shake vigorously until outside of shaker is frosty, about 30 seconds. Strain into 4 ice-filled rocks glasses or large wine glasses. Add Prosecco to each and top off with club soda.
Gently stir together; garnish with mint.
MOSCATO SANGRIA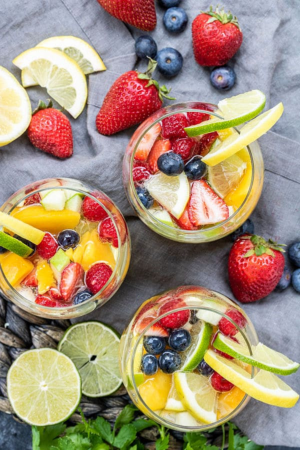 INGREDIENTS
1 c.
lemon-lime soda (such as Sprite)
1 1/2 c.
sliced strawberries
1 medium green apple, chopped
1 c. blueberries
1 mango, chopped
1 peach or nectarine, chopped
Lemon and lime add as garnish
DIRECTIONS
Fill a pitcher with ice. Pour over Moscato, soda, and seltzer, then stir in fruit. Serve immediately.