Summer is upon us and many folks don't want to spend time cooking over a hot stove. Quick, easy, and cool recipes is the way to go when it's sweltering outside. Salads are true culinary treats because they are light, yummy and cool. You can never go wrong with a good healthy salad as a main meal. How about throwing some burgers or chicken on the grill and adding a nutritious salad on the side to kick your meal up a notch?
Salad has a superstar rep; it is the poster child for weight loss and healthy eating. Keep in mind, however, that if you are eating salads daily, you should be mindful of your ingredients and portion sizes especially where dressings and fats are concerned.
As long as you're incorporating a wide variety of ingredients (different types of veggies, fruits, beans, legumes, nuts and seeds, protein sources, etc.) and regularly switching things up, that daily salad can easily be a nutritional powerhouse that supplies many of the vitamins and minerals your body needs.
Here a couple of stellar summer salads you'll want to try…
Prawn, avocado and mango salad (serves 4)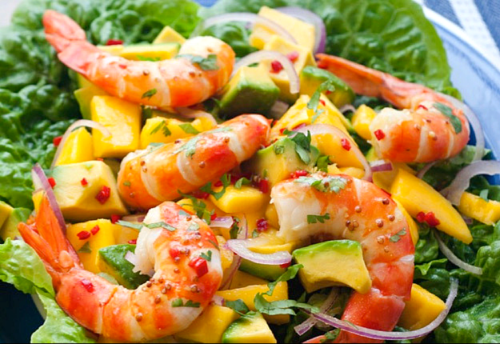 Ingredients:
4 handfuls mixed lettuce leaves
2 mangoes, cut into cubes
1/2 red onion, thinly sliced
20 cooked prawns, peeled and deveined
2 avocados, cut into cubes
1 handful coriander leaves, chopped
1 long red chili, chopped (optional)
Dressing:
2 Tbsp white condiment (white balsamic vinegar)
6 Tbsp olive oil
1 Tbsp honey
1/2 Tbsp wholegrain mustard
Preparation:
In a large bowl or on a platter, arrange lettuce, mango, onion, prawns and avocado.
To make the dressing, shake ingredients in a jar until combined. Adjust to your liking.
Pour dressing over salad, and sprinkle with coriander leaves and chilli.
Veggie Cobb Salad (serves 4)

This protein-packed vegetarian Cobb salad is loaded with marinated grilled tofu, smoky coconut bacon, avocados, tomatoes, spinach, hard boiled eggs, cheese crumbles, and a creamy mustard vinaigrette. Prepare the tofu and coconut bacon before beginning the recipe.
Dressing:
2 Tbsp diced shallot
¼ cup (60 ml) red-wine vinegar
1 Tbsp + 1 teaspoon Dijon mustard
½ teaspoon fine sea or Kosher salt
¼ teaspoon finely ground black pepper
¼ cup + 2 Tbsp mild extra-virgin olive oil (or a blend of olive oil and sunflower oil)
Ingredients:
10-12 ounces grilled marinated tofu (see recipe for marinade and grilling directions)
1 cup coconut bacon
4 large eggs
1 bag of spinach, washed and torn into bite-sized pieces or coarsely chopped
1 cup cherry tomatoes, stemmed and halved
2 large avocados, firm-ripe, peeled, pitted, and sliced
2 ounces blue cheese or goat cheese, crumbled
2 Tbsp finely chopped chives
Flaky salt and coarsely ground black pepper
Preparation:
Combine the shallot, vinegar, mustard, salt, pepper, and olive oil in a small blender.
Blend until smooth and thick.
Taste and adjust the seasoning if you feel it needs more salt or olive oil
Place the eggs in a small saucepan, cover with 1 inch of water, and bring to a rolling boil over medium-high heat. Remove the pot from the heat, cover, and let sit 7 minutes. Drain the eggs, fill the pot with ice and cool water, and let sit 10 minutes. Peel the eggs and cut into halves or slices.
Toss the spinach with some of the dressing to coat, then arrange on a platter or serving bowl.
Top with the coconut bacon, eggs, tomatoes, avocados, and grilled tofu.
Sprinkle the cheese and chives over the salad, drizzle with more dressing, flaky salt, and pepper, and serve.
Tofu marinade and grilling instructions:
Marinate slabs of firm tofu with the juice of one large lemon, 2 large garlic cloves minced or pressed, 2 Tbsp olive oil, ½ teaspoon dried oregano, 2 Tbsp tamari, 1 teaspoon fine sea or kosher salt, ½ teaspoon ground black pepper and 2 Tbsp maple syrup for a flavorful marinade that doubles as a sauce. Let tofu sit for at least two hours.
When ready to cook, wipe the garlic off of the tofu (otherwise it will burn) and reserve the marinade. The tofu tends to stick to grills, so it is best to sear it in a ceramic non-stick pan over medium-high heat until golden, then transferring it to the hot grill to add caramelization. You can also simply sear it the skillet until deep golden on both sides, 1-2 minutes per side.
Alternatively, make sure your grill or stovetop grill pan is very clean, and oil it well. If using a grill pan, heat the pan over medium-high heat until very hot. If using a grill, set it to medium heat. Place the tofu slices on the grill at an angle and cook until it holds deep grill marks, 1-2 minutes per side.