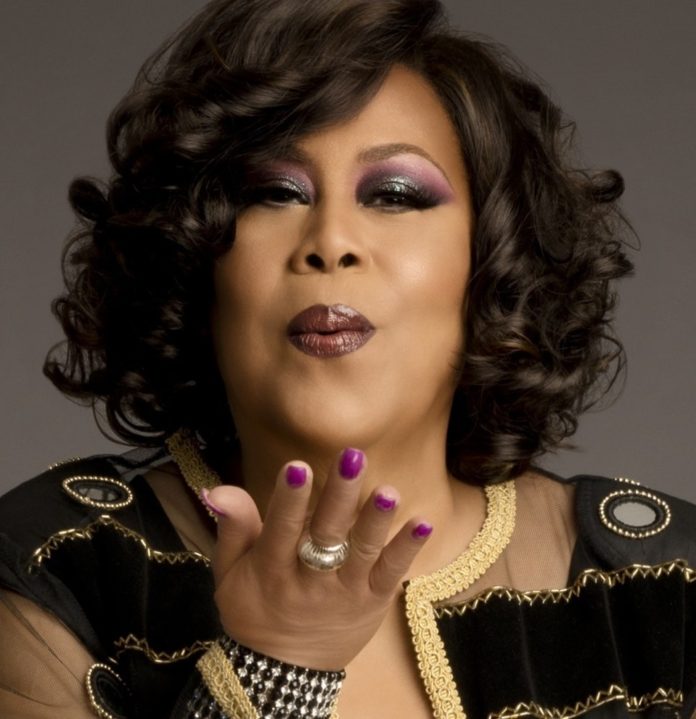 Who didn't break out in a sweat when the DJ played Strike It Up, Everybody Everybody, and Gonna Make You Sweat (Everybody Dance Now) back-in-the-day? Martha Wash's dynamic voice kept us on the dance floor with her classic cuts. The San Francisco-born native who is also known as "The Voice" has one of the most recognizable gospel-weaned vocals in the industry with fifteen number-one dance singles to her credit.
When Martha got together with Izora Rhodes-Armstead to form Two Tons O' Fun, the pair was unstoppable with their soul-charged voices earning fame as backup singers for the King of Disco, Sylvester. The duo's campy 80s, It's Raining Men was their biggest recording selling six million copies globally and it eventually became the gay anthem because the song gave a voice to man-lusting humans internationally. Disco's heady sound and style became a global phenomenon. The dance floor became a potent platform of expression, and Martha and Izora were two full-figured divas backing a gay cross-dresser; life was good!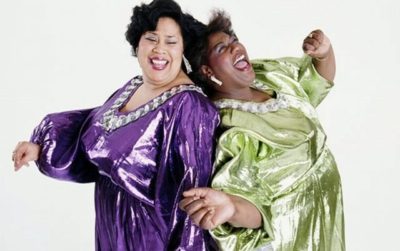 After the success of It's Raining Men, the two divas decided to change their names to The Weather Girls and each continued singing backup on everything from Bob Seger's "Like a Rock" to Aretha Franklin's "Freeway of Love" while occasionally releasing a Weather Girls album. Eventually, Martha and Izora parted company in 1990. Izora, along with her daughter, who replaced Martha, continued performing as the Weather Girls. Sadly, Izora passed away in 2004.
The early 90s took an interesting turn for Martha who has proven herself to be a warrior when her fight for proper vocal credits on such songs as Gonna Make You Sweat (Everybody Dance Now) and royalties on CD's and music videos set an important precedent for artists' rights in intellectual property law.
Following Martha's case, federal legislation was created to mandate vocal credits on all albums and music videos.
Over recent years, Martha has continued to perform her classics as well as new music. In 2013, she released a second solo album, Something Good, that received great reviews from critics worldwide. She also formed a group with fellow disco divas Linda Clifford and Evelyn "Champagne" King and they have performed at various venues and released a second single recently entitled, Don't Stop Me Now.
Martha, who is seen as a gay icon, has continued to support the gay community through activism and fundraising. The fight against the HIV/AIDS crisis is a cause that is near and dear to her heart because she watched Sylvester, whom she loved dearly, succumb to the disease. As a matter of fact, in 2012, Martha was awarded the prestigious Lifetime Achievement Award in San Francisco from the AIDS Emergency Fund for her advocacy and fundraising to provide financial assistance to victims of the disease.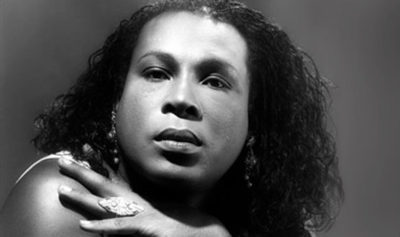 In addition to performing, Martha is the host of a wonderful web series on YouTube called 10 Minutes with Martha Wash (see below) where she chats with whomever she finds interesting.
Well, we find Martha fascinating, and she chatted with us about the ups and downs of her illustrious singing career, as well as why she refuses to just kick back and watch paint dry!
50BOLD: You have such a distinctive and powerful singing voice, what made you decide to share your talent with this world?
Martha: Well, I've always sung. I began singing when I was three-years-old, and even sang in church. My mother sang in the church choir and when she found out that I could sing, she really encouraged me to do so. Growing up, the only music I could listen to was gospel, so basically it was the foundation of my singing experience. Secular music was not allowed in my house but I did sneak and listen to groups like The Supremes and The Temptations on 45's whenever I could.
At school, I joined the choir. As a matter of fact, I began studying classical music in high school and then unfortunately, my music teacher passed away, so I never continued to pursue it. I did, however, continue to sing. I sang off and on in small groups. There was always music in my life. There was always singing in my life. I wasn't sure if I would pursue singing professionally. I had thought about possibly pursuing another career, but it didn't really hold my attention as much as singing did.
50BOLD: Music has obviously always been your passion!
Martha: Yes! My mother wanted me to continue singing gospel music and this didn't work out. I did play piano for church choirs and things like that but doing so was just not my destiny. When I began singing professionally with the recording artist Sylvester James, Jr. my fate was decided upon at that point and I crossed over to R&B and disco.
50BOLD: How did you and late great Sylvester meet?
Martha: I auditioned for Sylvester when he was looking for background singers. He had just moved back to San Francisco and was putting a band together. I knew Izora Rhodes Armstead from childhood and she could sing! I introduced her to Sylvester and she auditioned for him as well. We were hired by Sylvester and became his background singers. He referred to us as "The Girls" but we formed a musical duo and named ourselves Two Tons O' Fun.
50BOLD: You and Izora made up the singing dynamic duo called Two Tons O' Fun. Why did you eventually change the name of your duo to the Weather Girls? Was the name change some kind of record label contractual thing?
Martha: We changed our group name because of a song. Paul Jabara and Paul Shaffer were the collaborators who wrote It's Raining Men. The song was the number one dance hit of the times and was also considered to be one of the greatest songs of the 80's. We changed our name to The Weather Girls following the success of our released single It's Raining Men. Some people thought we were a new group. Other people recognized our voices and said "NO, that's Two Tons O' Fun!" We viewed the name change as a fresh start.
50BOLD: Well, there was no confusion here! I recognized your vocal styles because they were so unique. I read somewhere that you were skeptical about It's Raining Men and did not think it would be a commercial success, is this true?
Martha: So true, so true! Paul Shaffer originally brought us the song and we listened to it. And then he stated, how he wanted us to record the song. I laughed at Paul and told him, "You must be kidding!" He said, "No, I really want you to record the songI" I glanced at Izora and she glanced at me. I just did not think anyone would want to record such a novelty song. Izora and I were trying to get away from recording novelty songs. I didn't think anyone would buy the record. Paul literally pleaded with us to record the song. Basically, the song itself was finished and all it needed was the lead vocals. Well, we caved! We went to the studio and recorded the song in about 90 minutes, then walked out the door. I said, "Okay, see you later Paul." And really, that was it!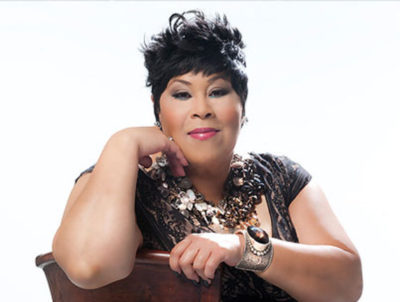 50BOLD: And WOW, look what happened!
Martha: Yep!
50BOLD: Your vocals were used on monster recordings like I Don't Know Anybody Else, and Everybody Everybody. In 1989, an Italian house music group, Black Box, asked you to demo a few of their songs which became international hits. Black Box never gave you credit for your contributions to the recordings and then had the audacity to use a French fashion model to lip-sync your vocals during music videos, televised performances, and concert performances. Why did this happen when you are not only talented but also beautiful?
Martha: Well, thank you for the compliment first of all, but I try not to dwell on the past too much. You know, when I look back over time and think about situations that happened…. I don't know…. It's been so long since that period in my life happened, over 25 years. I have moved so far past that situation and I've been too busy just doing me and making my own way.
50BOLD: BTW, I LOVED your second solo album Something Good!
Martha: First of all, thank you for listening to the Something Good album. Yeah, I never wanted to be pigeonholed musically. There are so many people who grew up with me in the 70s and who are still listening to that disco era kind of music because they are fans of it. So, a lot of times, it can be hard for people to kind of follow you when you start doing other types of music. If people are die-hard fans of your specific sound, they don't necessary want to follow when you venture into other musical genres. I want to keep myself open and be able to do whatever kind of music I want to do.
50BOLD: I'm sure you'd be well-received wherever you want to go musically! Your R&B ballad, Taking Away Your Space is everything! I couldn't see why anyone wouldn't follow you because you have that powerful and distinctive voice.
I've seen you perform in many venues from New York City's Apollo Theater to various club venues. You have such a great following, and not to mention, you're so revered in the gay community. You've performed and taken part in LGBTQ-related events like the pride parades, festivals, human rights campaigns. You also recorded that phenomenal gay anthem, It's Raining Men! Is there a special reason as to why you've been such a staunch supporter of the gay community and did Sylvester have anything to do with your involvement?
Martha: Well, yes, my advocacy for gay rights really started with Sylvester. The LGBTQ community has been my biggest fan base for decades. My belief is that God makes you who you're supposed to be. We are ALL humans and have to live in this world together, and thereby we should love one another. How can you utter the words, "liberty and justice for all," and not practice it. You have got to put equality for all into action!
50BOLD: How did you feel about the death of disco?
Martha: (laughs) I was having a conversation with my manager about the death of disco not too long ago. And he said something to me that made me kind of stop and think. My manager said disco does not exist anymore. We went from disco-in-a-box and then it morphed into various genres and finally to rest in whatever's out here now.
50BOLD: Disco was the greatest musical era in my opinion.
Martha: I agree, disco was a great era where people were doing their thing. They wanted to have fun, dance, drink and everybody seemed to go clubbing together–gay, straight, Black, white. Everybody really went to the club to dance and have fun.
50BOLD: It's a different world nowadays! Now, I want to get personal, are you married? Any children or grandchildren?
Martha: Never married and no children.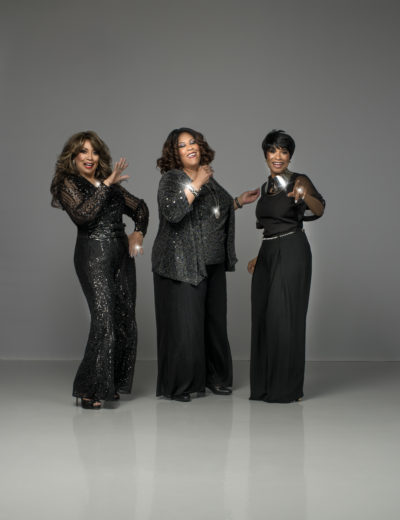 50BOLD: Okay. Now I know you've been touring around the country as the First Ladies of Disco with you, Linda Clifford, and Norma Jean Wright, how is the tour going? I'm sure your audiences are receptive.
Martha: We're still trying to find our audience in different areas of the country. The shows have been well-received. So hopefully we can perform again this year. We've done most of our shows in Las Vegas so we're hoping to travel to other states. The only problem is that we're three different artists with three different schedules and so planning can be difficult.
50BOLD: What a surprise I came across when I stumbled upon an episode of Ten Minutes with Martha Wash. Are you a web series host now?
Martha: Yes, the web series is on YouTube. And the show was something we thought about doing to give me more exposure. Nowadays, it seems you have to work harder at staying as relevant as possible. So it's not just about going out and singing anymore. You've got to have more avenues of exposure. If you're not getting mainstream exposure, then you have to create your own kind where people can find you, and that's how 10 Minutes with Martha Wash came about. The entire creative process has been fun. I've been interviewing some old friends and making new ones.
50BOLD: I watched your interview with Marsha Warfield which was hilarious. The series format is wonderful and I especially love when you sing a song at the end. I look forward to seeing more of your web series.
Martha: Thank you! And the web series is also a way to get the music heard. You have to create your own platforms these days; this is what the world has come to now between social media and everything else. There are ways in which you can stay relevant and in the public eye especially as a performer. It's just about finding the right creative something that works for you. I also have a digital magazine called FLOD Spotlight. I've featured Marsha on the cover, Paul Shaffer, comedian Rich Little, and the experience has been great. I like featuring people that folks would be interested in reading about or catching up with. I'm also back in the studio and working on another album which should be out this year. I also have a single coming out soon entitled, Don't Stop Me Now which is almost like an anthem, so everyone will be able to sing it.
50BOLD: I am beyond impressed! You are one busy lady! What is your favorite Martha Wash song?
Martha: Probably Carry On would be one of them. Wow, I don't even listen to myself!
50BOLD: Really?
Martha: Oh no, I don't listen to myself sing, I've never done so.
50BOLD: I am stunned!
Martha: I think a lot of vocalists will tell you that they do not listen to themselves sing.
50BOLD: You have given the gift of music to so many of us and you've touched so many lives with it. So please keep the music coming! How can we find out what's next with you?
Martha: I always want to feel that I've touched people in a certain way through song. I think that at the end of the day if I can make people feel good through my vocals, then I've done my job.
If your audience wants to catch up with me they can visit Facebook @theMarthaWash, Twitter @Martha_Wash, and on Instagram Martha_Wash14. I also have a website, Marthawash.com.