Hattie McDaniel was one of the most recognizable Black actresses of her time. She will forever hold the prestigious honor of being the first African-American to win the Academy Award for Best Supporting Actress in 1940 for the sprawling epic film of the Old South, Gone With the Wind.
Kevin J. Goff is the great-grandnephew of McDaniel. He is continuing the work of his late father, Edgar Goff, Jr., who devoted much of his life to keeping Hattie's memory alive. Goff is not only documenting the life of his great-grandaunt via film but will also put together a behind-the-scenes book detailing his experiences on the documentary project. Goff, 54, who is currently the documentary curator at the Motion Picture & Television Fund in Woodland Hills, California, has also dabbled in acting but switched gears to become a documentarian in the areas of film, music, and education.
Goff sat down with 50BOLD to discuss the real woman behind Hattie McDaniel. She was a woman who refused to utter the N-word on screen. She was a woman who remained prideful of her work, even though Hollywood had pigeonholed her as a sassy Mammy 74 times, and the NAACP disparaged her for playing subservient roles. Hattie with her go-to response of "I'd rather play a maid than be a maid," would not allow folks to make her feel less than. Hattie believed, she was advancing her race with every acting job she accepted.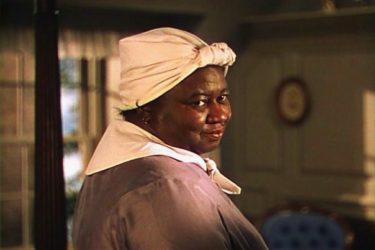 50BOLD: What was Hattie McDaniel really like?
Goff:  For one thing, she was compassionate but believed in discipline when it came to children. When my father was with her, she wouldn't let him get away with anything even though she loved him to death. Hattie was very loving and wanted to have her own children but didn't. As a matter of fact, one time Hattie thought she was pregnant but it turned out to be a false one. She was so disappointed.
Hattie treated my father as if he were her child. When it was time for her to give him back to his mother, she didn't want to do so. Hattie would say, "this is my Edgar" which was my father's name.
50BOLD: How did Hattie get started in show business? I know it had something to do with a brother.
Goff: I am still researching this but as far as I know, Hattie's two older brothers, Otis and Sam went out on the entertainment circuit first. And then Etta, my great-grandmother, who was Hattie's sister, went the entertainment path as well. Hattie, who couldn't stand not going out on the road herself to entertain, eventually followed them all. She had always been entertaining since she was a kid. Even though Hattie, Sam, Otis, and Etta were all born in Wichita, Kansas, they grew up in Denver, Colorado which is where the brothers started their own performance troupe that provided Minstrel and vaudevillian types of entertainment.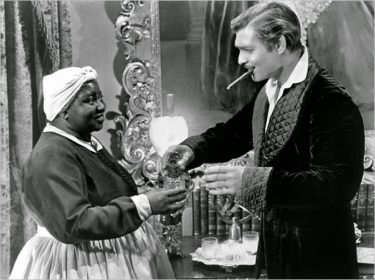 50BOLD: Did Hattie have showbiz friends? 
Goff: People, both Black and white, loved Hattie. She loved to entertain and would host parties at her home quite often.  All of her showbiz and non-showbiz friends would attend her festive gatherings, especially actor Clark Gable who co-starred with her in the film, Gone With the Wind. 
Actor Bing Crosby, who was also a good friend to Hattie, actually recommended her for the Mammy role in Gone With the Wind.  Another close friend of Hattie's was actress Tallulah Bankhead who was known for her sultry voice and tempestuous personality.
50BOLD: I read that Hattie once said, she would rather "play a maid than be a maid."  Are you familiar with the quote?
Goff: Yes, she made the statement and was all too familiar with the job. At one point, she worked in homes as a maid and cleaned floors while she was trying to make it as an actress in Hollywood. Hattie was trying to survive and feed her family. She had a father who couldn't work because he was injured in the Civil War. So Hattie was trying to do her part by helping out the family. Naturally, when she did make it in Hollywood it was a big deal for her. (Hattie was paid $450 a week for the role of Mammy in Gone With the Wind for 15 weeks of shooting.) Hattie had her parent's work ethic as an example, so she didn't have a problem working the jobs she was offered in entertainment. I think Hattie looked beyond her roles like how her acting in Hollywood was going to make a difference for her race in the future. She would oftentimes say that 'You can either fight something from the inside or from the outside.' So she fought from the inside and did her part thinking it would make a difference for someone like her down the road.
50BOLD: What about her friendship with Clark Gable; they were very good friends?
Goff: Yes, Hattie and Clark Gable were huge friends. Gable, who was a known practical joker was always playing pranks on her.  They really got a kick out of each other. They had also worked on another film together prior to Gone With the Wind. A true testament to their friendship involved the premiere of the film in Atlanta. The white community did not want Hattie or any other Black performer's picture on the film's promotional materials. Gable, however, insisted that she be pictured.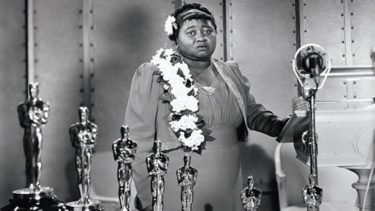 50BOLD: Wow I didn't know this bit of historical Hollywood gossip!
Goff: Hattie was also not invited to the Gone With the Wind premiere because Georgia law prohibited Blacks in white theaters. Gable was pissed, so upset about the film company's decision to exclude Hattie from the premiere.  So he told her, 'Well Hattie, if you're not going to be there, then I'm not going.' And when you think about it, the year was 1939, so Gable must have had a lot of clout to believe he could get away with taking such a stance.  It was pretty bold of him to go to bat for Hattie like that because he didn't have to do so. Hattie had to really urge Gable to attend the premiere.
50BOLD:  What a wonderful story!
Goff: I think Gable's gesture was beautiful!
50BOLD: How did Hattie's Oscar win affect her Black peers who were in the biz?
Goff:  Some people are going to be happy for you and others are probably going to be jealous.   I think that many Black actors and actresses of her time were perhaps thinking they had a shot at an Oscar too. Hattie opened that door for them.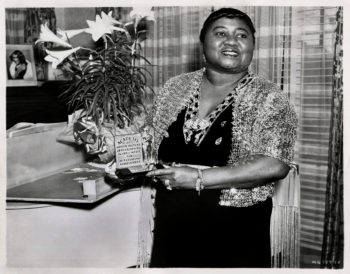 50BOLD: Was Hattie very much into the church?
Goff: Hattie's father was heavily involved in the church, so it was a major part of her upbringing. Hattie definitely went to church and with all that was going on at the time as far as racism, she most likely prayed for herself and everyone else.
50BOLD:   Hattie passed away at age 57 from breast cancer. She died so young. Is it true she had a 14-room home and did she have most of her fortune at the time of her death?
Goff: She didn't end up keeping the home. I actually know the couple that owns it now. And it's been in their family since 1963. Hattie passed in '52. I don't know what happened to the home between '52 and '63. I've visited the home and the same stove that Hattie used in the 1940's is still there.
Before Hattie died, she ended up having to go to The Motion Picture & Television Country House and Hospital for medical care and passed away there. She left over $10,000 worth of belongings that were divided amongst relatives. Towards the end of her life, Hattie was not getting as much work. She did a radio show and was then cast in the TV version of Beulah in 1951 but then six episodes later, she became ill.
50BOLD: You're working on a documentary about her life, what motivated you to do so? Were you, in fact, able to speak with anyone who might have actually worked with her?
Goff: I did have this big plan to visit Hattie's co-star in Gone With the Wind, actress Olivia de Havilland; she is still alive at 101-years-old and doing great! Before 9/11 happened, I was going to look up Olivia's daughter who worked for a major newspaper in France and try to get an interview with her mom in this way. Then 9/11 happened and this killed the trip.
Regarding your question about my motivation in wanting to make the documentary. My father had been researching Hattie for decades. Of course, he had actually spent time with her and was still doing research on her in the 70's, 80's and 90's. My dad's plan was to get a film made. He had co-written a script and was shopping it around. For a minute, HBO had an option on the script but nothing ever happened. It just wasn't time yet.
My father who was diagnosed with Parkinson's disease in the early 90's, passed away in 2012. He never saw his vision for the film happen. Before he passed away, I knew that at some point I was going to have to pick up the baton and make something happen, I just didn't know what it was. And I think the first real thought I had about Hattie in a significant way was when I returned to California from Texas. My parents had separated when I was probably about 8-years-old. And from the ages of 8 to 18, I didn't really see my father much. I lived in Texas with my brother, sister, and mother. My father was still in California working in architecture.
After I graduated high school, I flew to California over the summer to spend some time with my father. Dad mentioned two things to me upon greeting him after deboarding the plane.   The first question was whether I wanted to hit him because he thought I'd be upset I hadn't seen him much. The second thing he did was to inform me that Hattie McDaniel was my aunt; I already knew this.  He then told me that one day I would have the responsibility of carrying on the family legacy and I agreed. Now, this was circa '82. So when I said I would carry on the family legacy, I had no idea what I was saying. I just wanted to get out of the airport, leave!
After moving back to California permanently, I began to act and landed a few little jobs here and there—music videos, TV shows that kind of stuff. In 2004, I really seriously started thinking about doing something involving Hattie. The thought kept gnawing at me, I tried to shake the feelings off but her name kept coming up. Soon Hattie was inside my head and became a part of my spirit.  In 2010, I seriously began thinking about Hattie and about all of her contributions and the fact that she wasn't getting the same acknowledgment that any other Oscar winner would get.
By the time my dad had passed away, I already knew, I was going to do something to honor Hattie. I was pretty sure it was going to be a documentary rather than a feature film. I kept thinking about how most people didn't know about her life so I thought a documentary would educate. There is so much I learned about her and in researching her life I found out she was a drummer, songwriter, and dancer as well.
I plan to do more than just a documentary. I have plans for a ton of projects about the contributions of Otis, Sam, and Etta as well. I mean Hattie, Sam, and Etta alone, probably made about 1,000 films!
50B0LD: What is Hattie's legacy?
Goff: As far as Hattie's legacy, it's still defining itself; her legacy is still being talked about in an upcoming feature film, a book that was released and my documentary. Hattie's legacy is not done yet.  I believe in a year, three years or five years from now, there's going to be a lot more information about Hattie. More people will get a bigger picture of who she was, so much more than just a one-dimensional character from Gone With the Wind.  Hattie was not only a great performer but also a great friend, and a great woman. She entertained the troops during World War II and was proud of being in this country. Hattie did her part and did it in so many ways.
In her last will and testament, McDaniel left detailed instructions for her funeral. "I desire a white casket and a white shroud; white gardenias in my hair and in my hands, together with a white gard­enia blanket and a pillow of red roses," she wrote. "I also wish to be buried in the Hollywood Cemetery," today it is known as Hollywood Forever Cemetery. But the celeb cemetery where Gone With the Wind director Victor Fleming was buried had a 'whites-only' policy. Instead, Hattie was buried at Angelus-Rosedale Cemetery, the first L.A. cemetery open to all races.