Legendary is a status that few singing groups ever attain, but Sister Sledge has undoubtedly achieved this pinnacle based on nothing but pure talent. The Philly native singing group was composed of sisters Debbie, Joni, Kim, and Kathy Sledge. 
The ladies dominated the R&B charts in the late '70s and early '80s with timeless hits such as He's The Greatest Dancer, My Guy, All American Girls, Thinking of You, and Lost in Music. The enduring international anthem for family harmony and togetherness, We Are Family, which has resounded at key life moments, propelled the group into the stratosphere. The Grammy-nominated cut, released in '79, was written by the brilliant team of Bernard Edwards and Niles Rodgers, who were key members of the stellar disco band, Chic.
The effervescent Kathy Sledge, who sang lead vocals, was the youngest member of the quartet. Kathy was just a teen during most of the time that the group enjoyed global success. Kathy's vocals had a lush delivery and smoldering sensuality that far exceeded her young years. When she sang, We Are Family; her vocal gift took us all to church!
Over the years, Sister Sledge has amassed a string of Gold and Platinum records, accumulating total sales of over 15,000,000 worldwide. They have earned over 100 awards and commendations, garnering Grammy Award Nominations for Record of the Year and Best R&B Duo or group along the way. But in 1989, Kathy, who had literally grown up on stage, decided to exit left to pursue a solo career while her sisters continued to perform as a group.
Throughout the years, the sisterly relationship among the ladies has not been the best at times. Several years ago, Sister Sledge, LLC (Debbie, Joni, and Kim) presented Kathy with a legal ruling via a trademark infringement lawsuit for $200,000. The case was settled, but the litigation made it clear that the three sisters owned the U.S. trademark for Sister Sledge. Thus, Kathy could no longer book tour dates as Sister Sledge, featuring Kathy Sledge, or claim she is the only remaining group member. 
Kathy has stated publicly that she hadn't spoken to her sisters, believing she would never get back together with them. In 2015, the sister-feud reached its height when Sister Sledge was asked to appear at the World Meeting of Families in Philadelphia and perform in front of Pope Francis. In a very public snub, Kathy was ostracized by her siblings from the performance.
Sadly, Joni passed away in 2017 at age 60. The sisters had finally cemented their fractured relationship only months before Joni's untimely passing. The siblings hadn't been on speaking terms since Kathy decided to release a solo album in 1989.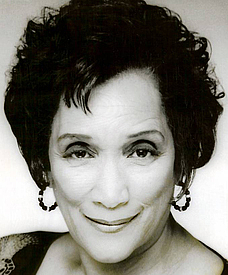 Continuing her creative musical journey, Kathy, a singer, songwriter, author, producer, and manager, who has not aged an inkling, is shining her light even brighter than ever. Thinking of You, a cut originally featured on the ever-popular, We Are Family album by Sister Sledge, has now been reintroduced to rapper/producer/DJ D-Nice's two million followers, who regularly visit his famed virtual Club Quarantine homespun parties. The man who gifted us with parties to remember during the pandemic has reintroduced Kathy's stirring vocals to the younger masses. Kathy has also given the popular DJ her stamp of approval. 
Kathy also completed her latest musical collaboration, Jump Into the Light, with London-based production team Horse Meat Disco. The cut takes you back to those velvet rope and retro glitter days of disco's classic dance music. Kathy's signature vocal stylings are still an inspiring force to this very day.
It also seems Kathy's beautiful daughter, Kristen Gabrielle, has joined her mom on an Instagram Live mother/daughter talk show called Family Room (Wednesday at 8:00 pm, EST and Saturday (12:30 pm, EST). Launched in April of last year, Kathy and her mini-me can be seen celebrating each other through interesting talks about everything from A to Z. The show also has a wonderful element in that the team of beauties welcomes celeb guests virtually into their room to join the conversations.
Kathy Sledge is an icon. 50BOLD is honored to have chatted with the songstress about a road to stardom that hasn't always been paved.
50BOLD: You come from quite a musical family; your grandmother being an opera singer. We love starting from the beginning. How did the beautiful Philly Sledge sisters come to be?
Kathy: Well, it's a really interesting story. I'm talking to a producer right now about our biopic. And it's because of this… In order for me to tell our story, I would have to start with our grandmother. She was an opera singer and the one who actually taught us harmony at a very young age. My grandmother was an alumna of the Juilliard School and Bethune-Cookman College, where she was a personal protégé of founder Mary McCloud Bethune. She was also a member of the Bethune-Cookman Choir, and they would travel around the country.
My grandmother was also my best friend; we were a lot alike. And then you know, my grandmother was a Hairston, Viola Beatrix Hairston Williams was her name. Our great uncle, the actor Jester Hairston, who played Rolly Forbes on the TV sitcom Amen, was a leading expert on Negro spirituals and choral music.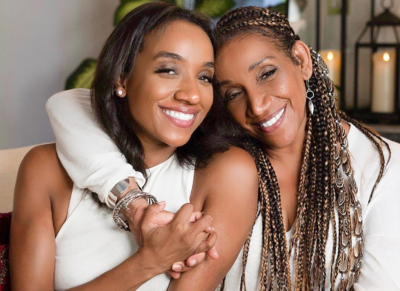 50BOLD: Really, how fascinating!
Kathy: Yes! And so, our musical culture gets even deeper. And of course, my father was a former Broadway star of the dance-tap duo 'Fred and Sledge.' My father's name was Edwin Sledge, and he danced in many productions and helped break down racial barriers on Broadway in the '40s. So, our deep-rooted musical culture goes way back. So to me, we've come full circle. The Sledge Sisters traveled the world together as a family. And our family is even in the Library of Congress. So, when you think about it in retrospect, music was destiny for us.
Getting back to our beginning. We were raised by my mother. My parents divorced when I was four years old. So, my mom raised five girls (Editor's note: sister Carol would fill in when one of the group members fell ill). We lived over a bar in West Philadelphia. The same part of town that actor Will Smith was from.
50BOLD: "In West Philadelphia, born and raised…"
Kathy: Yes, born and raised! At age 14, we moved to Northeast Philadelphia and were actually the first African-American family in the area. So, we did deal with a lot of lawn cross burnings and things of that sort.
My sisters and I were always so close growing up. Our first professional job was when I was around nine or ten years old. We did a concert, our first one. A cabaret is what they called it back then, and it was the first time we had ever got paid.
We were always harmonizing. My grandmother used to teach us barbershop-like harmonies, and we would sing in her key. We would always perform in church, All God's Children Got Shoes, which is the working title of the memoir that I'm writing now. We would sing a lot of hymns and gospel. We grew up singing spiritual hymns.
One day this guy's band walked out on him like two or three weeks before his scheduled performance. And our name was brought up to him. I remember him asking my mother if her girls could sing.
Well, we quickly got a band together. We ran out and got Afro wigs and matching outfits. We rehearsed and learned the songs and wound up doing a 35-minute show. And we got paid what my mother would make in a week, you know. And I remember saying to myself, how I would have done the gig for free. I love singing, but in my very early days, I don't remember ever saying how I wanted to be a singer when I grow up!
My grandmother helped us with harmonies, and we would practice singing in front of the mirror into our hairbrushes. We remained local until early '73 when we began turning professional. I think I was like 11 years old or maybe even age 10. We would learn songs and perform in shows. We just grew up on stage. It's always funny to me when I meet someone maybe a little younger than me or a little older, and they tell me how they grew up listening to me. I always think, "Wow, thank you!" I kind of grew up singing, you know.
50BOLD: That's a full-circle story. Not to mention you were destined because it's in your DNA. 
Kathy: You're right music is all in my DNA!
50BOLD: I have to ask about the anthem, "We Are Family." Did you know then how much of an impact the song would have on the world? Because there isn't a family reunion or party, you can go to where that song isn't being played. It's one of the greatest songs of all time. Did you think the song would be so successful? 
Kathy: I definitely did not have a clue that the song would be so successful. I really admire Bernard Edwards and Niles Rodgers because they obviously knew what they were doing. But I truly had no idea. Before the record, we never really had any airplay.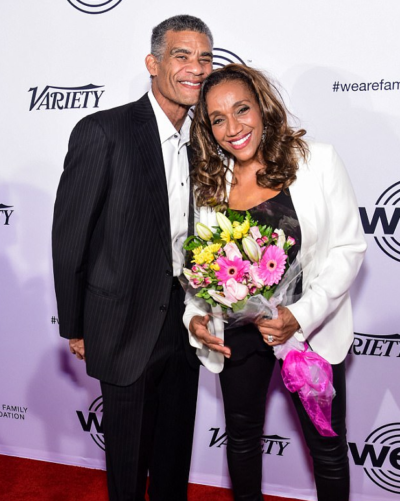 50BOLD: Halston and Gucci need to pay you because as soon as I heard He's The Greatest Dancer, I went out and scrounged up the money to buy a bottle of Halston Z-14 cologne for men. And I wouldn't go out without wearing my Halston! I couldn't afford Gucci, but the company needs to be giving you royalties along with Halston. He's the Greatest Dancer, How Can I Believe, Lost in Music… The feelings we get from a Sister Sledge song are indescribable! And you have quite a repertoire of phenomenal songs.
Kathy: Thank you! It's been quite a run. First of all, there's a rich history in my family that I'm very proud of. I was thirteen years old when I performed at the Tokyo Music Festival, where we appeared with the Commodores. We had international hits as well. Our first hit record and only hit record in Europe was called Mama Never Told Me; it was written by Phil Hurtt and Tony Bell, Tom Bell's brother. And We Are Family was recorded when I was sixteen. I was also just sixteen when I sang How Can I Believe and Thinking of You, which is my favorite song.
It is so funny how we would travel all around the world, come home, then get on the bus to go to school. I never talked about my career with my friends. I learned how to balance my career and private life really early. For example, when I was in sixth or seventh grade, I couldn't tell my friends that I had been in Japan over the weekend. Or, if I would have mentioned how I was on stage in Zaire with Muhammad Ali, they would have looked at me with a blank stare as if I had been lying.
50BOLD: Well, I have always admired your vocal quality; I just love your voice. I think your voice is so distinctive. If I were blindfolded and heard you sing just one note, I would know it was you! 
Kathy: No! Really?
50BOLD: Yes! Really! I love the song I'm Thinking of You. How many times has the song been remixed? 
Kathy: Well, it's one of the most remixed records in all of Europe. Thinking of You to this day is still my favorite song to sing.
50BOLD: Kathy, you graduated from Temple University. Now, I don't know if there is any validity to this or not, but were you considering a career path that included working with the disabled?
Kathy: Oh yes, I took courses in recreational therapy for the special needs population; I had a love for this area of study. It always surprises people when they hear I didn't study music or theater in college. While in college, I got the opportunity to work and learn about this other field.
50BOLD: Amazing! I've interviewed many performers, and they've discussed life on the road with family. Was life as a traveling entertainer easier because family accompanied you? Did doors open a little easier for you because you were beautiful and had the talent to match?
Kathy: Wow, first of all, thank you! Yes, we traveled the world. Our mother, Florez, was a single woman with these five daughters. She had to be a powerful businesswoman, and I could only imagine the doors she had to push open! And so, yes, we were protected! People were respectful to us, and I think it all had a lot to do with our mother. She was the epitome of class, and so was our grandmother.
Traveling with family meant we always kept each other in line. And if one of us got out of line with a sister or our mother, there was always someone else to set us straight.
50BOLD: You ladies were great ambassadors; you truly represented young Black women in such a positive way. You set the standard with how you carried yourselves, unlike so many of today's young women. You all kept it classy!
Kathy:  Thanks to our mother and grandmother, who kept us grounded! We did not compromise our morals. I think we always tried to set an example wherever we went.
50BOLD: Your mom was obviously a gem! You also have quite a work ethic. I read somewhere how you all had been booked for a gig. An intestinal virus had struck the family, but yet, you all forged on, which is definitely admirable. I'm sure the fans appreciated it. 
Kathy: I was in Barbados and remembered the situation as if it had occurred yesterday! I was very sick with some kind of intestinal virus that began with the flu and still had to go out to perform a show. We come from that solid-work-ethic school. I think of the person who goes out with their hard-earned money to buy a concert ticket. It is a compliment when someone comes to see your show and supports your music. And the admiration should be reciprocated. When you give love, you get it back. I can't believe how some of these artists behave sometimes; I don't think they get it.
50BOLD: They do not get it!
Kathy: I also don't like the use of the word diva. I love the word sister. I love being called sister. I think it's important always to remember that your fans are the people who support you. Some performers get all caught up with stardom rather than focusing on being a true artist. I get that this is all a business, and it's a business that I love. The business has become such a nonspecific market and has so little to do with music anymore. It is all about Instagram and showing what you are eating! (laughs)
50BOLD: And speaking of Instagram, your page is everything! You have two grown children. And your mini-me daughter Kristen Gabrielle is stunning!
Kathy: I just love her! Kristen has such a big heart and what I love about her is her flavor. She has a lot of flavor and loves fashion. My daughter is my best friend and she has an incredible eye for style. Kristen makes sure I don't walk out the door looking crazy!
Then, you have my son, Philip, who is also my best friend. Both my children are my heart! My son is starting his own fitness company and trains me every morning at 6:00 am. So, I have the best situation regarding my kids.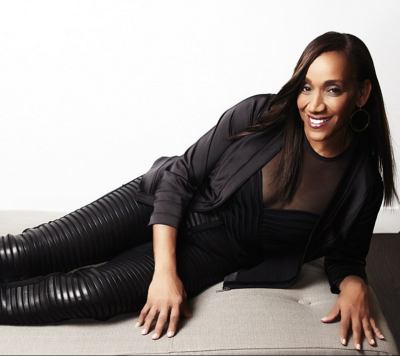 50BOLD: How do you maintain your timeless beauty? What kind of potion are you taking? (laughs)
Kathy: As far as I'm concerned, getting older is a blessing, and aging is an option. After every performance, I wash my face and never go to bed with makeup on! I also work out because it is all about self-care.
Getting older is a blessing because it is a blessing. It means that you have another day of life. But aging is an option. We have to take care of ourselves. I eat a lot of fresh organic greens, I do. Sometimes I also take wheatgrass, which is full of nutrients, but I hate the taste. It is, however, one of the best things you could ever do for yourself.
And I don't eat red meat. I have not eaten red meat since my mother passed away in 2007. If I buy chicken or fish, I buy it fresh and cook it that day, no freezing, which I learned from Europeans.
I also drink lots of water to stay hydrated, and one more thing, I always listen to my body. So, if I need to take some time for myself because my body is telling me to do so, then I do it.
50BOLD: We were truly saddened to hear about the passing of your sister Joni. 
Kathy: My mom and my sister were extremely close. My sister Debbie and Joni were close. I didn't really have a strong relationship with Joni. But a month before Joni's death, we visited her. She was very fragile. I was happy to see her and to spend time together. My relationship with Joni through the years was always a problem. But something changed the day I saw her. I was the last one to really see her. And you know what, it was beautiful, we reconciled. I spent Joni's last two weeks with her, and we just kept hugging each other. It was a blessing for me. I got a chance to love on my sister…
50BOLD: Your story is proof that God is working.
Kathy: Yes, God is working. The fact that I can tell you the story of how I actually got to see my sister before she passed…
50BOLD: And she was gorgeous!
Kathy: Yes, she was gorgeous…
50BOLD: I have to ask this, is singing in your daughter's DNA? 
Kathy: She doesn't sing. It's funny; she can blend with me and harmonizes. I'm happy that my children are following their dreams and building businesses on what they love doing.
50BOLD: That's a blessing. Do what you love and love what you do. 
Kathy: And let it work for you. I feel like it's time to make more music. The legendary Stanley Clarke said to me that he believes I have one of the strongest voices ever. We are working together on a project and have already written beautiful ballads; this took place right around the beginning of the pandemic. I feel like it's now my time to make more music.
50BOLD: Tell me about Family Room, your Instagram show.
Kathy: Family Room is the Instagram Live show with my daughter every Saturday and every Wednesday. We invite artists to come into our virtual room, and it's like one big family. Kristen and I had been talking about doing something together right before the pandemic hit. As soon as it did, we decided just to do it within four walls. We now want to take it to another level, and we're excited about it. This is where I am right now, and you know, I'm doing what I love to do. Is it hard work? Yes! But at least I am doing what I love to do.
50BOLD: The show is impressive, and I urge our readers to tune in! Now, I wanted to touch on the fact that you've been married 40 years! Incredible!
Kathy: I have been married for a very long time, and my husband, Philip Lightfoot, has been very supportive of what I do, and I am supportive of what he does with music. I got married when I was 19, you know, very young. We're very supportive of each other and business partners as well. I think it's important to say that it's interesting what has gotten me through my marriage is the friendship part of it; we are truly friends.
50BOLD: Having a mate who is also a friend is a winning recipe for marriage.
Kathy: You can say that. What I want people to know is that you should always be able to communicate with your partner. You know, there's an art to communicating. As a family–my daughter, son, and husband–have always communicated our thoughts to one another. We've always supported one another in whatever we do. 
50BOLD: I know you love jazz. Is a jazz album in your future?
Kathy: I love all different kinds of jazz. I love Nancy Wilson. I also LOVE Billie Holiday, of course, evidenced by my production of The Brighter Side of Day: A Tribute to Billie Holiday, which was a concert celebrating her. When I do a jazz album, I will choose beautiful and timeless songs.
50BOLD: I would love to hear you sing some Angela Bofill songs as well.
Kathy: Oh my goodness, I love her too! 
50BOLD: You have shared so much, and I am so appreciative. I love you even more today than yesterday! I enjoy being able to interview artists from my era because so much wonderful information is shared. 
Kathy: I'm excited to be a part of this interview. 
50BOLD: Well, Kathy, I am now going to consider you part of my family!
Kathy: I know, we ARE family now.