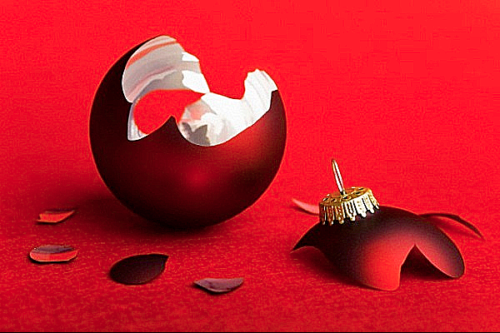 The holiday season is typically a time when friends and family get together to spend some really good quality time. Connecting with loved ones makes our hearts full. Sometimes as we age, the holidays no longer seem very jolly, and we don't feel like celebrating much anymore. For many, tis the season to feel stress, anxiousness, or depression because the festivities are just hurtful reminders. Other times, family and friends can make the holidays easier but they can't totally take that certain sting away.
Here are a few tips on how to get through the hurts during the holidays:
Feel broken no more! For those who have seen the end of something they have loved, the person who despite their best efforts could not save their own marriage or partnership, the owner who could not save their business, the individual who could not save their job, don't give up! Don't stop fighting! This is one season in your life. You must believe that someday, somehow, you will start to create a life surrounding your pain. You will be stronger, but you must first trust and believe in yourself. One of the most important actions you can take to heal after a bad episode in your life is to maintain a positive attitude while you make an effort to reach out to new people, challenges, and experiences. By looking forward instead of back, you open yourself to moments of serenity that can be life-changing.
Fight those addiction demons.  Do you feel even more challenged during the holidays because addiction demons such as alcohol, cigarette smoking or overeating try hard to tempt you? Understand, you are the author of your own story and your story is not over. Hopefully, one day soon, you will find the strength and support to completely get rid of the demons, and to celebrate the victory of the person who stands before you and that is YOU! If you are recovering from an addiction, work with a therapist, or your doctor on a mental health plan before the height of the holiday season. If you are traveling, stay in contact with sponsors, or recovery group members who will give you the strength to stay on track.
Coping with the death of a loved one. If you've lost a loved one/s this year, gatherings and events during this time of year can be reminders of the loss; an empty chair is a real painful reminder. Do what feels right to you. Sometimes holiday gatherings can be challenging but don't feel obligated to accept invites. However, if you feel you want to be a part of the festivities, then accept an invitation to an event. After experiencing a loss, it's normal for the ups and downs, especially during the first year and possibly every year after. Loving someone doesn't change after they have died and talking about them with those who love and support you is OK too. How about remembering those who have passed by lighting a candle at the table or sharing a prayer or poem. If a usual holiday routine is now too painful to continue, why not introduce a new tradition? Try to recognize that a "new normal" can be fulfilling in many ways.
Banish loneliness. If you've spent many holidays feeling isolated or alone, break the cycle! Why not join a place of worship or perhaps volunteer at a local nonprofit like a homeless shelter, or the humane society. If you need someone to talk to click on this link to find an extensive list of hotlines that are open 24/7 to help you better cope with whatever you might be experiencing. Whether you're saying hello to neighbors you're usually too rushed to acknowledge, exchanging friendly words with people at the office, or picking up the phone and calling an old friend you haven't spoken to in a while, reaching out to people and strengthening bonds can help you feel more connected and less lonely. This may also be a time to message people over social media whose statuses you usually simply "like," and catch up on old friendships.
Try random acts of kindness. Many folks can attest to this fact, random acts of kindness can actually make you feel happier. This can be something as simple as letting a car in front of you while stuck in traffic, paying for someone's coffee, or giving a stranger a compliment. This holiday season get in the spirit by doing something small but kind for a stranger, friend, co-worker or family member. You might be surprised at how good you'll feel afterwards!
Give a caregiver a break.  Nothing can ruin a holiday faster than having too much on your plate. By default, caregivers are already busier than the average person, and adding decorations, holiday meals, and shopping to the mix is enough to undermine anyone's holiday spirit. If you are a caregiver focus on what you and your loved one need instead of what others expect of you. Prioritize, downsize or even kick to the curb holiday tasks! Accept help when others offer it and ask for help when you need it.