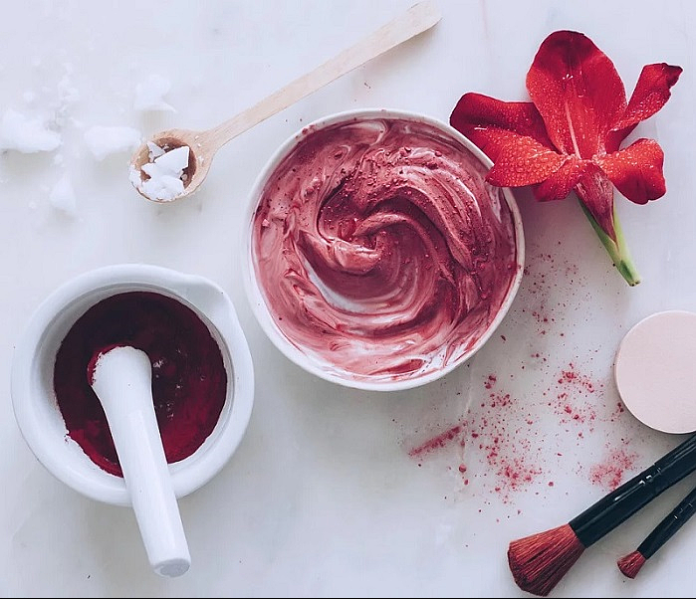 DIY stuff is pretty hot these days and can save folks lots of money. Many folks our age have, once-upon-a-time, experimented with making a homemade makeup product. These days with all of the bad chemicals in many of the products we buy, the natural route is a safe way to go. Creating beauty products in your kitchen is a step in the right direction.
We found a few really easy beauty products you can whip up right in your kitchen and you don't even need a lab coat! Always do a patch test on your inner wrist first to detect any possible allergic reactions.
Lipstick
Elderberries are deep-purple fruits that grow wild throughout large swaths of the Americas—east of the Rocky Mountains, all the way down to Bolivia. Their rich hue stains and makes for a great, punchy lip color courtesy of nature.
Infuse elderberry powder in food-grade vegetable glycerin (two tablespoons of each) for at least a week, allowing the glycerin to adopt the berries' purply color. When it's reached your desired shade, strain the glycerin, discard the elderberry powder, and add in a tablespoon of honey (you can substitute honey for agave).
Natural mineral powder eyeshadow
1/2 teaspoon bentonite clay
1/4 teaspoon arrowroot powder
Natural pigment of your choice (Cacao Powder: brown; Clay: green, red, rose or white; Spirulina: green; Activated Charcoal: black or gray; Tumeric: gold)
2-3 drops jojoba or sweet almond oil
Mix the

bentonite clay

and arrowroot powders together until fully blended. Add the natural pigment of your choice until you've reached your preferred shade.
Add a few drops of oil and blend. Keep adding oil until the mixture is soft and all the powder has been absorbed. Store in a small, sealed container. This mineral eyeshadow is also applied using your finger, a brush, or a sponge tip applicator.
Soothing moisturizer
This oil-based moisturizer featuring chamomile oil is ideal for dry, irritated, itchy, or blotchy skin.
1/2 cup argan oil
2 tablespoons sweet almond oil
10 drops carrot seed oil
5 drops chamomile essential oil
Mix argan and sweet almond oil together in the container you are going to use for storage.
Add carrot seed oil, then chamomile essential oil.
Mix all ingredients together.
Use on your face or any area of skin that needs TLC
This oil moisturizer should be stored in a dark place or in a dark container away from heat. Since the mixture will keep for up to six weeks, you might want to consider halving the recipe if you're only going to use it for your face.
Shampoo
Traditional shampoos are made up of a lot of ingredients you will want to avoid that can cause cancer and severe allergic reactions. Whether you have oily hair, damaged hair, or normal hair, this shampoo helps clarify scalp and hair without leaving it feeling greasy.
2 tablespoons olive oil
1 egg (yolk + whites)
1 tablespoon lemon juice
1 teaspoon apple cider vinegar
Measure and combine all ingredients. Blend until well mixed.
Pour the DIY shampoo into a small cup or bottle.
Wet hair and shampoo with the mixture. Start at the roots and massage into scalp. Rinse well with water.
Dump out any leftovers (this mixture doesn't keep well!).
Conditioner
Follow your homemade DIY shampoo with a natural and nourishing egg yolk conditioner.
1 egg yolk (save the egg white for cooking)
1/2 teaspoon olive oil
3/4 cup lukewarm water
Separate the yolk from the whites. Save the egg white for a healthy snack, or another purpose.
Beat the egg yolk. Add the olive oil and mix until well combined. Add the lukewarm water and mix until all ingredients are combined.
Pour into a cup or bottle.
Massage the rich conditioner into clean damp hair (following your shampoo). Let mixture soak into hair for around 10 minutes.
Rinse thoroughly.